Volume 25 / Issue 2
(1983)
---
On the cover:
1. George Tooks and family, Van Valin, 1918.
2. Seascape with the mid-night sun, Van Valin, 1915.
3. Eskimo women sewing uguruk skins.
4. G. B. Gordon sketch of Eskimo children, 1905.
5. Quik, excavator on the John Wanamaker expedition, Van Valin, 1918.
Photos from the Museum Archives.
---
By: Robert H. Dyson, Jr.
The many volunteers who participate in the wide range of activities of the Univer­sity Museum form an indispensable resource in carrying out the Museum's dual mission of research and public education. Their tasks have included working in store­rooms, archives, installations, computeriz­ing the inventory, typing, filing, drawing, stringing beads, reorganizing collections, guiding visitors, and visiting schools […]
---
New Evidence of Urban Beginnings in West Africa
By: Roderick J. McIntosh and Susan Keech McIntosh
The regular reader of Expedition and, almost certainly, every professional archae­ologist has at one time or another experi­enced the spell cast over the imagination by the ancient settlement mounds of early floodplain civilizations. Once teeming with thousands, they now lie dry and bare under a relentless sun. The Asian alluvium, of course, comes foremost to […]
---
A System of Highland Terraces in the Yemen Arab Rep
By: Daniel Martin Virasco
The popular image of Arabia is of an arid landscape peopled with nomadic Bedouins riding their camels through the sandy wastes. One hardly thinks of successful farmers or lush agricultural valleys in this part of the world. Yet a rich agricultural tradition did evolve in the fabled Arabia Felix of antiquity and the Islamic kingdom […]
---
Five Vessels from a Neolithic Household in Calabria
By: Albert J. Ammerman
Pottery is a standard item for archaeolog­ical analysis—it was made by most later prehistoric and historic societies, it dis­plays a wide range of variation in manu­facture, form and decoration, and it sur­vives well. However, the interpretation of pottery on residential sites is often difficult, since it occurs only as scatters of sherds, the end-product of […]
---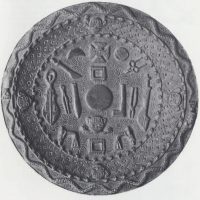 Warfare, State Building, and the Sacralization of Iron in West African History
By: Sandra T. Barnes and Paula Ben-Amos
Note This article was intended originally for EXPEDITION 25 no. 1 (Fall 1902), the special issue on Archaeometallurgy. For reasons of space it was not included there; however, it should be read in con­junction with that Issue. – Editor Along the Guinea Coast of West Africa there is a cluster of conquest states that rose […]
---
From the Archives
By: Mary Elizabeth Ruwell and Eleanor M. King
The University Museum Archives repre­sents a unique resource for researchers in archaeology, anthropology, history, classics and related fields. A preliminary survey done in 1979 indicated that the Museum currently holds about 2000 linear feet of records, of which about a third are field records collected between 1885 and 1955. These are field notebooks, indexes, cata­logues, […]
---