Last spring, the Ceramics Laboratory in the new Center for the analysis of archaeological Materials (CAAM), was a hotspot for student research. Eight Penn graduate students elected to take "Petrography of Cultural Materials," an intense course in which students not only receive practical training in ceramic petrography but also get the unique chance to conduct original scientific research on archaeological objects.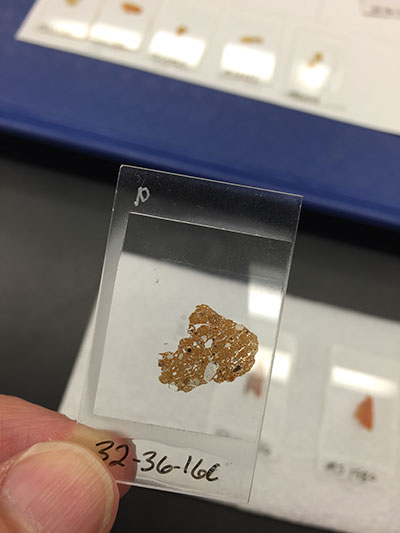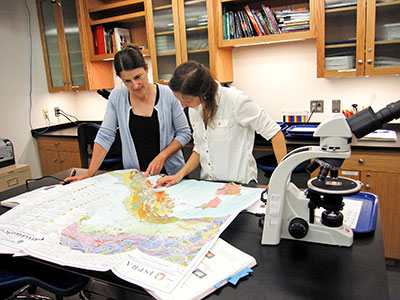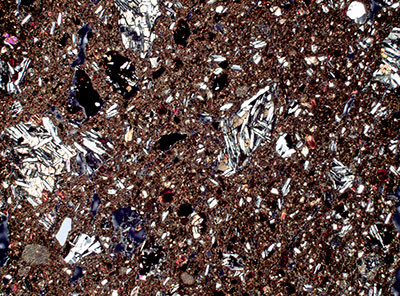 Ceramic objects, and the multiple shapes they can take, form a significant part of the archaeological past. Complementary to stylistic analysis, the scientific study of ceramics leads to a better understanding of the potter's behaviors and the cultural context of production. Ceramic petrography is an analytical technique that uses polarized light microscopy to examine the mineralogical composition and microstructure of ceramic thin sections. It is akin to "fingerprinting" ceramic objects— i.e. identifying where they were made by matching the mineralogy of the clay paste to specific geological areas. This allows archaeologists to study networks of interaction between different settlements and regions. In addition, ceramic petrography provides invaluable technological data on manufacturing and firing processes, as well as documenting the skills and know-how of the ancient craftsmen.
While learning how to identify and characterize minerals and rock fragments, read geological maps, and understand how clay is transformed by fire, students designed their own research projects. They each chose a set of cultural materials of academic interest to them and formulated archaeological questions which could be addressed specifically by petrographic analysis. For example, Sophie Crawford-Brown (Art and Archaeology of the Mediterranean World or AAMW), who is interested in the archaeology of Republican Italy and Roman cultural influence on Italic traditions, chose to analyze architectural terracottas from Minturnae, a Roman colony founded in 296/5 BCE (see Expedition 44.1 [2002], pp. 24-35, for an article on the Minturnae terracottas). She wanted to verify whether the terracottas were produced locally or at a larger center. Other student projects were conducted by Greg Calloghan (Ancient History) who, with a research interest in the interaction between provinces and the Roman capital, analyzed stamped amphorae handles from Monte Testaccio (Rome), and Janelle Sadarananda (AAMW), who built upon previous student research to look deeper into Phrygian architectural terracottas from Gordion, Turkey. In order to sample objects from the Museum's collection, students were required to prepare and submit formal requests to the Museum's Scientific Testing Committee.
Ceramic petrography is a powerful technique for the study of any clay-based object, ancient or modern, red or un red, and the "Petrography of Cultural Materials" course attracted students from different departments and schools. Casey Weisdock, studying Historic Preservation in the School of Design, took the course to further her understanding of how different compositions and firing ranges affect performance and deterioration of historic and modern building materials. For her project, she characterized 18th century bricks from New Orleans and 20th century terracotta tiles from Philadelphia.
As challenging as the course was, the eight Penn students rose to the occasion. Not only did they engage fully with their material and spend countless hours in the lab hunched over microscopes, but they also applied their newly acquired skills to successfully solve archaeological problems. Students got a real taste of what scientific research is and what it requires in terms of data acquisition and interpretation of results. The Museum bene ted from it as well, since the data generated has now been added to each object's file and will augment our understanding of the collection. The thin sections have been incorporated into an ever-growing reference and teaching collection in the Ceramics Laboratory— to be used as stepping stones for future research.