K-12 EDUCATORS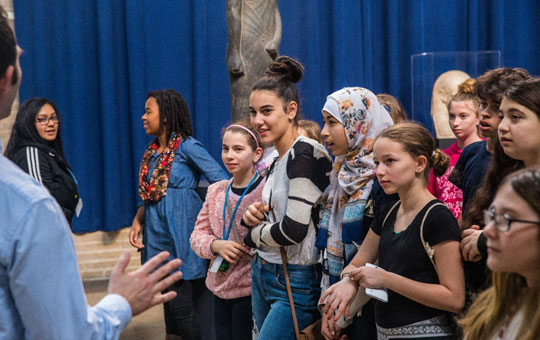 Museum Field Trips
Experience the artifacts housed at the Penn Museum in person. A wide variety of tours, workshops, and expert talks are available for school groups.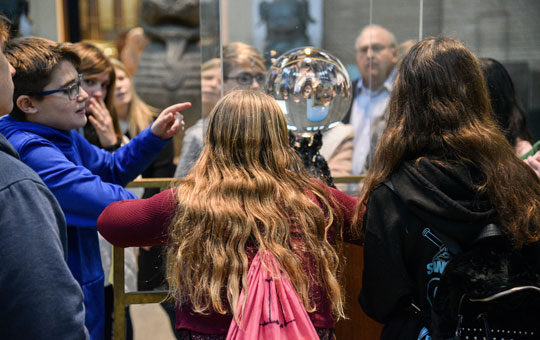 UnPacking the Past
The Penn Museum is thrilled to offer free program packages to 6th and 7th grade classes in Philadelphia Title I schools through Unpacking the Past. Teachers may request virtual or on-site experiences focusing on a variety of cultures represented in Museum galleries.
International Classroom
Learn more about world cultures, both past and present directly from international educators, artists, and Museum-affiliated archaeologists and anthropologists. International Classroom provides your students with opportunities for global learning.
Professional Development
Sign up for our free monthly Teacher Talks and other opportunities just for educators. Check back often to see what's new!
Donor Recognition
Unpacking the Past
This program is made possible by the generosity of the following donors:
Christian R. and Mary F. Lindback Foundation
Albert A. Ciardi III, W88
Marie A. Conn, Ph.D.
Kristin Davidson, CGS84, GED88
Dolfinger-McMahon Foundation
Pamela Freyd, Ph.D., GED68, GR81, and Peter Freyd, Ph.D., PAR
Ghislain Gouraige, Jr., C80, and Marjorie P. Gouraige, PAR
GRoW Annenberg Foundation
Diane von Schlegell Levy and Robert M. Levy, WG74
Merle-Smith Educational Endowment
Jill Meyer
Morel Family Foundation, Lauren Bayster-Morel and Donald Morel, Jr., Ph.D.
Agnes M. Mulroney, CW57, PAR
National Endowment for the Arts
Barbara Rittenhouse
Kathryn Sorkin and Sanford Sorkin, W67
Lee Evan Tabas, C72, ME72, and Nancy Freeman Tabas, PAR
Jeffrey Weiss and Jill Topkis Weiss, C89, WG93, PAR
International Classroom
The International Classroom program is made possible by the generosity of the International Classroom Endowment and the Charles C. Harrison Endowment.
Inquiry Into China
Inquiry Into China is made possible by the generosity of the Freeman Foundation.
Global Guides
The Global Guides: Immigrant Stories Tour Program is made possible by the generosity of the Barra Foundation.
Access Programs
Access Programs are made possible by the generosity of the Albert B. Millet Memorial Fund, administered by BNY Mellon Wealth Management, and the Museum Education Endowment.