Onsite Workshops
Explore ancient worlds through hands-on workshops led by experienced museum educators. Students learn how to use artifacts as primary sources to understand the past. Life-like props and replica artifacts give students of all abilities and ages fun, interactive learning experiences.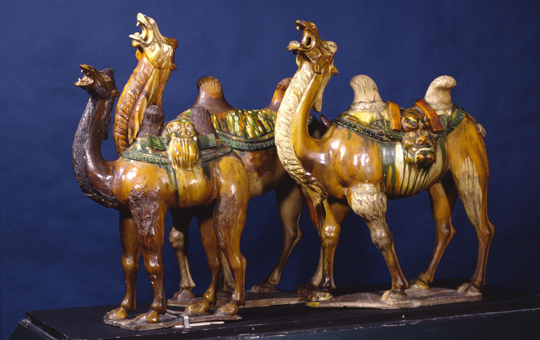 Legendary Creatures of China
Real and Imaginary
Pre-K-2, 3-5
Discover the animals of China and learn if they are real or imaginary! Educators share the historic and cultural stories of these creatures in an interactive presentation. Students will then use their fine motor skills to sculpt their own legendary creature. This workshop uses simple one step directions and a variety of choice, so students create personalized creatures as unique as the students themselves.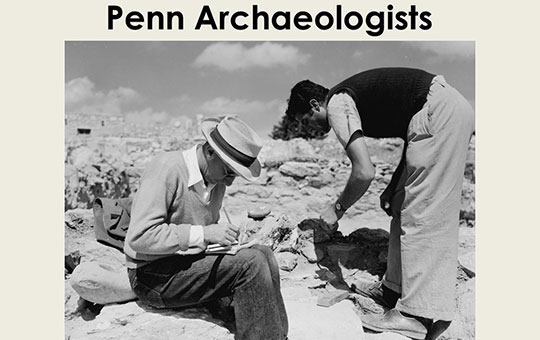 Digging Up Rome
How do archaeologists interpret artifacts? Photos and video footage tell the story of Penn Museum excavations of the ancient Roman world. Students practice archaeological site interpretation, handle replica artifacts, and make observations and inferences to draw conclusions about the people that lived there.
Roman Marketplace
Do as the Romans do and take part in an interactive ancient Roman marketplace. This workshop highlights social interaction, emotional response, and functional mathematics in a simulated marketplace. Students wear togas, handle reproductions of ancient artifacts, and use all their senses to shop the Roman market using differentiated budgets.
Culture is Normal
Global Classroom Experiences
Grades: 3-5, 6-8
Unpack the meaning of culture and explore learning experiences across the globe! Students will reflect on and discuss a selection of school cultures from around the world, then participate in a critical thinking and empathy exercise about engaging with people who hold different norms than their own.
Daily Life in Ancient Egypt
Grades: 3-5, 6-8
The ancient Egyptians continue to inspire and amaze us today. But who were they? Students will discover the lives of real Egyptians by exploring some of the things they left behind.
---
The following workshops are available only upon the availability of the presenter.
Architectural Treasures of the Keystone State
by Steve Abrams
Grades: 7-8, 9-12
Every building has a story to tell. The rich architectural heritage of Pennsylvania is explained through a survey of banks, barns, churches, and houses from all over the state. Learn to look for the special features and styles that make old buildings worth preserving.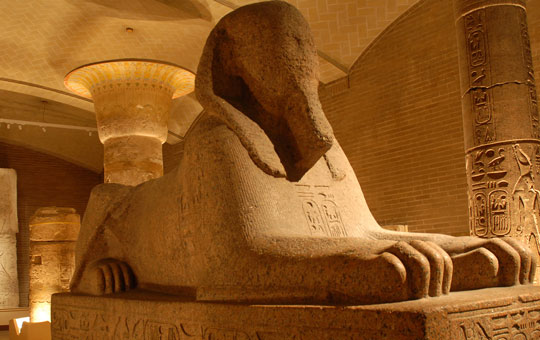 The Sphinx That Moved to Philadelphia
by Stephen Phillips, Ph.D.
Grades: 6-8, 9-12
June 12, 2019, is a date that will live forever in the history of the Penn Museum. On that day, for the first time in nearly a century, the museum's iconic, 12.5 ton (!) sphinx was lifted from its base, moved more than 900 feet (and one floor up!) into its new permanent home, to become the centerpiece of the museum's totally redesigned grand entrance hall.
This lecture tells the history of the Penn Museum's sphinx (the largest sphinx in the entire Western Hemisphere) – from its discovery in Egypt at Memphis in the early 20th century, its subsequent transport to Philadelphia, concluding with a behind the scenes look at the engineering and human effort involved in moving such an object, both monumental and priceless, in today's world. What is a sphinx? What did a sphinx represent to the ancient Egyptians? How did they move it? Let's find out!
Asian Theatre
by Steve Abrams
Grades: 7-8, 9-12
A survey of traditional dance and drama of India, Indonesia and Japan presented in the light of the myths, origins, and practices of these colorful forms. This lecture of costumes, masks and make-up, and tapes of musical accompaniment, provide a meaningful exploration of theater that is having a growing impact on Western drama.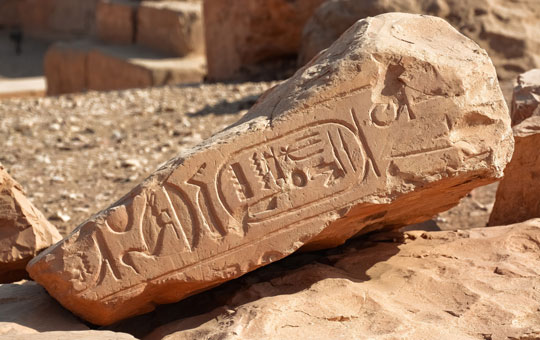 Cultural Heritage in Times of Conflict
by Shelby Justl, Ph.D.
Grades: 7-8, 9-12
There are growing international concerns about the threats modern society poses to Egyptian cultural heritage. Current archaeological digs lie next modern villages with children walking to school through them, and rumors of golden treasure spread wildly leading to illicit digging and black-market artifact sales. This workshop opens with a presentation on the effects of modern people on Penn's own archaeological site in Abydos. Then, students will engage in a broader discussion of cultural heritage preservation through examination of political events such as Arab Spring which affected Egyptian museums and archaeological sites.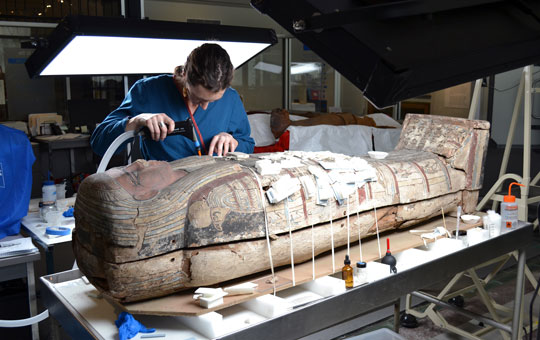 Women and Archaeology
by Shelby Justl, Ph.D.
Grades: 5-8, 9-12
When archaeological research began in the early 20th century, there were only a handful of female practitioners in the field; women now make up roughly half of the archaeologists in the United States. While women are generally accepted in the field, female archaeologists still encounter many professional issues. Meet a female archaeologist and learn what challenges and opportunities women face in the field, from the classroom to the dig site. Hear about the real-life experiences of an archaeologist working in the mountains of Greece or the deserts of Egypt!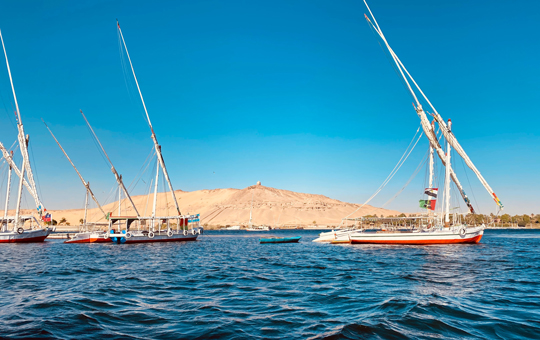 500 Miles Up the Nile
A Journey to Modern Ancient Egypt
by Stephen Phillips, Ph.D.
Grades: : 5-8, 9-12, Adults
This photographic essay takes students along with Dr. Phillips and a tour group of intrepid friends on their extraordinary 14-day journey up the timeless Nile River. In post-revolution Egypt, they journey from Old Cairo and the Great Pyramids to Luxor, the Valley of the Kings, and onward to the mighty Temples of Philae and Abu Simbel. Students not only experience first-hand the rich diversity of modern ancient Egypt, but also learn that not everything we read in newspapers, or see on TV, reflects the reality of life in a distant land.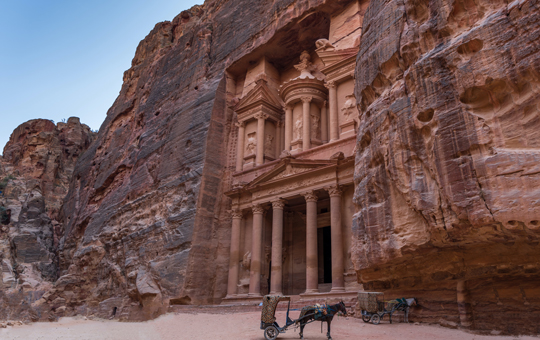 Is Archaeology Really Like Indiana Jones?
by Stephen Phillips, Ph.D.
Grades: 5-8, 9-12, Adults
Petra, "The Rose-Red City Half as Old as Time," is nestled in a mountainous basin in a remote, rugged corner of Jordan. As one of the "New Seven Wonders of the Ancient World," Petra is famous for its more than 800 rock-cut tombs and monuments, including a Roman theater capable of seating as many as 8,500 people. Archaeological investigations at Petra continue to the present day — this presentation gives students exclusive, behind-the-scenes access to Dr. Phillips' own work on an actual dig at the site, the Temple of the Winged Lions. Learn on-site excavation techniques, experience life on a dig in a distant land, and discover whether archaeology is really like it is in the movies.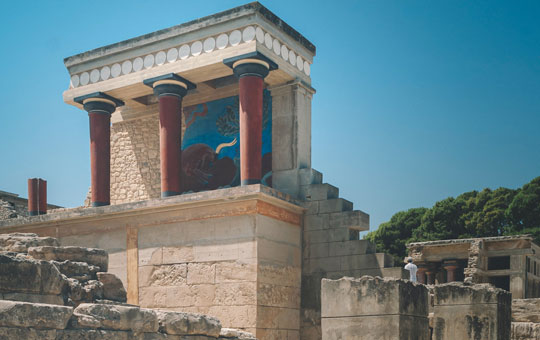 Mythology and Archaeology
The Minoans
by Florence Hsu, PhD
Grades: 5-8, 9-12
Do mythology and archaeology intersect? How did Minoan archaeology start? What is the role of archaeology? This workshop tells the story of how ancient Greek mythology inspired modern archaeologists and led to the discovery of the Minoan civilization. Students learn about the significance of studying pottery and frescoes by looking at Minoan examples. Discussion questions and activities invite students to think like archaeologists and explore the ongoing nature of interpreting ancient artifacts.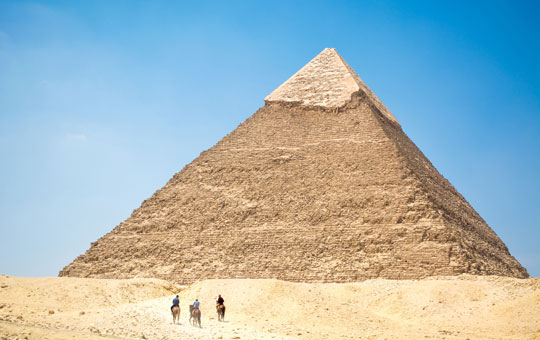 The Mystery of the Circular Structures Behind the Great Pyramids at Giza, Egypt
by Stephen Phillips, Ph.D.
Grades: 6-8, 9-12
The pyramids and sphinx of Giza are not lone monuments in the desert, they are part of a vast cemetery complex that stretches nearly a mile from east to west. A joint archaeological excavation by Cairo University and Brown University has been mapping and surveying the northwestern section of the cemetery since 2000. This behind-the-scenes lecture introduces the excavation, its goals, its methodology, its personnel, and its discoveries to date, much of which is now being published. This lecture examines the re-discovery and excavation of a pair of circular structures, constructed of sun-dried mud brick and shaped like igloos, the only examples of their kind yet found.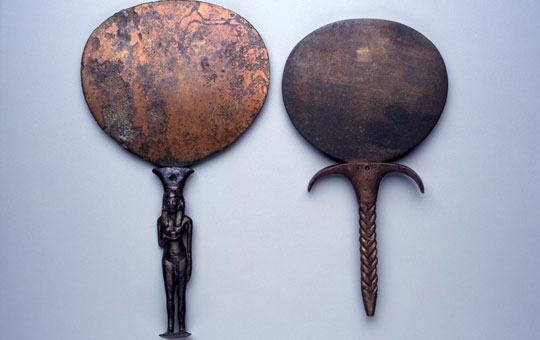 Sweet Home Egypt
Ancient Egyptian Cities and Daily Life
by Shelby Justl, Ph.D.
Grades: 5-8, 9-12
Travel back in time to 1500 BCE to see ancient Egypt beyond the pyramids and mummies with Egyptologist Shelby Justl. Explore ancient Egyptian settlements and daily life, including the glamorous palaces of pharaohs, the elaborate villas of private officials, and the simple dwellings of workmen. Students learn about the ancient Egyptians' childhood, family life, occupations, leisure activities, clothing, and diet. Sweet Home Egypt also shares how ancient Egyptians handled challenges like illness, grief, theft, lazy co-workers, and bad bosses.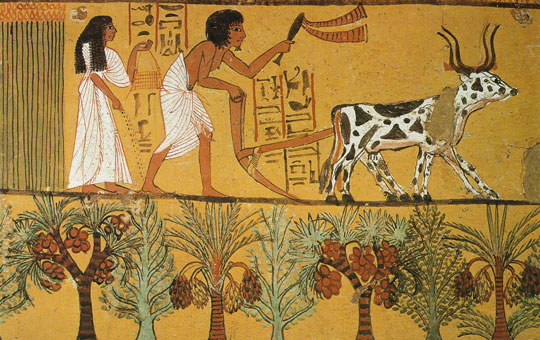 Food in Ancient Egypt
by Stephen Phillips, Ph.D.
Grades: 5-8, 9-12
This highly illustrated workshop is an introduction to the diet of the ancient Egyptians, what we know and how we know it based on archaeology as well as through images the ancient Egyptians themselves created thousands of years ago. Then, as now, the fertile Nile River valley produced a rich variety of food products.
What did the ancient Egyptians eat and drink? What may have comprised a typical ancient meal? Fish? Fowl? Meat? Did they have beer? Wine? Pizza Hut? The diet of the ancient Egyptians was far more varied than you might think. Just like you, they woke up wanting breakfast, too.
Not Quite as Easy as ABC
Learning to Write Sumerian
by Philip Jones, Ph.D.
Grades: 3-5, 6-8, 9-12
The Sumerians of ancient Mesopotamia created perhaps the earliest written collection of stories in the world— or rather, their children did. Archaeologists have unearthed thousands of tablets on which Sumerian children practiced learning to write. These exercises included copying signs, myths, and legends. Using both ancient tablets from the collection of Penn Museum and modern clay and styluses, students follow the path of the ancient scribes as they learned the mysteries of the cuneiform writing system.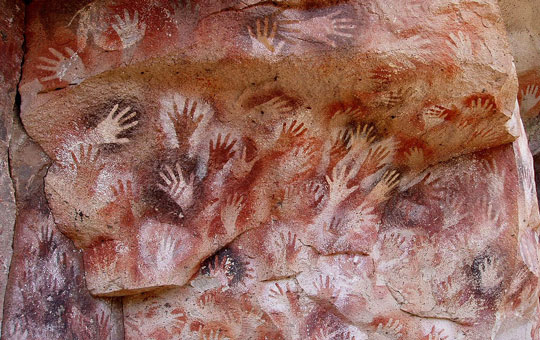 At the Dawn of Art
Inside the Painted Caves of Southwest France
by Stephen Phillips, Ph.D.
Grades: 6-8, 9-12
Our capability to express ourselves symbolically through art is among the features that make our species unique in the animal kingdom. Scholarly research into the origins of human art plays an important role in anthropological research to this very day. Why produce art at all? Can we, from our viewpoint tens of thousands of years later, even understand the intent of the Paleolithic artisans who created these images deep inside remote caves? Over the course of four summers excavating Neanderthal archaeological sites elsewhere in southwest France, Dr. Steve had the opportunity to visit several of these remarkable caves.
---
Access Programs
The Penn Museum welcomes all types of learners to participate in Interactive Workshops. New Access programs include the Roman Marketplace, In Touch with Ancient Egypt, Touch Tours and Workshops, and a Faces Tour. Visit our Access Programs page for more information.
Teacher Programs
Do these programs sound like fun for educators or adults? They are! Book a workshop as part of your professional development experience or an adult group workshop.
---
Booking Information
| | |
| --- | --- |
| Ages | See Workshop Descriptions |
| Length | 1 hour |
| Price | $125 per workshop plus group admission |
| Group Size | 30 student maximum |
| Timing | Tuesday-Friday, 10:00 am to 4:00 pm |
| When to Book | At least 6-8 weeks in advance |
---