International Classroom
Learn more about world cultures and living traditions from international scholars, educators, and artists. Since 1987, the International Classroom Program has connected K-12 communities with global learning opportunities at the Museum and in their very own classrooms. The International Classroom workshops support the global citizenship skills of learners of all ages through the sharing of world languages, multiple perspectives, intercultural communication, and appreciation for cultural diversity. Through interactive activities and thematic discussions, students gain knowledge, skills, and awareness of our increasingly interconnected global society.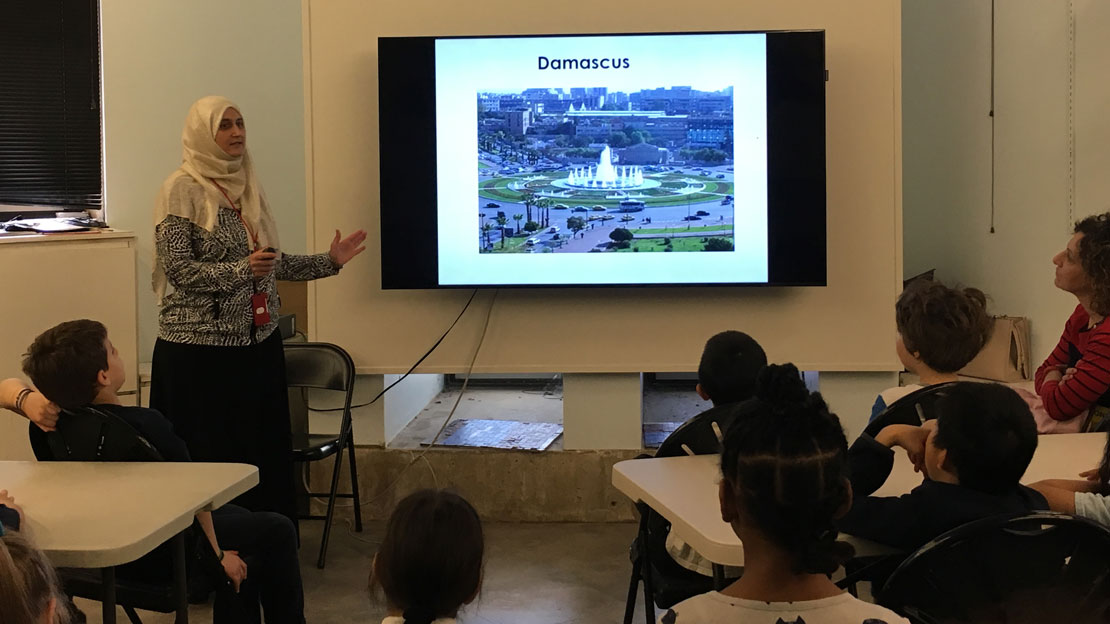 Formats
Onsite Experience

International Classroom programs are offered as on onsite experience. This is often paired with a tour of the museum. In Museum experiences are our most robust offering, with the widest array of program topics available.

Offsite Experience

If you're unable to attend the museum in person, select programs and educators are available to travel to you. This can be paired with an onsite tour of the Museum at a later date.

Virtual Experience

Virtual visits aren't offered at this time, but will return in January. Please contact us at ic@pennmuseum.org for more information.
Title I Schools
The Penn Museum is pleased to offer free International Classroom programs to students in grades 3 to 12 in Title I schools. Speakers are educators from countries around the world who provide opportunities for global learning and intercultural conversation. These include a tour of the Museum in addition to the speaker program. This program is only available to Title I schools in the Philadelphia area. If you're a school outside the Philadelphia Area, visit our Title I page to view the Museums free and low-cost virtual options.
Life-Long Learning Talks
Adult groups are also invited to enjoy the learning and exchange of intercultural conversations. If you are not a grades K-12 group, but would like to schedule one of these programs (onsite, offsite, or virtual), please contact the Group Sales Department at grouptickets@pennmuseum.org or 215.746.8183.
Pricing and Booking Information
Onsite
Offsite
Ages
See Workshop Descriptions
See Workshop Descriptions
Length
1 hour
1 hour
Price
$125 per 30 students plus group admission;
One adult REQUIRED for every 10 students;
($8 per student; $13 per additional adult; all teachers with school ID are FREE)
$225 per 30 students for a location within 20 miles of the Penn Museum;
$325 + travel cost per 30 students for a location beyond 20 miles from the Penn Museum (50% discount applies for additional sessions);
Pricing for groups larger than 30 students or assemblies are also available upon request.
Timing
Tuesday–Friday, 10:00 am to 4:00 pm depending on speaker availability
Flexible depending on speaker availability
When to Book
Six to eight weeks in advance
Six to eight weeks in advance
Collaborators
International Classroom Program collaborates with university centers and non-profit organizations with a global focus.
Our current collaborators
University of Pennsylvania

Non-Profit Organizations
---