Self-Guided Visits
Explore the Penn Museum on your own! Self-guided visits allow students to work in small chaperoned groups to view the galleries. We offer downloadable activities to use in the galleries, including scavenger hunts, worksheets, and gallery games designed to help your students discover all the Museum has to offer.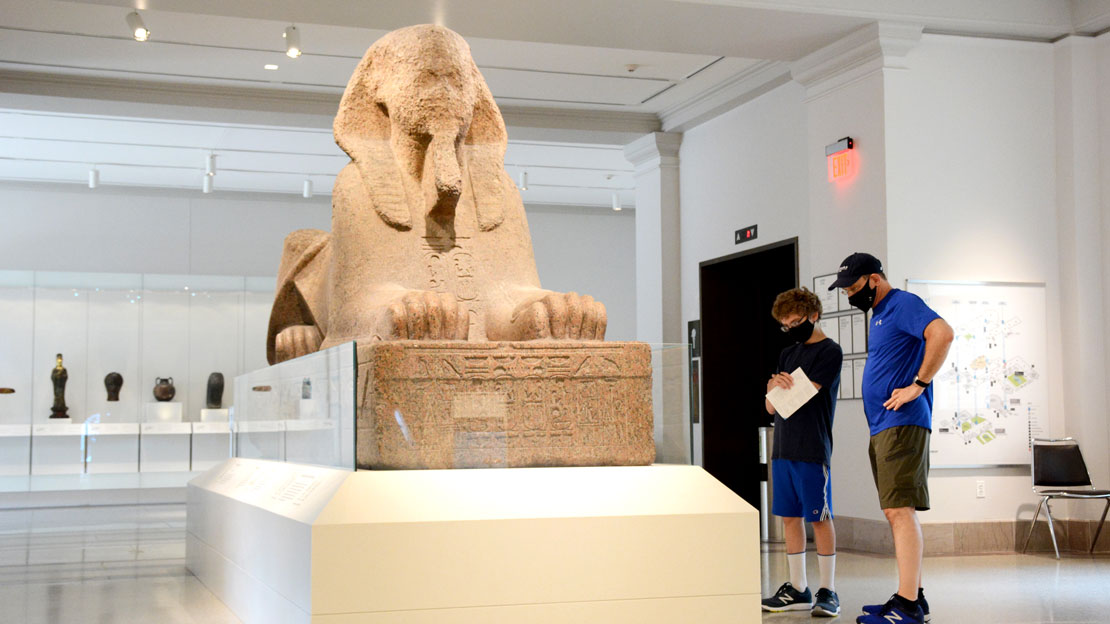 For the safety of students and Museum staff, we have instituted the following policies for group visits
Last Updated June 2021
We currently DO NOT have space for groups to eat lunch in the building. Please keep this in mind when planning the length of your visit.
Groups may reserve self-guided trips starting at 10:30 am. We recommend visiting from 10:30 am to 12:30 pm or 12:30 pm to 2:30 pm. Make sure you don't miss our Museum Voyagers program in Harrison Auditorium from 1:00 pm to 1:45 pm, Tuesday through Friday.
No groups of more than 50 may enter the Museum at one time. Group leaders should call our staff before entering the building so we can greet your group outside. All groups must enter through the East Entrance.
If anyone in your group is feeling unwell, please call us at 215.746.6774 to reschedule your visit.
Face masks are required for all unvaccinated members of a group, including adults and children. Masks are encouraged for all adult and child visitors as a sensible precaution. Please note: face shields are not an acceptable form of face covering.
While exploring the galleries, groups must break into smaller groups of 5 to 10 people, including chaperones. At least one chaperone is required per group.
The Museum is asking visitors to maintain a 3-foot distance from other groups and visitors.
Use one of our Museum Activities to explore the galleries. Upon request, the Museum will provide pre-printed scavenger hunts and activities for groups. We ask that students bring their own pencils and a folder or notebook to write on if possible.
Find more information about what to expect on the day of your visit and our accessibility accommodations on our Prepare for Your Visit page.
Booking Information
Ages
All Grade Levels
Length
2 Hours Recommended
Price
Group Admission ($8 per student, $13 per adult)
1 FREE teacher chaperone or adult per every 5 students
Group Size
50-student maximum per group. To maintain social distancing, this group must break down into smaller groups of 5-10 while exploring the Museum galleries.
Timing
Tuesday–Friday, 10:00 am–2:30 pm
When to Book
At least 6–8 weeks in advance
How to Book
Fill out an Online Request Form or contact education@pennmuseum.org
---