Inquiry Into China
Explore Chinese culture and tie ancient traditions to present-day practices through Inquiry into China. This program, developed for students in 3rd-5th grade, uses the Museum's incredible Chinese objects to teach intercultural communication skills and promote understanding of Chinese influences in our daily lives. Students will receive an outreach lesson and a visit to the Penn Museum where they will participate in a guided tour and interactive workshop, all for free, including transportation.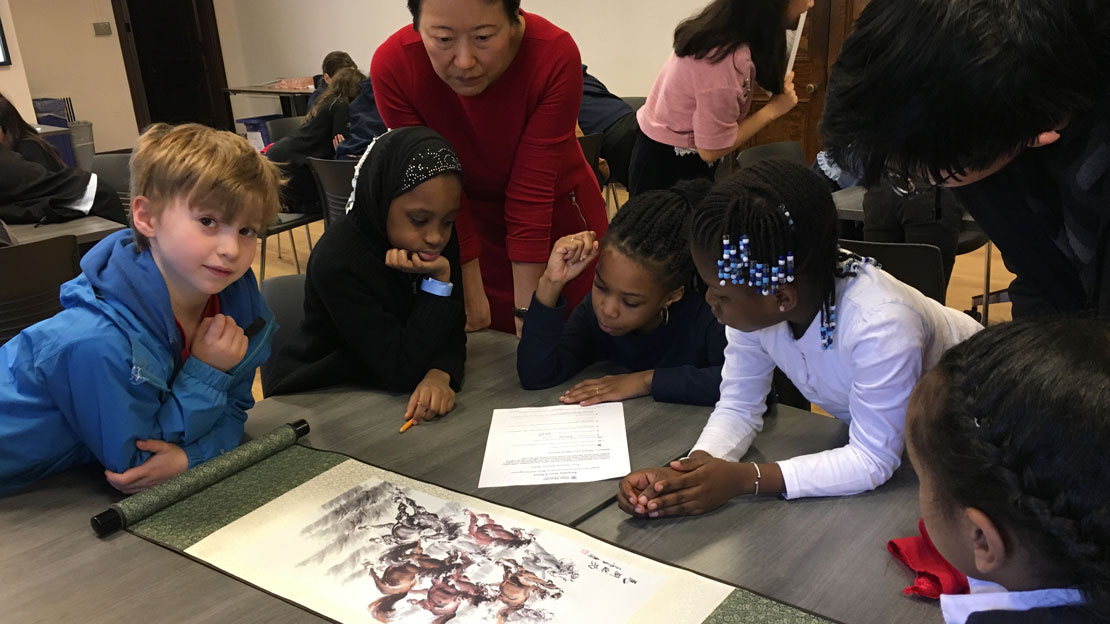 Taught by Chinese educators, Inquiry into China offers the following program package:
FREE Outreach Lesson in school classroom

Discover legendary animals that are significant to the Chinese culture and tradition. Educators introduce basic Mandarin greetings, facts about China as a country, the diverse cultures and languages, and the elementary school experience in China. After this, students play an interactive game which addresses stereotypes and misconceptions about China and Chinese culture. At the end of the lesson, the visiting educator reviews Museum Manners and the schedule for the upcoming trip.

FREE Field Trip to the Penn Museum, including

Bus Transportation
Gallery Tour: Explore Chinese history through the lens of globalization in the ancient world. Museum docents use the Museum's impressive collection to tell the story of how commodities and ideas traded through the Silk Road influenced Chinese daily life, history, and cultural legacy.
Interactive Workshop: Legendary Creatures of China: Real and Imaginary: Discover the symbolic animals of China, many of which are very present in their urban environments. Chinese educators tell the historic and cultural stories of these symbolic creatures, and student groups examine related replica objects up close and work together to create their own symbolic meanings attached to them.
Please confirm that your group is eligible for the program. Eligible groups are:
In 3rd through 5th grades
From a Title I school with 50% or more of the students receiving free or reduced lunch
From Philadelphia, although we do have a very limited amount of funds to serve the larger Philadelphia region
For a middle school option with Chinese content, check out Unpacking the Past. Check back in Spring 2020 for the release of our high school option with Chinese content.
---