UnPacking the Past
Explore ancient civilizations through Unpacking the Past, a program developed for 6-7th grade students in Philadelphia Title 1 schools. Students will receive an in-class lesson and a visit to the PennMuseum,where they will participate in a guided tour and an interactive workshop, all for free, including transportation. This program works with all eligible classes at any given school and has specially designed programs for self-contained AS, LSS, and MDS classes.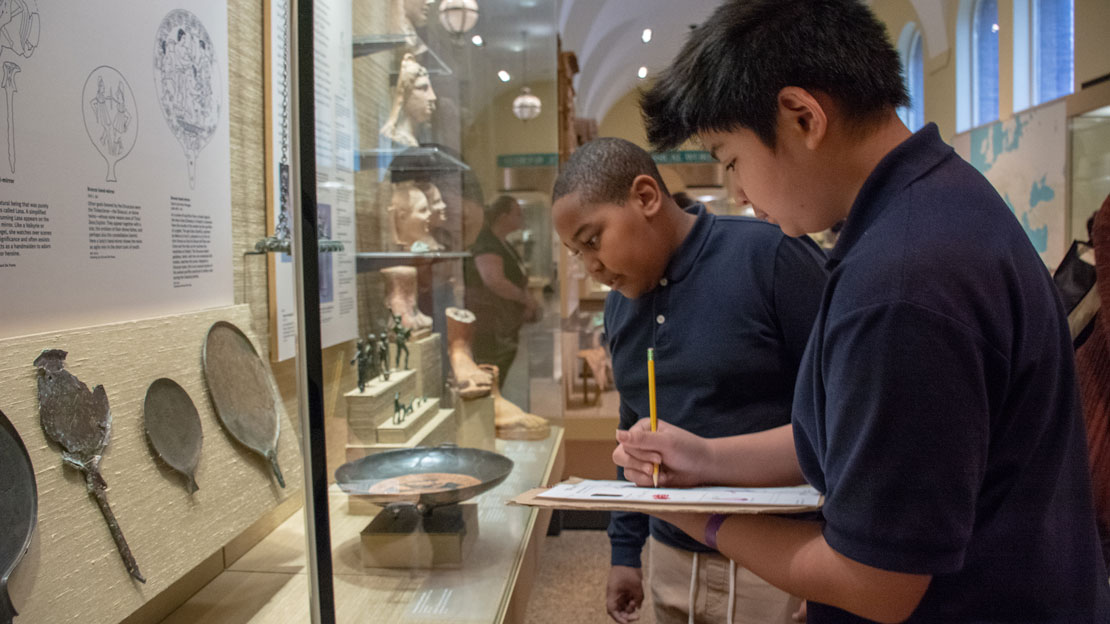 Schools that register receive
In-Class Lesson – Before the field trip, Penn Museum educators visit the school to introduce students to the Museum and prepare them for their trip.
Field trip – Students and teachers visit the Penn Museum with free admission and busing. During the field trip, students participate in an interactive and engaging gallery tour that covers three galleries in the museum plus a hands-on workshop. Students will also have time to self-guide in the galleries with suggested activities.
Free Membership – After the program, students receive a free family membership so they can return to the Museum on their own.
All lessons and activities can be modified for AS/LSS/MDS classes.
Why Participate?
UnPacking the Past is an exceptional opportunity for students to learn about the ancient world and make history feel real. The program enhances students' understanding of history by exploring what connects humans across, time, place, and culture. Through hands-on experiential lessons, students learn to think critically and ask questions about the world. UnPacking the Past is a dynamic learning environment that piques students' curiosity and encourages them to be lifelong learners.
These are the program goals
During the program, students will be actively engaged in learning, evidenced by their participation in activities and answering/asking questions
By the end of the program, students will have a positive association with the Penn Museum.
By the end of the program, students will have improved their critical thinking skills, such as using observations to make inferences and identifying continuity and change throughout human history.
Booking is Easy
Teachers can schedule the program anytime throughout the school year. With just four weeks of notice, teachers can schedule the program to coincide with any unit of study about the ancient world. The in-class lesson and field trip will be scheduled within a few days of each other, and at a time convenient to the school calendar.
Hear what teachers have to say about the program
"I wanted to share what one of the girls said this morning while we were talking about the trip: 'Now I want to be an anthropologist when I grow up!' I'd say that's a mark of success, especially for this group, who before yesterday likely didn't even know what an anthropologist was."
"My kids had a blast on this trip—they were talking about it for days afterwards and could not wait to come back with their memberships and show their families."
Sponsors
Unpacking the Past is made possible by the generosity of the following donors: Christian R. and Mary F. Lindback Foundation; Albert A. Ciardi III, W88; Marie A. Conn, Ph.D.; Kristin Davidson, CGS84, GED88; Dolfinger-McMahon Foundation; Pamela Freyd, Ph.D., GED68, GR81, and Peter Freyd, Ph.D., PAR; Ghislain Gouraige, Jr., C80, and Marjorie P. Gouraige, PAR; GRoW Annenberg Foundation; Diane von Schlegell Levy and Robert M. Levy, WG74; Jill Meyer; Morel Family Foundation, Lauren Bayster-Morel and Donald Morel, Jr., Ph.D.; Agnes M. Mulroney, CW57, PAR; National Endowment for the Arts; PECO; Barbara Rittenhouse; Kathryn Sorkin and Sanford Sorkin, W67; Lee Evan Tabas, C72, ME72, and Nancy Freeman Tabas, PAR; Jeffrey Weiss and Jill Topkis Weiss, C89, WG93, PAR

---
Contact
Associate Director of School Programs
215.898.4033