With its world-famous collection and internationally-respected scholars, the Penn Museum offers unique opportunities for teachers to increase content knowledge and explore new ways to teach students about the ancient world. All Penn Museum professional development opportunities offer Act 48 credits to participating teachers.
"This was an excellent two days in which I was encouraged and ignited with the subject area. I will use ideas that we planned as a group!"
"The speakers were amazing! Really enjoyed their expertise as well as down-to-earth attitudes."
"The entire experience was helpful and I will use information gained immediately in class."
---
Current Professional Development Opportunities
Teacher Talks
Sponsored by the Unpacking the Past program at the Penn Museum
Last Wednesday of the month, 4:30 PM – 6:30 PM
Join Penn Museum educators on the last Wednesday of the month for "Teacher Talks" where Philadelphia teachers will enjoy insider access to some of the amazing resources we have at the Penn Museum. Past Teacher Talks have included behind-the-scenes tours, talks from real archaeologists and anthropologists, and lesson plan swaps.
Teacher Talks are free for Philadelphia educators and participants receive parking vouchers, dinner, and Act 48 Credits.
Register for Upcoming Teacher Talks:
Thursday, May 4th, 2017: From Porcupine Quills to the Bead Boom: Adaptations in Native North American Arts
Wednesday, May 31st, 2017: Hands on Teaching and Learning in Archaeology
---
Create Your Own Professional Development
Our educators can work with you to design a professional development experience that is perfect for your staff or group. Choose from expert talks, gallery tours, and interactive workshops – all designed specifically to meet your group's professional learning goals.
For more information, email
This email address is being protected from spambots. You need JavaScript enabled to view it.
---
Past Professional Development Opportunities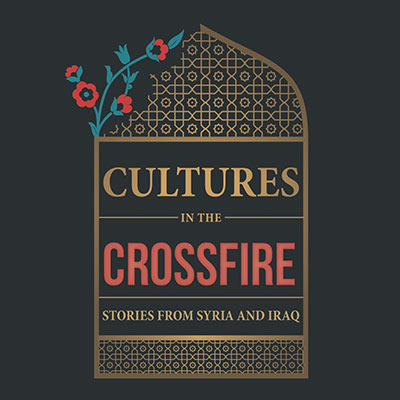 Engaging Students in International Issues: The Choices Approach
April 8, 2017, 8:30 am - 3:00 pm
Co-sponsored by the Brown University's Choices Program, Penn's Middle East Center, and South Asia Center, this workshop will introduce educators to the Choices Program's award-winning resources to teaching about contested international issues. Participants will work with the Middle East and South Asia units, view the new Penn Museum exhibit Cultures in the Crossfire: Stories from Syria and Iraq and hear from Dr. Salam Al Kuntar, Co-curator of the exhibit.
---
Middle East Cultures: Preserving the Past
Presented in conjunction with the Middle East Center at Penn
August 23, 2016 8:30 AM– 12:15 PM
Dr. Salam Al Kuntar presents the work of the Penn Museum's Cultural Heritage Center on Safeguarding the Heritage of Syria and Iraq Project (SHOSI), a project which protects Syrian and Iraqi cultural heritage by empowering the Syrians and Iraqis to preserve their own cultural artifacts and sites. After the talk, teachers participate in a guided gallery exploration using object-based learning strategies to explore and study of real Turkish cultural treasures in The Golden Age of King Midas exhibition.
---
MESOPOTAMIAN MADNESS: Teachers and Scholars Creating Curriculum Together
Presented in conjunction with the International Association for Assyriology and sponsored by the Unpacking the Past program at the Penn Museum
July 14th and July 15th, 2016, 8:00am – 3:00pm
Teachers participate in hands-on workshops and talks led by international scholars visiting Philadelphia for their annual conference. As partners, teachers and scholars will produce materials and lessons for teaching about Mesopotamia that are not only easy for teachers to use and adapt, but are also animated by a sense of discovery and are informed by the latest research.
---
Special Education Programs at the Penn Museum
Sponsored in part by PECO
August 26, 2015 , 8:00 am – 1:00 pm
School District of Philadelphia Autistic Support, Life Skills Support, and Multiple Disability Support teachers preview our new educational offerings for students with disabilities. Our interactive and multisensory programs include gallery tours, Museum workshops, classroom outreach lessons, distance learning, and our Loan Box program. Teachers at this workshop preview how our programs build upon classroom studies of functional academics, social and interpersonal communication skills, and domestic maintenance.
---
Inquiry and the Ancients: A Mini Teacher Institute
Presented in conjunction with the University City Science Center and sponsored in part by PECO
July 13 - July 14, 2015 , 8:00 am - 3:00 pm
The educational value of a class visit to the Penn Museum can be greatly enhanced by what happens before and after the trip.  Participants in this Mini Institute learn from leading experts in the field of archaeology, receive behind the scenes tours of the Penn Museum's world-class collections, and are given time and space to work collaboratively with other teachers to create extension lessons for their classrooms using inquiry-driven approaches.
---
Native American Peoples: Past and Present Teacher Institute
Presented in conjunction with the Yale Peabody Museum
February 18 – February 19, 2015, 8:00 AM – 3:00 PM
The Institute assists and inspires teachers to create a curriculum that highlights Native American culture of past and present. Sessions will highlight the Penn Museum's incredible collection of Native American objects and knowledgeable curators and professors.