Teaching with Objects
---
Teaching and learning at the Penn Museum has the potential to move beyond content knowledge to address and engender the fundamentals of learning. The unique and compelling artifacts in our galleries inspire curiosity, when a student is driven to learn more about an object or a culture that he or she has never before encountered. Objects inspire a multitude of questions- what was this used for? Who made it? How did it come to be in the Museum?- and are an ideal means by which to pursue further inquiry.
---
The University of Pennsylvania can offer its students direct access to some of the finest collections of art, artifacts, and rare books and manuscripts in the world. The incorporation of these objects into course instruction exposes students to these collections and enhances the learning environment of the classroom.
---
The creation of Digital Exhibitions offers students and faculty the opportunity to curate objects and archival documents within a digital space.
---
The Penn Museum invites faculty to submit proposals for course development grants to support the creation of innovative classes that integrate the Museum's collections and galleries into their teaching. These grants support faculty in designing new courses or modifying existing ones to incorporate a substantial new component of museum-based learning, and is intended to engage a broad group of faculty partners and build on Penn Museum priorities to support University teaching needs at a high level.
---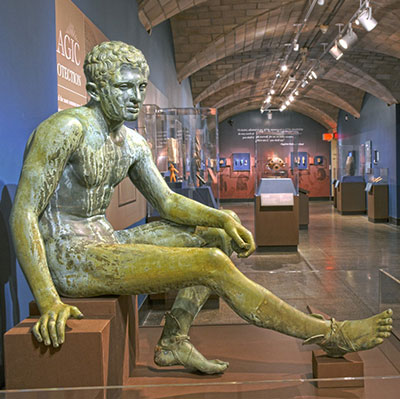 The Penn Museum provides support for instructors to craft curriculum around the Museum's holdings. Object-Based Learning, combined with Project-Based Learning, fosters critical thinking, communication, collaboration, and creativity.
---