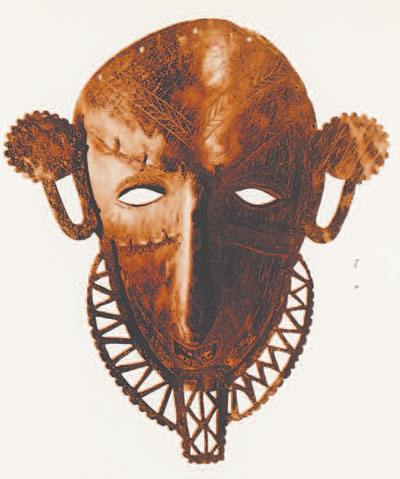 Between the Cape of York Peninsula in Australia and the southeast tip of land along the Papuan Gulf of New Guinea, lie the Torres Straits. The people who live on the islands in the Straits have been creating paraphernalia to complement their ritual life for centuries.
The University Museum has recently acquired by purchase a sixteen inch high mask of turtle shell made in this place for a funeral ceremony. The elongated, inverted triangular face is made up of several sections of shell. These plates of natural color have been carefully lashed together with small pieces of sinnet cord drawn through round holes in each two joining pieces. The shells have been treated by heat, presumable, to effect the gradual convex curve that makes up the flowing lines of the mask from the explosive center at the top of the bridge of the nose. Each of the joined parts, of which there are five, in the mass of the mask has been pointed, as it were, with reddish paste. The topmost plate of the elongated forehead is decorated by a series of incised lines banding the forehead in a diamond shape. This abstract design suggests the backbone structure of fish so important in the life of these people. The next two panels incorporate the eyes, which in this mask are left void. The brows of the eyes are incised and the lids are carefully articulated with curved sections of shell lashed in. Two flaring ears attached separately frame this section, complementing perfectly the curve of the eyelids at either extremity of the mask. The characteristic long nose dominates the central section, achieving dynamic symmetry in subtle placement just off the main axis. The grinning mouth with bared teeth in openwork recapitulates the pinched, almost pointed chin. The entire countercurve of the lower half of the mask is framed in an openwork geometric beard, in turtle shell aslo, lashed on to the solid plate. This stylization of the beard may originally have been embellished by entwined human hair. The shell itself, buffed with lime and red paste, takes on a translucent luster, its natural graining providing contrast vital and alive.
The beauty of the craftsmanship makes us wonder who the anonymous creator might have been. He, of course, was not an artist in our sense of the word, just as the mask in its original context was not for its users a work of art. Made by an artisan in an ageless tradition of working in the shell of the turtle, the mask was made in the late 19th century to be used in a funeral dance. If we were to ask the carver how he had made it he would answer, "I do not know," for the making of a ritual mask is a secret of the tribe.