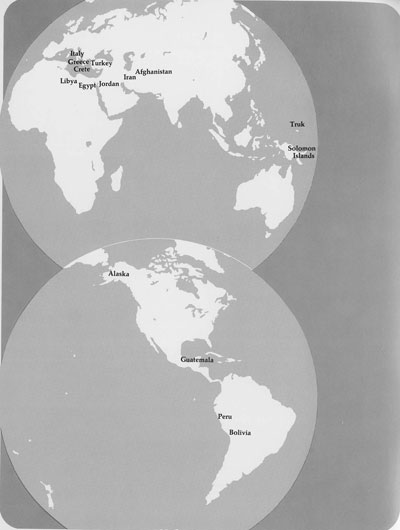 AFGHANISTAN – Reconnaissance and sherd survey to determine site of future work. George F. Dales in charge.
ALASKA – Archaeological survey of the Galbraith Lake region in north Alaska. Summer, 1966. Herbert Alexander, Jr. in charge.
ANDEAN STUDIES – Alfred Kidder is compiling the publication of his excavation at Chiripa in highland Bolivia.
APPLIED SCIENCE CENTER FOR ARCHAEOLOGY (ASCA) – Continuing development of underground exploration instruments and dating methods and compilation of technical information.
Continuing cesium magnetometer surveys in Italy and Greece. Experiments with new type of aerial photography. Continuing the development of thermo-luminescent dating. Correlating radio carbon methods with tree-ring dating. Froelich Rainey in charge.
EGYPT – Proposed excavation at Abydos, 1967. William Kelly Simpson in charge.
GREECE – Instrument surveys at Helice and in Crete, 1966. Elizabeth Ralph in charge. Excavation fo a 5th-3rd century B.C. site at Haliesis. Charles Williams and Michael Jameson in charge.
GUATEMALA – Continuing excavations and restorations at Tikal. In collaboration with the Guatemala Government. Year-round operations. Alfred Kidder in charge.
IRAN – Completing work at Hasanlu and beginning excavations at Dinkha Tepe, northwest Iran, 1966. Robert Dyson in charge.
ITALY – Explorations continuing in search for Sybaris in Calabria, in collaboration with the Superintendency of Antiquities, Reggio Calabria. Spring season. Froelich Rainey in charge.
Excavation at Ischia in collaboration with the Superintendency of Antiquities, Naples. Summer and fall seasons. Giorgio Buchner in charge.
Excavation at the site of La Civita, near Artena. Domenico Fascena and Lorenzo Quilici in charge.
Collaborating with the British School in Rome and the Superintendent of Antiquities in Puglia in the excavation of ancient Gravina. John Ward Perkins in charge.
JORDAN – Excavation of Tell es-Sa'idiyeh, Jordan Valley, continuing in late winter and spring months. James Pritchard in charge.
LIBYA – Preliminary planning for continued restoration at Leptis Magna completed. Expecting program to begin in 1967. Aubrey Trik in charge.
Froelich Rainey made a reconnaissance of the Fezzan area in southern Libya during the spring of 1966. Carleton Coon expects to continue there in 1967.
PERU – Physical anthropological study of Cashinahua Indians in the Peruvian rain forest. Summer, 1966. Francis Johnston in charge. Kenneth Kensinger is continuing his ethnographic and linguistic study of the same tribe.
SOLOMON ISLANDS – Southwestern Pacific. Ethnographic and archaeological research continuing in 1966-1967. William Davenport in charge.
Gulburn Coker is studying a nativistic movement on Guadacanal related to the Marching Rule.
SUMERIAN RESEARCH – Samuel Noah Kramer continues his study and publication of Sumerian literary documents.
TRUK, CAROLINE ISLANDS –  Western Pacific. Working on reports of ethnographic research just completed. Ward Goodenough in charge.
TURKEY – Excavations at Gordion, near Ankara to be continued in 1967. Rodney Young in charge.
UNDERWATER – Continued development of new techniques for underwater exploration. George Bass in charge.