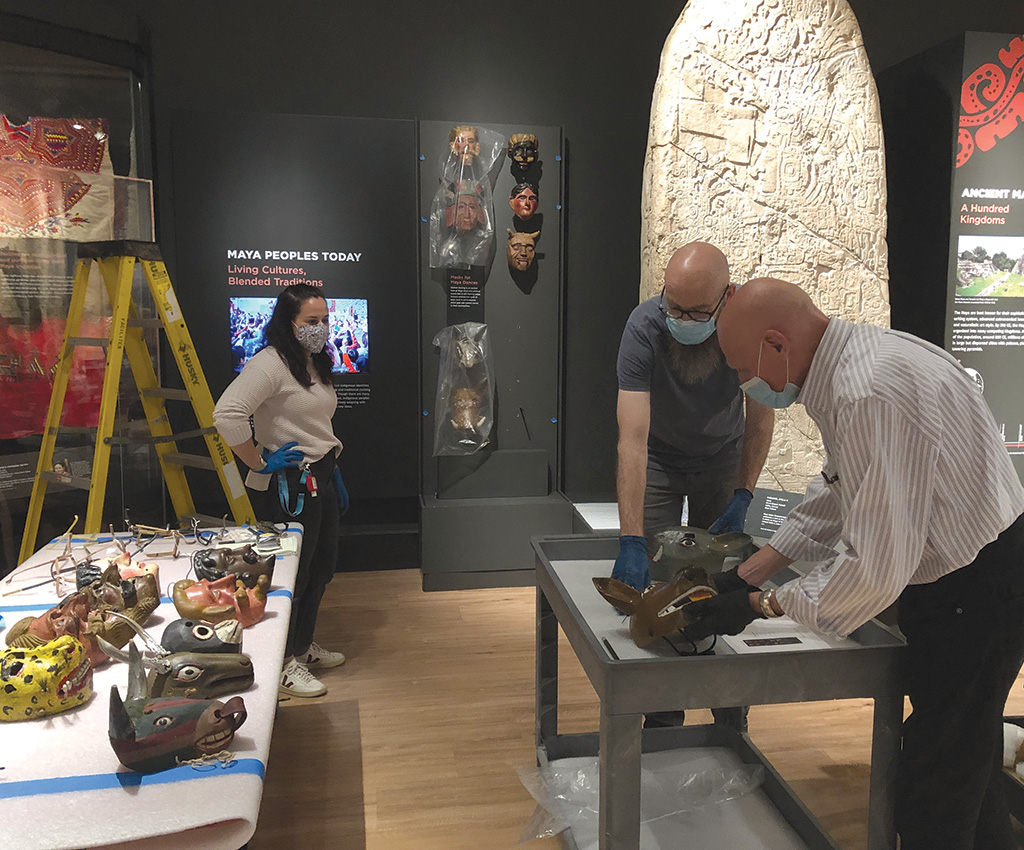 The 2013 Native American Voices exhibition includes many of the most spectacular textiles in the Penn Museum's North American collections. To be able to share these rich but highly light-sensitive collections with the public while preserving them undamaged for future generations, the exhibition was planned with carefully controlled light levels and with annual rotations of the textiles displayed on human forms in its four corner cases, so that none are displayed for more than six months.
In finalizing the object list, the curators selected several years' worth of rotations for these dramatic corner cases. And the exhibition cases were built to specifications that make access as easy as possible to facilitate changing the displays. As a result, not only are the collections protected, but Penn Museum visitors have had a chance to see a far greater selection of the collection over the course of the exhibition's run.
The recently opened Africa, Mexico and Central America, and Middle East Galleries incorporate similar climate-controlled cases designed to house frequently rotated displays of textiles and other light sensitive materials including manuscripts and masks. In addition, the small, circular Spotlight Gallery adjacent to the Sphinx in the Museum's Main Entrance was designed for regular rotations of a single or small number of spectacular objects. As a result, in addition to the latest special exhibitions, visitors will always find new collections to see in these galleries.
Africa Galleries: Textile Display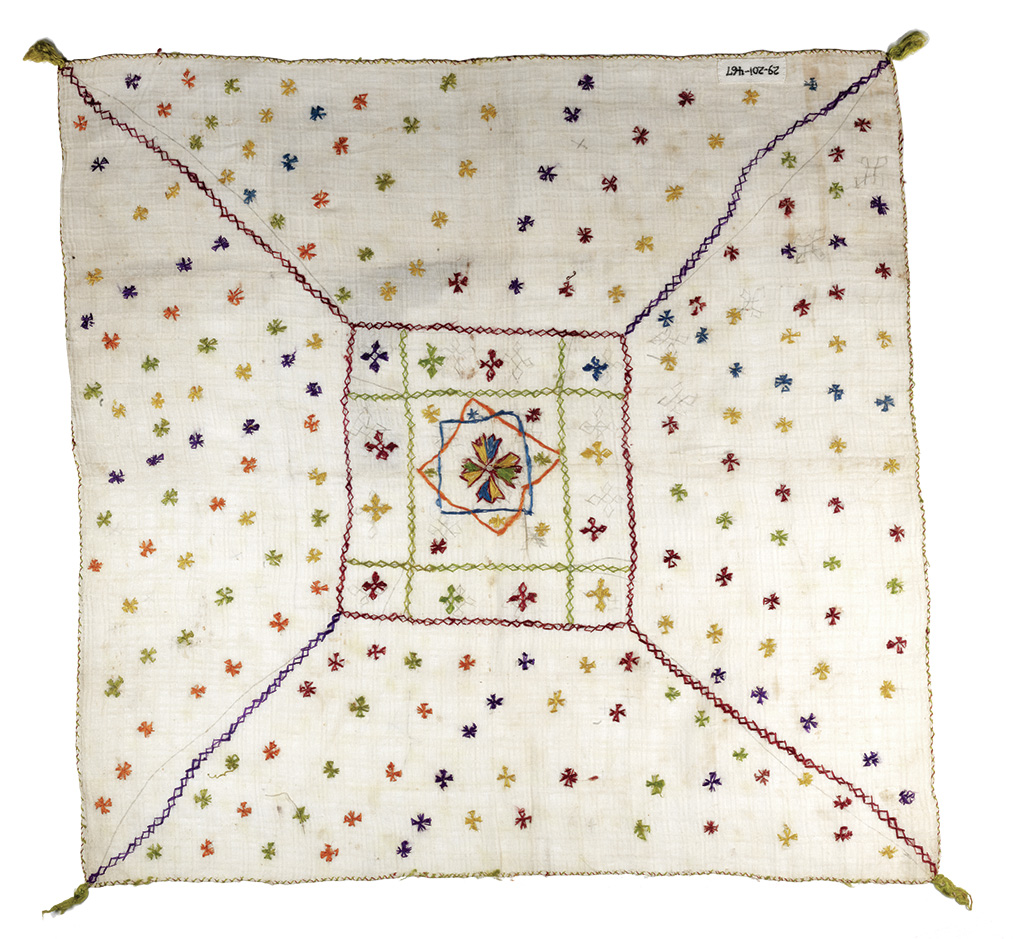 Among displays rotated in spring 2022 in the Africa Galleries, the large textile case near the Galleries' west entrance now includes two pieces from the Mekhet area of Morocco that were part of a large collection made for the Museum by Talcott Williams and Sophia Wells Royce Williams in 1898. The first is a cotton and silk belt (below) with interwoven with patterns and little pom poms; the second is a napkin embroidered on a flat, woven cloth (far left). Intriguing about the embroidery to Friendly Keeper of Collections in the African Section Dwaune Latimer is that it "appears to be just a young girl who's learning how to keep things aligned; this is a geometric pattern with some stars and crosses, but she's still having trouble trying to keep it balanced, so you see there's a little bit of a wiggly line here and there, but it's still a really lovely piece. You can see the pencil drawings that show where little stars, crosses, lines are supposed to be, and this person is trying to follow it. I think they just decided to change direction!"
Dwaune shares that because the Williams collected so extensively during their trip (the collection numbers just under 700 pieces) they didn't record a great deal of information about each piece. She notes, though, that in addition to pottery, cloth, and all sort of household items, the collection from this part of Morocco includes a lot of Sephardic Jewish garments, and that since both Muslim and Jewish people had been in the region for so many centuries, their weaving and embroidery traditions are interwoven.


Spotlight Gallery: Deer Dancer Katsina
The Spotlight Gallery display installed in spring 2022 was selected to complement the exhibition Water, Wind, Breath: Southwestern Native Art in Community cocurated by Lucy Fowler Williams, Associate Curator-in- Charge and Sabloff Keeper of Collections in the American Section, which opened at the Barnes Foundation in February (see page 54).
This Hopi katsina—or spirit carving—by artist Aaron Fred represents a masked deer dancer. Performed in Pueblo communities in January and February, winter deer dances celebrate and thank the deer, elk, and antelope who gave themselves to the people in the last year. Deer headdresses include the antlers of those animals, and garments and adornments are made anew by hand each year. Singers, dancers, and observers come together in prayerful offerings that strengthen the community, sharing and seeking blessings for all.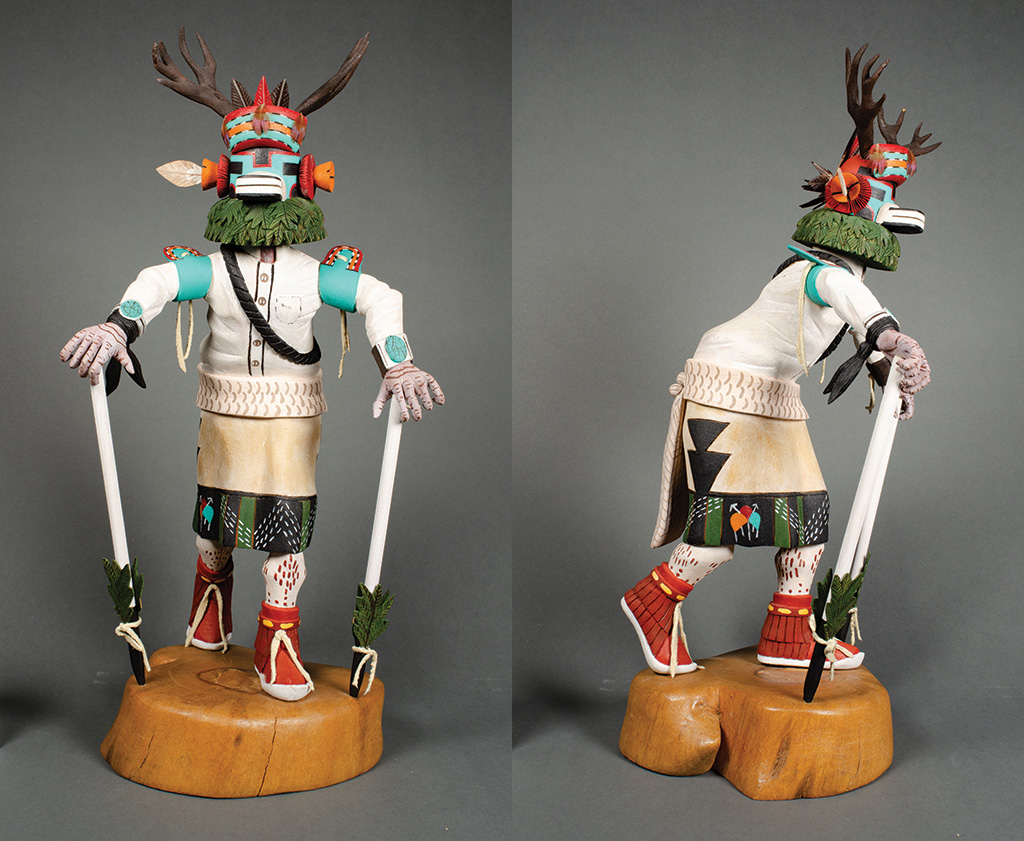 Acknowledgement
Deer Dancer is one of 90 katsinas donated in 2021 by Jan L. Bernstein, Esq., C79, in honor of her parents James H. Bernstein, W52 and Joan Bernstein, a deeply knowledgeable collector of Southwest Native art who formed relationships with many Native artists and was a regular judge at Santa Fe's annual Indian Market.