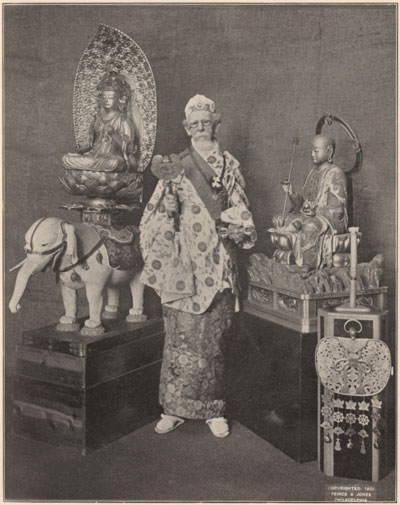 Maxwell Sommerville (1829–1904) was one of the most colorful characters associated with the early days of the Museum. The first and only Professor of Glyptology (the study of engraved gems) at Penn, he had become wealthy through publishing and pursued collecting in two disparate areas: engraved gems and artifacts of Buddhist worship.
When conducting tours of his "Buddhist Temple" at the Museum, Sommerville dressed up in Buddhist robes. His gallery displayed art and temple furnishings from countries ranging from India to Japan, including as much as he could fit into the space. He openly welcomed practitioners of the faith to worship in the gallery.
For all his contributions to the Museum, Sommerville still managed to stir some scandal. Following his death in 1904, an investigation by Adolf Furtwängler, the eminent German archaeologist, raised concern as to the legitimacy of certain gems in Sommerville's collection. Museum authorities immediately removed the exhibit, and most of the gems have not, with the exception of a small show in 1956, been exhibited since.
Modern investigation sheds a redeeming light on this scandal, however. Contrary to the popular rumor that Sommerville's gems were forgeries, these pieces were, in fact, Neoclassical, dating to the 17th, 18th, and 19th centuries. This underscores the point that the value of museum collections can change over time. Today the Neoclassical gems, especially those signed by their carvers, are as important and valuable as the ancient ones; they reveal aesthetic elements and motifs of great interest to modern scholars.