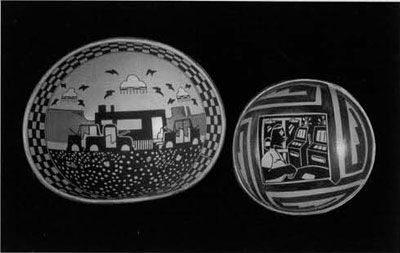 How are contemporary Pueblo people interpreting their rich cultural heritage and how is this affecting their traditional arts? These, and related questions, are informing the American Section's strategy for collecting modern Southwestern material culture.
The Section has recently purchased two pottery vessels made by Diego Romero, a ceramic artist from Cochiti Pueblo, New Mexico. "Home on the Res" depicts broken-down cars in front of a trailer against a backdrop of buttes and rain clouds. A closer look reveals bones and pots under the ground. Diego made this bowl when he was considering the relationship of humans to the landscape: "I was thinking of my ancestors and the importance place had for them and how they might have coded their surroundings into a language of symbols.
Anasazi pots, for example, are filled with mountain ranges and scenes of villages. So this is a reservation landscape." The other vessel, "Slot Machines." features one of the Chongo brothers at a local casino. The Chongo brothers are Diego's distinctive creation. Representing Diego and his brother Mateo (a renowned painter), they also refer to the mythical Pueblo hero twins who always protect the people. Diego was considering how to create an advertisement for a casino: "Indian gaming is a relevant issue in the Southwest today. Look around and it's everywhere. It has to do with Tribal sovereignty. Of course, not all Indian people are for it." Since 1988 casino are using such income to make up for funding cutbacks by the Bureau of Indian Affairs.
Like many potters from Cochiti, Diego gets his clay from a tra­ditional source near the village. And, like other contemporary potters, he frequently fires using an electric kiln which decreases the chance of breakage. Diego's designs begin on a sketch pad, are finalized and cut out, and then traced onto the vessels. Both bowls exhibit Diego's distinctive graphic style in which he merges ancient Mimbres figu­rative design with 1960s comic-book art. Diego writes, "I've always loved comics…I think the graphic narrative is what appealed to me" (Pasa­tiempo, July 30, 1999). He concludes, "My work is about the here and now—where we are as Indian people today."