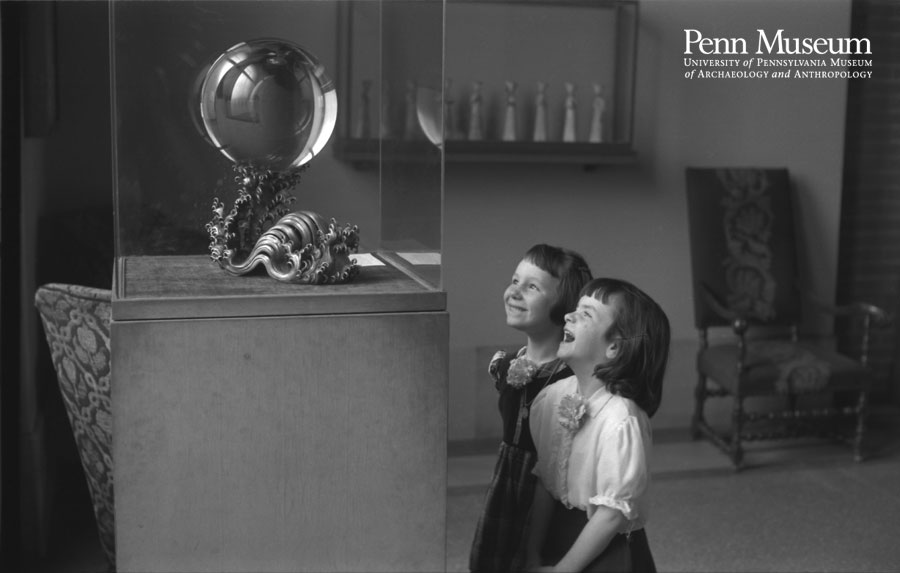 The Chinese crystal sphere, on display in the Harrison Rotunda, has been an iconic object in the Museum since 1927, when it was purchased by Eldridge R. Johnson in memory of Museum Director George Byron Gordon. The 55 pounds of transparent quartz crystal is supposedly from the collections of the infamous Qing dynasty Empress Cixi (1835–1908), a concubine who rose to the position of Dowager Empress of China. After her death, many of her belongings were dispersed. Purportedly among her possessions was a flawless, crystal sphere — believed to be the one now owned by the Museum.
Johnson, the founder of the Victor Talking Machine Co. of Camden, NJ, was a great supporter of the Museum, having already purchased a number of magnificent pieces for us, including the famous horse reliefs of Chinese Emperor Tang Taizong (599–649). Johnson found the sphere in the antiques department of Wanamaker's department store—a former Philadelphia institution closed in 1995—and asked Gordon about it. He thought the $50,000 price too high. But when Gordon died suddenly later that month, Johnson bought the piece, and did not even haggle. The crystal sphere then enjoyed a peaceful 61-year stint as one of the Penn Museum's best-loved objects.
One night in 1988, while the security system was undergoing repairs, the sphere was stolen, together with its base and a small bronze statuette of Osiris. The Japanese silver base was found the next day by an alert student along the South Street Bridge, but the other two pieces had disappeared. There were no leads.
Three years later, Jes Canby, a scholar of ancient Near Eastern sculpture and a Museum volunteer, visited a thrift shop on the other side of the Schuylkill River from the Museum and made a discovery. On a shelf was the statuette of Osiris. It had arrived from "Al the trash picker" who had sold it, along with a table, for $30. The FBI, under Robert K. Wittman, author of Priceless, quickly traced Al to a nearby garage, whose owner was clearing everything out. The crystal ball had also been in his garage— the owner had given it to a friend who was into the occult. The ball was ultimately recovered without a scratch and without fingerprints or any evidence of those who stole it. And it is, again, floating in the center of the Harrison Rotunda.