Photography has been central to archaeological and ethnographic documentation since its invention in 1839. Almost all Penn Museum expeditions took cameras into the field. Since its founding in 1887, the Museum has also acquired many photographic collections, for both research and public education.
Many of these thousands of images are by pioneers of photography or early practitioners of the medium in disparate parts of the globe. The Museum Archives houses prints by Edward S. Curtis, Maison Bonfils, Timothy O'Sullivan, William Henry Jackson, Sebah and Joaillier, Désiré Charnay, and many more.
Among these varied collections is a group of 16 rare albumen prints of China, taken by Thomas Child (1841–1898), an English engineer. In 1870, Child moved to Peking (now Beijing) to work as a gas engineer for the Imperial Maritime Customs Service. Before 1861, the city was almost entirely closed to foreigners, and by the time Child arrived, there were still only around 100 foreigners living there. The city itself was rarely photographed.
Child fell in love with the country, and in 1874 brought his family to China. He learned to speak some Chinese and spent time with local people. He also began taking photographs. During his 20-year stay, he produced over 200 pictures of Chinese subjects, the earliest comprehensive survey of Peking (Beijing) and its surroundings. Child's photographs included many architectural views, but also photographs of street scenes and individuals. Thomas Child was only the third foreigner to photograph in China after Felice Beato (1860–1861) and John Thomson (1868–1872). Unlike other foreign photographers who passed through Peking, Child was a resident, and his intimate understanding of the city comes across in his work. Child's photographs helped shape foreigners' views of China.
Glass plate negatives and the collodion process were used to produce albumen silver prints. Most of Child's pictures were taken between 1875 and 1877, but he made and sold prints throughout the 1880s. The prints in the Penn Museum Archives are early, all marked with Child's reference number in pencil on the print. A few are signed on the negative, and some are also dated, either 1875 or 1876. His plates measure roughly 8 X 10 inches, and are mounted on cardboard.
Child returned to England in 1889. He was killed in 1898 when his horse-drawn carriage overturned. Child left China a decade before the outbreak of the Boxer Rebellion (1899–1901). Much of what he photographed was altered by that war, making his photos a unique and valuable record of the ancient city of Beijing.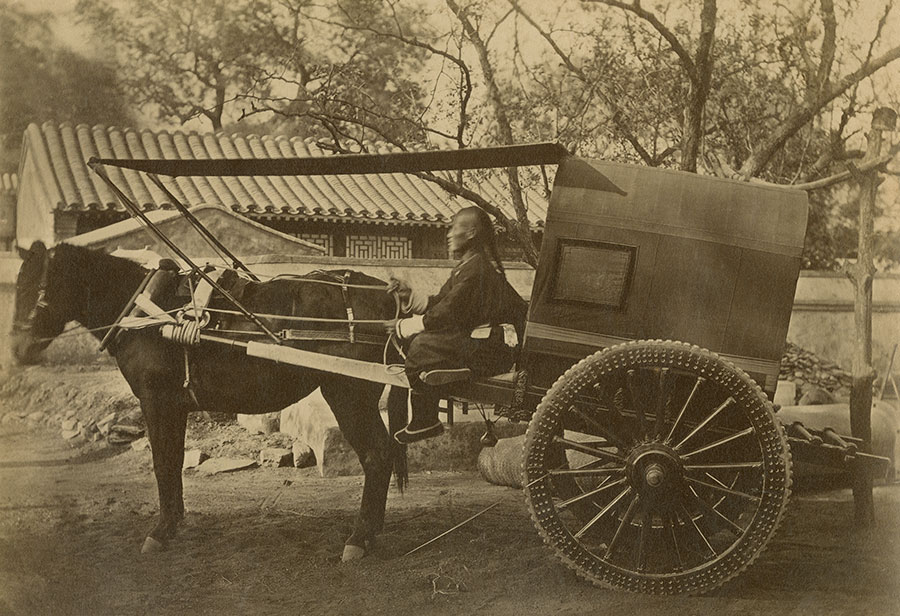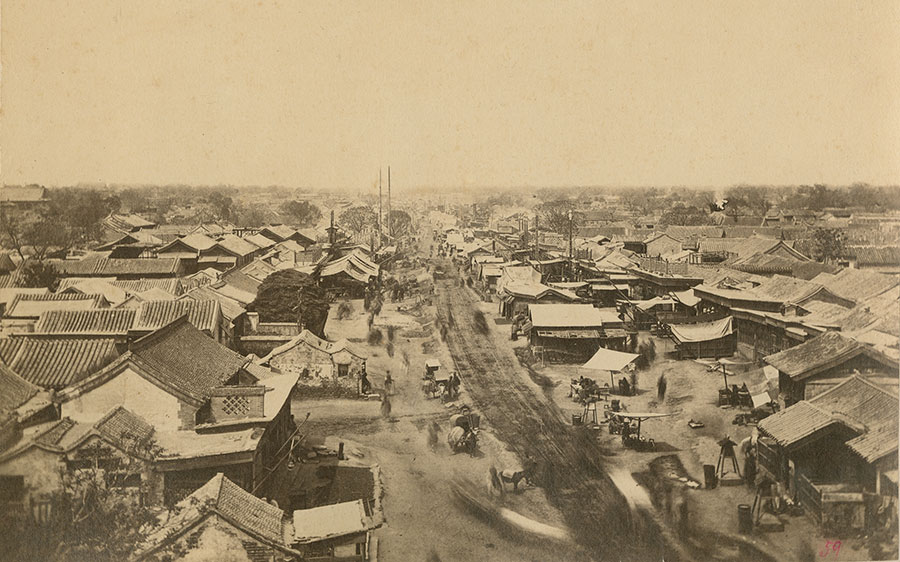 EDITOR'S NOTE: Quotes in photo captions are from Thomas Child's article "Peking," which appeared in Journal of the Society of Arts 43 (February 1, 1895), pages 207–224.