Press - Press Release
Penn Museum Special Announcement:
Penn Museum's Secrets of the Silk Road Exhibition to Open with Mummies and Artifacts from China!
Penn Museum is pleased to announce that its landmark exhibition from China, Secrets of the Silk Road, will now open to the public with the full complement of artifacts and mummies for a limited time only, beginning Friday, February 18. Penn Museum will extend day and evening hours to help accommodate those who wish to experience this extraordinary exhibition during its limited run. Read more...
---
Historic Secrets of the Silk Road Exhibition from China
Makes Only East Coast Stop at the Penn Museum in Philadelphia
February 5 - June 5, 2011
PHILADELPHIA, PA November 2010—With graceful eyelashes, long flaxen hair and serene expression, the "Beauty of Xiaohe" seems to have just softly fallen to sleep—yet she last closed her eyes nearly 4,000 years ago.  She was found in 2003, one of hundreds of spectacularly preserved mummies buried in the desert sands of the vast Tarim Basin, in the Far Western Xinjiang Uyghur Autonomous Region of China. This "Beauty of Xiaohe" and more than 100 objects, 700 to 3,800 years old, travel for the first time ever to the East Coast, where Secrets of the Silk Road opens at the University of Pennsylvania Museum of Archaeology and Anthropology in Philadelphia from February 5 through June 5, 2011, before returning to China.
---
Secrets of the Silk Road, organized by the Bowers Museum, Santa Ana, California, in association with the Archaeological Institute of Xinjiang and the Urumqi Museum, began its U.S. tour of the Bowers Museum (March 27 to July 25, 2010), before moving to the Houston Museum of Natural Sciences (Augfust 29, 2010 to January 2, 2011).
A NEW EXHIBITION PRESENTATION
Penn Museum's exhibition will provide a new context for the Secrets of the Silk Road material, drawing upon the rich history of Central Asia's Tarim Basin desert, and the mystery of the peoples who lived there or passed through so long ago. Opportunities to "Unravel the Secrets" draw visitors into some of the issues, and discoveries, that engage scholars today. New interactive components in the exhibition are designed to engaged visitors of all ages with the ancient artifacts and principal themes; what can the variety of textiles made and traded in the rgion, an astonishing range of languages, and exceptionally preserved mummification, reveal about this region of the Silk Road? A full schedule of complementary Silk Road programming, designed for diverse ages and intersts, continues throughout the exhibition.
The new presentation was developed by the Penn Museum's exhibition team in close collaboration with Victor Mair, Penn Museum consulting scholar and professor of Chinese Language and Literature at the University of Pennsylvania. Dr. Mair is the Secrets of the Silk Road catalog editor and a curatorial consultant.  Credited with "rediscovering" the Tarim Basin mummies for the West on a trip to the region in the 1980s, Dr. Mair has engaged in intensive research on Xinjiang archaeology since then.
"This traveling exhibition of materials from half way around the world is opening new doors—providing visitors with an unparalleled opportunity to come face to face, literally, with life in East Central Asia, both before and after the formation of the fabled Silk Routes that began more than 2,000 years ago," said Dr. Mair.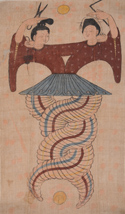 Secrets of the Silk Road includes two mummies and the full burial trappings of a third, representative of three different periods of time: the much celebrated, six foot six inch "Yingpan Man," ca 3rd-4th century AD, with his gold-foil and white mask and opulent robes (the mummified remains of his body were too fragile to travel); an infant, ca 8th century BC, wrapped in a still vibrant blue bonnet and burgundy woolen shroud similar to that found in northern Europe; and the spectacular, just recently discovered, 3,800-year-old "Beauty of Xiaohe," whose state of preservation and attractiveness are startling.
Upon first encountering these mummies, Dr. Mair and other scientists realized the potentially enormous implications of these astonishingly well-preserved human remains for migration and interactions at this central meeting point of Europe and Asia so long ago. The material buried with these men, women and children, as well as their perfectly preserved clothing, bears a striking resemblance to mummies found in Siberia to the North, and Persia and Europe to the West. Even more surprising is that these mummies span a period of more than 3,000 years, providing a glimpse into the lives and culture of the ancient Silk Road traders, who are, based on new DNA research, an intriguing mix of people from all over Eurasia.
In addition to the mummies, the exhibition features more than 100 objects that offer insight into the long and diverse cultural heritage of Central Asia—a crossroads of the Silk Road.  These include an array of well-preserved clothing, textiles, wooden and bone implements, coins and documents. Along with gem-encrusted gold vessels, masks, jewelry, accessories and other objects, and even preserved foods, such as wonton and flower-shaped desserts, the collection reflects the wide extent of the Silk Road trade, with strong Mediterranean influences as well as goods from ancient China.
The discovery of these ancient people along the Silk Road has helped scholars better understand the settlement of ancient Central Asia and has opened up a window to understanding the very early exchange of important technologies, life-improving inventions, and ideas and customs—including what may be the world's first sunglasses—being practiced in the inhospitable lands of the Tarim Basin where East meets West. The advanced metallurgy and textile traditions of these mystery mummies are of particular note, according to archaeologists.
The Silk Road, which scholars date from China's Han Dynasty in the late second century BC to about AD 1400, was aptly named because of the vast amounts of silk and other merchandise—spices, gold, precious metals and stones, ivory, glass, exotic animals, furs, ceramics, jade, laquer, iron and plants—that were carried back and forth between East and West.  Many goods were bartered for others along the route, and objects often changed hands several times.  Artifacts in the exhibition both span the 1,500-year period of the famous route, and, in the case of early mummy burial goods, pre-date the historical Silk Road.
The exhibition is accompanied by a full-color catalog authored by a team responsible for much of what is known outside of China about these mummies and their culture, including Dr. Mair; Spencer Wells, director, National Geographic Society's Genographic Project; Dr. Elizabeth Barber, noted expert on ancient textiles, Occidental College; and Lothar von Falkenhausen, professor, art history and archaeology, UCLA.
The Penn Museum presentation of this exhibition is made possible, in part, through the generosity of Lois and Robert Baylis; the E. Rhodes and Leona B. Carpenter Foundation; the Commonwealth of Pennsylvania; Host Hotels and Resorts; A. Bruce and Margaret Mainwaring; Alexandra and Eric J. Schoenberg, Ph.D., the Selz Foundation, and Titan. The Henry Luce Foundation and the Center for Ancient Studies, University of Pennsylvania, are sponsors of the international symposium March 19, 2011. Annette Merle-Smith, the PNC Foundation, Subaru of America, and the Wachovia-Wells Fargo Foundation sponsored Education initiatives for the exhibition.
Media sponsors for the exhibition are NBC 10 Philadelphia, the Philadelphia Inquirer and Philly.com.
TICKET AND TOUR INFORMATION for Secrets of the Silk Road at the Penn Museum:
General admission timed tickets (includes admission to the rest of the Museum)

Adult: $22.50
Senior (65+)/Military: $18.50
Students (full-time with ID)/Children (6 to 17 years): $16.50
Special PennCard rate, $12.50, is available for PennCard holders by visiting any Penn Museum admissions desk during regular Museum hours.
Exhibition audio tours are available in English and Mandarin at the Museum ($2.00).
Museum hours during the Secrets of the Silk Road exhibition are Tuesday, 10:00 am to 5:00 pm; Wednesday, 10:00 am to 8:00 pm; and Thursday through Sunday, 10:00 am to 5:00 pm. Open holiday Mondays (February 21; May 30). Fridays, 5:00 to 8:00 pm, Secrets of the Silk Road is also open (when the rest of the Museum is closed).
Discounted group tickets for groups of 15 or more (includes admission to the rest of the Museum) are available now:
Adult: $17.50
Senior (65+)/Military/Students (full-time with ID): $15
Children (6 to 17 years): $12
Call or email about extended group hours, tailored package options (including speakers or hands-on activities, rates vary), and reservations: (215)746-8183 or grouptickets@museum.upenn.edu
Interested individuals can sign up NOW to receive updates, related program information and ticket sale notification for Secrets of the Silk Road.
ABOUT THE UNIVERSITY OF PENNSYLVANIA MUSEUM OF ARCHAEOLOGY AND ANTHROPOLOGY:
University of Pennsylvania Museum of Archaeology and Anthropology is dedicated to the study and understanding of human history and diversity. Founded in 1887, the Museum has sent more than 400 archaeological and anthropological expeditions to all the inhabited continents of the world. Three gallery floors offer a trip through time and across continents, with materials from ancient Egypt, Mesopotamia, Asia, Central America, and the Mediterranean World, as well as traditional materials from Africa and the Americas. With an active special exhibition schedule and educational programming for children and adults, the Museum offers the public an opportunity to share in the ongoing discovery of humankind's collective heritage.
Penn Museum is located at 3260 South Street, Philadelphia, PA 19104 (on Penn's campus, across from Franklin Field). Public transportation is available by SEPTA's University City Regional Rail Line at University City Station; the Market-Frankfort Subway Line at Market and 34th Streets; the Surface Trolley Lines 11, 13, 34, and 36; and buses 12, 21, 30, 40, and 42. Museum hours are Tuesday, 10:00 am to 5:00 pm; Wednesday, 10:00 am to 8:00 pm; and Thursday through Sunday, 10:00 am to 5:00 pm. Admission donation (does not include Silk Road exhibition) is $10 for adults; $7 for senior citizens (65 and above); $6 children (6 to 17) and full-time students with ID; free to Members, PennCard holders, and children 5 and younger; "pay-what-you-want" the last hour before closing. Hot and cold meals and light refreshments are offered visitors with or without Museum admission in The Pepper Mill Cafe; the Museum Shop and Pyramid Shop for Children offer a wide selection of gifts, books, games, clothing and jewelry. Penn Museum can be found on the web at www.penn.museum. For general information call (215) 898-4000. For group tour information call (215) 746-8183.
Photos: Top, Close up of "The Beauty of Xiaohe," female mummy, ca 1800-1500 BC. Excavated from Xiaohe (Little River) Cemetery 5, Charqilik (Ruoqiang) County, Xinjiang Uyghur Autonomous Region of western China. Below: Linen Banner With Painted Fuxi and Nuwa, 7th-9th Century, Excavated from Astana Cemetery, Turfan.  Xinjiang Uyghur Autonomous Region Museum Collection.  Photos courtesy of the Cultural Relics Bureau of Xinjiang and copyright Wang Da-Gang.
Visit Penn Museum Press Room