Belt

Faja
This object is On Display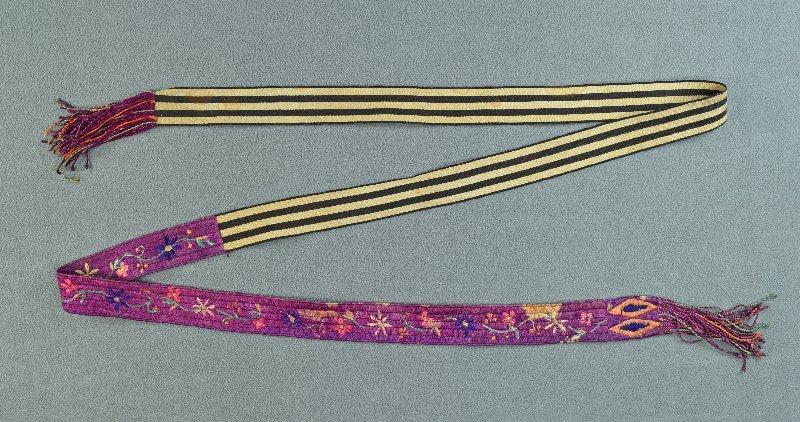 ---
---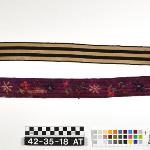 Native Name
Faja
Object Number:

42-35-18

Current Location:
Mexico and Central America Gallery

Currently On Display

Culture:
Guatemalan
Quiche
Provenience:
Guatemala
Santo Tomas Chichicastenango
Department of Quiche
Culture Area:
Central American
Section:
American
Materials:
Cotton
Silk
Technique:
Embroidered
Iconography:
Floral Motif
Height:
0.5 cm
Length:
257 cm
Width:
5.4 cm
Credit Line:
Purchased from Lilly de Jongh Osborne, 1942
Other Number:
VI-C - Other Number

Description
Black and white striped cotton belt. One end solidly brocaded and embroidered with silk in floral design on magenta ground. Silk fringe with a red stone. For woman of noble rank. 42-35-15/20 belong together.
As per Sigrid Meier, "Warp: 92 epi, two ply, white and black cotton. Weft: 20 ppi, two ply, black cotton. Warp faced plain weave. Supplementary weft is double faced. Woven on a backstrap loom."
Current & Past Exhibitions:
You may also be interested in these objects:
---
Report problems and issues to digitalmedia@pennmuseum.org.