Quiver
This object is On Display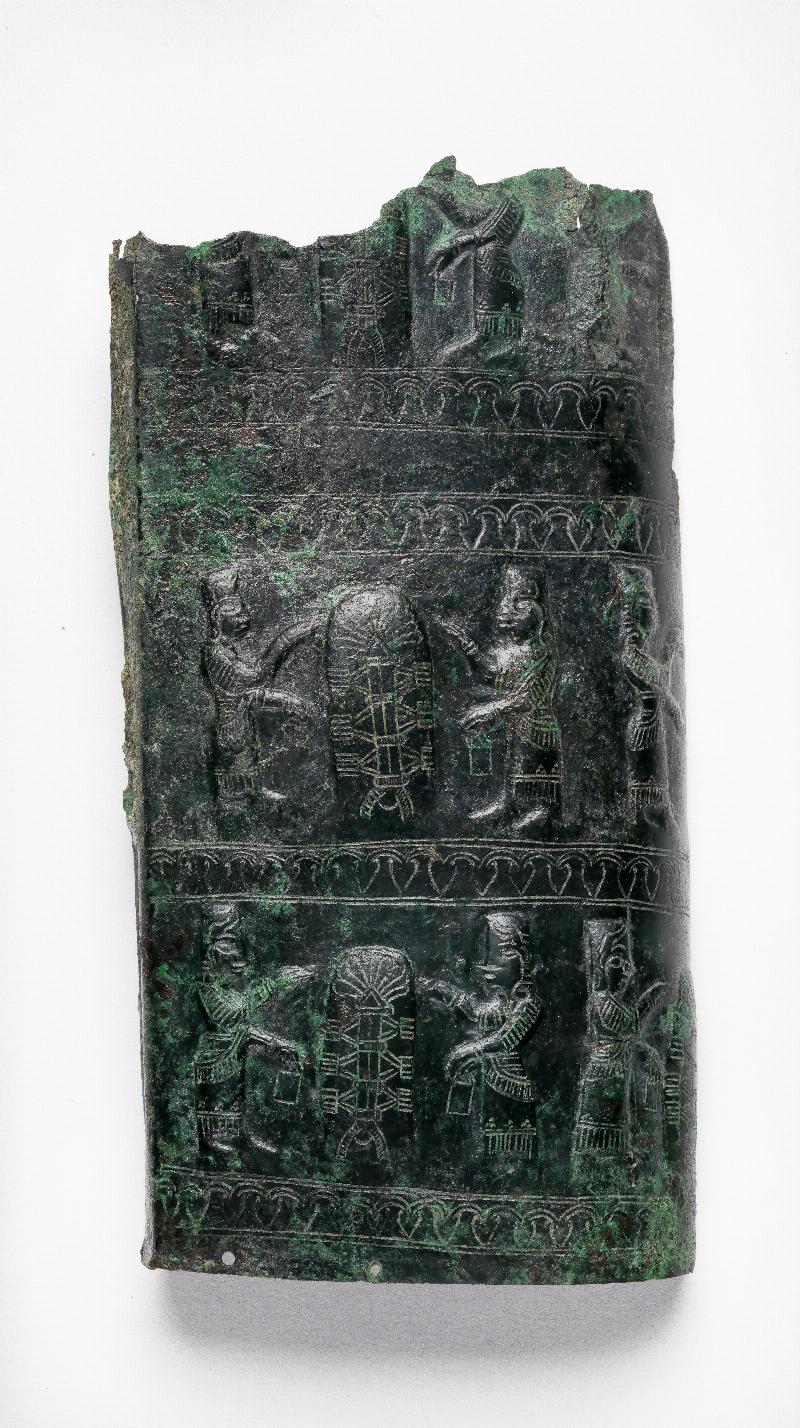 ---
---
Object Number:

67-39-26

Current Location:
Middle East Galleries

Currently On Display

Culture:
Urartian
Provenience:
Iran (uncertain)
Turkey (uncertain)
Section:
Mediterranean
Materials:
Bronze
Iconography:
Figure
Basket
Tree
Length:
17.94 cm
Width:
9.24 cm
Thickness:
0.15 cm
Credit Line:
Purchased from Hesperia Art, 1967
Description
Fragment of a quiver, lower edge preserved, broken off at top and R side where it must have folded over to form the back. On the L there is a flange at which point there is a repousse rib followed by a further flange which is pierced by rivet holes. There is also a row of 5 rivets along hte bottom edge, three of which preserve the rivets in place; all these holes were probably to attach the metal part to a leather section on the left and bottom. Smooth uniform very dk. green patina with some lighter patched, rougher inside. Whitish incrustation along L side. At the upper R corner of the inside and against the flange is an area of rough red corrosion which may be the remains of an iron object (an arrowhead?). Preserved are two complete and one fragmentary frieze bordered by rather carelessly drawn bands containing bud chains as on 67-39-22 but without punched circles. Bands are bordered by two incised lines above and below; between the uppermost and middle frieze are two bud bands separated by a space. Decoration, with the exception of the bud bands, is in high repousse with details added by tracing and engraving similar to 67-39-22 in technique (but less simlar in style). The friezes undoubtedly continue past the break at the R to the other side of the quiver since the decoration is not symmetrically placed on the preserved portion and is broken off at edge. Preserved portion of each frieze is identical: starting from L edge is a worshipper or deity in a long robe facing R toward a tongue-shaped stela with a stylized tree motif engraved, followed by a similar figure facing L and another facing R toward a second stella. Each wears a squarish horned headdress and holds a small bucket (with the exception of the L figure on the middle frieze where it has been omitted through oversight) in the L hand; the R hand is held upraised toward the stela. Robes are fringed and decorated near the bottom by three groups of three punched dots. The faces are very summarily indicated, sometimes with a single double-looped S-line to show eyes, hair, and curl at bottom; 2 horizontal lines for nose and mouth. Stelai are different from 67-39-22; punched circles nowhere used on this piece.
Current & Past Exhibitions:
Bibliography:
| | |
| --- | --- |
| [Catalogue, Exhibition] Darbyshire, Gareth, and Rose, C. B. 2016. The Golden Age of King Midas: Exhibition Catalogue.. Philadelphia. Penn Museum. pg. 188 Actual Citation : Page/Fig./Plate: p. 156 | View Objects related to this Actual Citation |
You may also be interested in these objects:
---
Report problems and issues to digitalmedia@pennmuseum.org.