Peyote Box
This object is On Display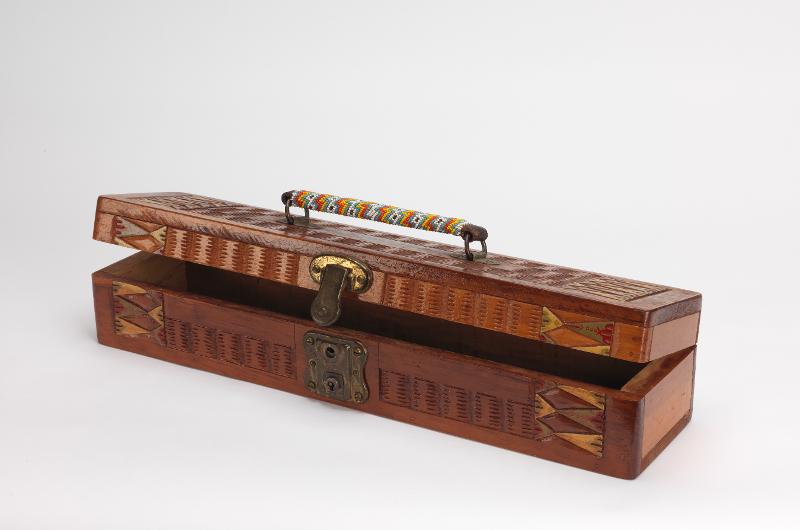 ---
---
Object Number:

59-14-59

Current Location:
Native American Voices

Currently On Display

Culture:
Osage (uncertain)
Kiowa (uncertain)
Provenience:
North America
United States of America
Oklahoma (uncertain)
Culture Area:
Plains Culture Area
Section:
American
Materials:
Wood
Bead
Leather
Iconography:
Peyote Ceremony
Length:
48 cm
Width:
11 cm
Depth:
10 cm
Credit Line:
Exchange with Denver Art Museum, 1959
Other Number:
QOS-7-P - Old Museum Number

Description
This is a rectangular wooden box with a latch to secure it, and hinges attaching top and bottom. It has a beaded handle on the top. The colors of the beads are white, blue, black, orange, and yellow. It has been beaded over a leather handle. The hood has comb-like incisions as well as yellow, green, and red painted decorations. The inside of the box is lined with billiard-green felt.
Current & Past Exhibitions:
Bibliography:
| | |
| --- | --- |
| [Book] Preucel, Robert W., and Wierzbowski, William S., and Williams, Lucy F. 2005. Native American Voices on Identity, Art and Culture: Objects of Everlasting Esteem.. Philadelphia. University of Pennsylvania Museum of Archaeology and Anthropology. Actual Citation : Page/Fig./Plate: Pages 180-181/Plate 73 | View Objects related to this Actual Citation |
You may also be interested in these objects:
---
Report problems and issues to digitalmedia@pennmuseum.org.