Clovis Projectile Point
This object is On Display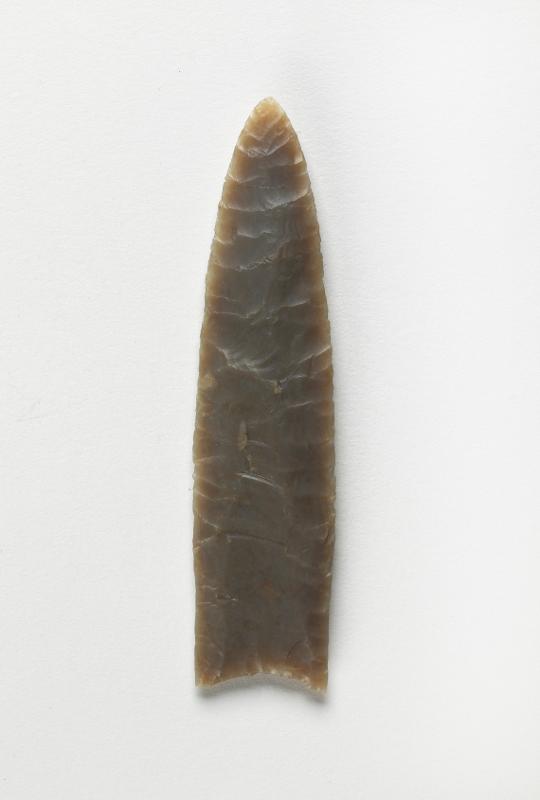 ---
---
Object Number:

36-19-3

Current Location:
Native American Voices

Currently On Display

Provenience:
New Mexico
Blackwater Draw
Mammoth Pit
Clovis
Culture Area:
Southwest Culture Area
Period:
Paleoindian
Date Made:
9000 BCE
Early Date:
-9201
Late Date:
-8800
Section:
American
Materials:
Edwards Chert
Technique:
Chipped
Length:
11.1 cm
Width:
2.7 cm
Credit Line:
New Mexico Expedition, E. B. Howard, 1936
Other Number:
71-55 - Cast Number
9-22 - Cast Number

Description
The specimen is lanceolate and symmetrical in outline with very narrow width in relation to length. The projectile point has parallel overlapped flaking. Basal thinning was accomplished through the removal of a single long channel flake from one face and two channel flakes from the opposite face. Edges along the base and basal lateral margins were moderately polished to facilitate hafting.
Current & Past Exhibitions:
Bibliography:
| | |
| --- | --- |
| [Book] Preucel, Robert W., and Wierzbowski, William S., and Williams, Lucy F. 2005. Native American Voices on Identity, Art and Culture: Objects of Everlasting Esteem.. Philadelphia. University of Pennsylvania Museum of Archaeology and Anthropology. Actual Citation : Page/Fig./Plate: Pages 190-191/Plate 78 | View Objects related to this Actual Citation |
You may also be interested in these objects:
---
Report problems and issues to digitalmedia@pennmuseum.org.