Amphora
This object is On Display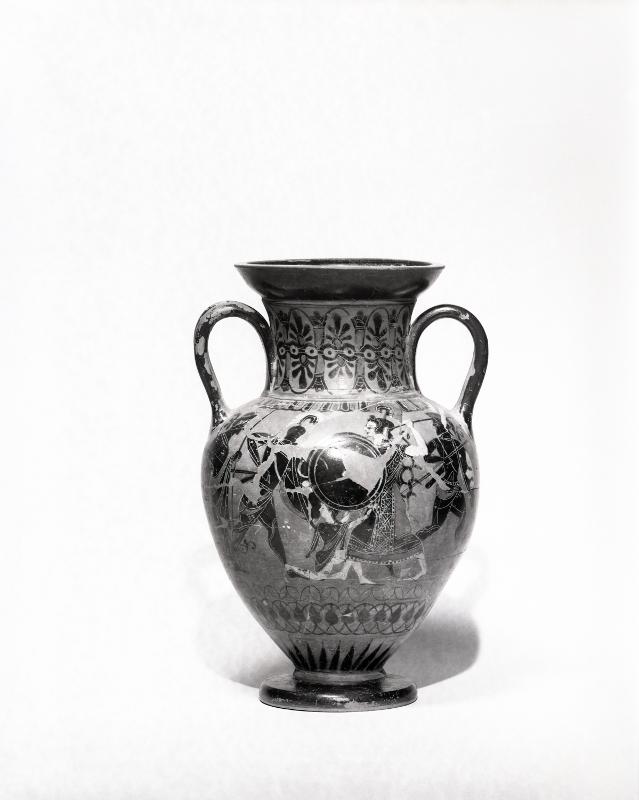 ---
---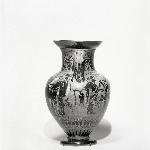 Object Number:

68-36-4

Current Location:
Greece Gallery

Currently On Display

Culture:
Etruscan
Provenience:
Italy
Etruria
Vulci
Manufacture Location:
Attica
Locus:
Osteria
Tomb 37
Period:
Archaic Greek Period
Date Made:
500 BCE
Early Date:
-599
Late Date:
-500
Section:
Mediterranean
Materials:
Ceramic
Technique:
Black Figure
Iconography:
Ajax
Cassandra
Warriors
Charioteer
Athena
Iliad
Warfare
Chariot
Armor
Height:
30.5 cm
Outside Diameter:
19.5 cm
Credit Line:
Purchased from Hercle Excavation Company; funded in Memory of Hugh Kirkwood Duffield, 1968
Description
Black-figured neck amphora. Disk foot, entirely glazed on exterior. molding between foot and body painted purple. On lower body 3 bands of designs: from bottom up: tongue pattern, lotus(?) buds; pairs of outline compass(?) leaves. Above figured scenes a row of alternating purple and black tongue pattern. A purple molding at join of body and neck. On neck, framed double palmettes, one pointing up, the other down, with a chain pattern between. Echinus lip, glazed black. Triple handles black on exterior and part of interior. A) 5 figures, l. to r.: (1) standing draped male facing right with staff; (2) Ajax in full armor attacking (3) Cassandra, a diminutive figure clutching knees of (4) statue of Athena; (5) armed warrior running to right looking back. B) Chariot scene, 6 figures, l. to r.: nude warrior, helmet & spear; (2) & (3) charioteer and armed warrior in 4 horse chariot; (4) old man facing left; (5) helmeted warrior w. spears (6) at r. fully armed warrior with spears.
Current & Past Exhibitions:
Bibliography:
You may also be interested in these objects:
---
Report problems and issues to digitalmedia@pennmuseum.org.