Stupa Fragment
This object is On Display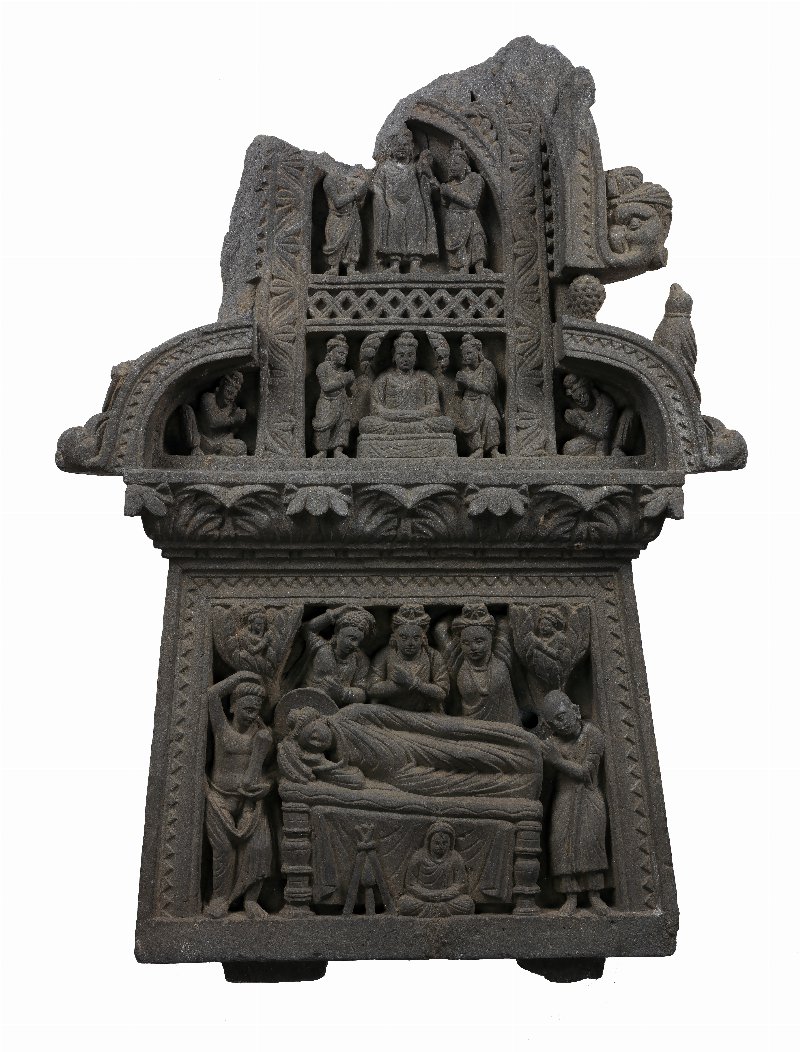 ---
---
Object Number:

29-64-223

Current Location:
Asia Galleries

Currently On Display

Culture:
Buddhist
Provenience:
Pakistan
Gandhara
Date Made:
2nd century - 3rd century
Early Date:
100
Late Date:
299
Section:
Asian
Materials:
Slate
Technique:
Carved
Bas Relief
Iconography:
Buddha
Bodhisattvas
Nirvana
Worshipper
Subhadra
Vajrapani
Height:
57.1 cm
Width:
39.9 cm
Credit Line:
Alexander Scott Expedition to India, 1915-1918
Description
Grey schist stupa fragment. This beautiful relief from the northwestern region of Gandhara displays three different scenes from top to bottom. At the top stands the Buddha adored by two attendants, while in the center the Buddha is seated as he receives the adoration of four devotees. At the bottom is a fine and characteristic rendering of the 'great passing away' of the Buddha from his earthly existence. Lying on a bed, he is surrounded by his disciples who express the tremendous anguish they feel at the loss of their spiritual leader. To the right of the Buddha's feet is Ananda, his favorite disciple, to whom he has just delivered his last teaching. The Gandhara style is best understood as a provincial expression of the late antique style of Rome. This 'classical' influence is evident in the treatment of the figures, the robes they wear, and in the line of acanthus leaves used to separate the bottom scene from the middle one. Originally, this carved fragment was part of a stone revetment of a Buddhist stupa (reliquary mound) positioned so that worshippers who came to honor the Buddha would see the events of his life and learn of his spiritual accomplishments.
Current & Past Exhibitions:
Bibliography:
You may also be interested in these objects:
---
Report problems and issues to digitalmedia@pennmuseum.org.