Boundary Stone
This object is On Display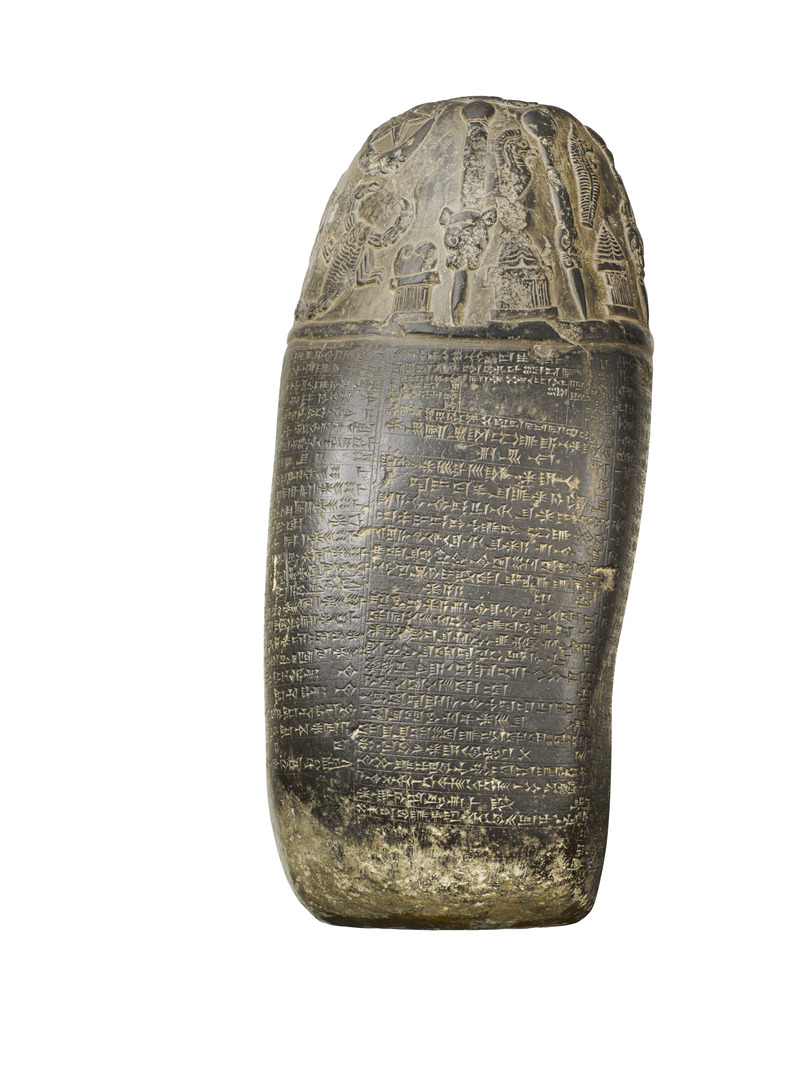 ---
---
Object Number:

29-20-1

Current Location:
Sphinx Gallery

Currently On Display

Provenience:
Iraq
Nippur
Archaeology Area:
northwest side of the Ziggurat within the temple area
Period:
Nebuchadnezzar I
Date Made:
1146-1123 BCE
Early Date:
-1146
Late Date:
-1123
Section:
Near Eastern
Materials:
Stone
Height:
49.5 cm
Width:
23.5 cm
Depth:
21 cm
Credit Line:
Bequest of H. V. Hilprecht and S. C. Hilprecht, 1925/1929
Description
Of Nebuchadnezzar I, King of Babylon, 1146-1123 B.C. Found at Nippur "on the northwest side of the Zig-gurat within the temple area" in February 1896 by Dr. Haynes. "
Kudurru
From Hinke's book on the Kudurru:
"It contains a drawing of the field in question, together with an accompanying description, which precedes the inscription proper.... A second peculiarity is a beautiful hymn to Ellil, at the beginning of the inscription. It was no doubt taken from the liturgical collections of hymns in use at Nippur. It is the finest Ellil hymn which has been found thus far, fitly celebrating the majesty and power of the god of Nippur.... The stonecutter has not always been accurate in engraving he inscription. There are several erasures. The inscription consists of the following divisions: (1) The heading, containing the name of the stone, in two lines, written between the symbols. (2) The plot of the field, accompanied by a description of eight lines. (3) A hymn in honor of Ellil, the god of Nippur. (4) The historical circumstances under which the land was given to Nusku-ibni, a high dignitary of Ekur, the temple of Ellil at Nippur. (5) The measuring of the land under the supervision of Baushum-iddina, the governor of Big-Sin-sheme, in response to a royal command; a more detailed description of the field and its actual transfer to Nusku-ibni. (6) The curses: (a) introduction to the curses, forbidding any official to appropriate the land or interfere with the privileges of the owner (b) Invocation of the gods and the punishments they are asked to mete out to any offender (c) Curses directed against any one removing or destroying the boundary stone. (7) The fourteen witnesses present at the transaction. (8) The date of the inscription."
Current & Past Exhibitions:
Bibliography:
| | |
| --- | --- |
| [Book] Dorling Kindersley Limited. 2014. History of the World in 1,000 Objects.. London. Dorling Kindersley Limited. Actual Citation : Page/Fig./Plate: 20 | View Objects related to this Actual Citation |
| [Article] Legrain, Leon. 1944. "The Babylonian Collection of the University Museum". The University Museum Bulletin. Philadelphia. The University Museum. Vol. 10. no. 3-4. pg. 1-75 Actual Citation : Page/Fig./Plate: 18 | View Objects related to this Actual Citation |
You may also be interested in these objects:
---
Report problems and issues to digitalmedia@pennmuseum.org.