Kylix
This object is On Display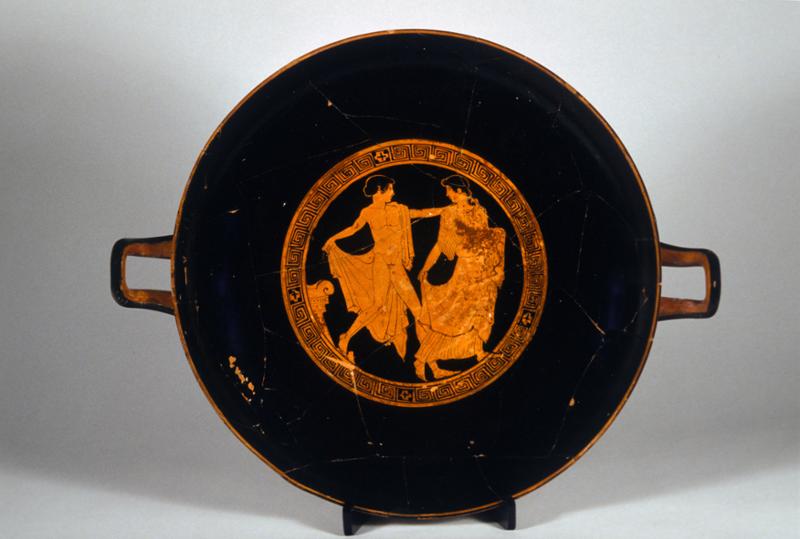 ---
---
Object Number:

L-637-1A

Current Location:
Greece Gallery

Currently On Display

Culture:
Greek
Etruscan
Provenience:
Italy
Etruria
Vulci
Manufacture Location:
Attica
Maker:
Penthesilea Painter
Period:
Classical Greek Period
Date Made:
ca. 470 BCE
Early Date:
-520
Late Date:
-420
Section:
Mediterranean
Materials:
Ceramic
Technique:
Red Figure
Iconography:
Altar
Youth
Girl
Rider
Horse
Shield
Sword
Leto
Height:
12.5 cm
Length:
45.7 cm
Other Number:
11054 - ANSP Number
2009.32 - American Philosophical Society

Description
Shape: Beazley, ARV, Cup, Type B. The upper stem, the cup and the handles, L-637-1a, are essentially complete, restored from many fragment; a few missing minor bits have been restored in plaster. The lower stem and foot, L-637-1b, now attached to the kylix, do not belong to it. The bevelled edge of the foot is reserved and is inscribed in dipinto:(see card) The exterior of the foot is otherwise fully glazed, its underside entirely reserved. The upper portion is fully glazed except for the red-figure scenes, two narrow bands below the exterior scenes, the interior surface of the handles, the wall between the band around the top of the interior shich are reserved Interior: tondo encircled by band "consisting of sets of seven, eight, twelve, and seven maeanders, separated form each other by 'red cross squares'". At left, part of an altar. To the right of it a youth nude except for a himation draped over his left shoulder and grasped in his right hand is pursuing toward the right a girl dressed in an Ionic chiton and himation. Exterior A&B, essentially identical scene on each, evidently one of departure of young horseman, flanked by tow men and boys. At right on each side a "shield, with the end of a sword visible beneath."
On loan by the American Philosophical Society, Gift of Joseph Bonaparte, 1836.
Current & Past Exhibitions:
Bibliography:
You may also be interested in these objects:
---
Report problems and issues to digitalmedia@pennmuseum.org.