Statue
This object is On Display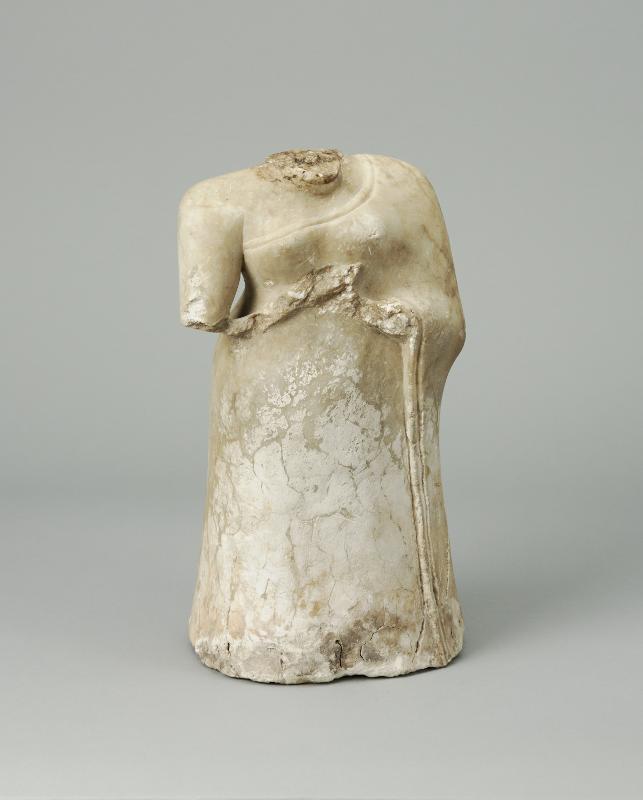 ---
---
Object Number:

38-10-49

Current Location:
Middle East Galleries

Currently On Display

Provenience:
Iraq
Khafaje
Archaeology Area:
P 45/52, left of altar
Period:
Early Dynastic III
Date Made:
2600-2450 BCE
Early Date:
-2600
Late Date:
-2450
Section:
Near Eastern
Materials:
Alabaster
Iconography:
Woman
Height:
30.8 cm
Length:
0 cm
Width:
15.5 cm
Depth:
14 cm
Credit Line:
Khafaje Expedition; E. A. Speiser and Charles Bache, 1938
Other Number:
KH 9-178 - Field No SF

Description
Alabaster: damaged by burning. On a square(?) base only a fragment of which remains. [Base has not been joined to statue]. Weariong a long garment leaving right shoulder bare, draped over left arm. Right forearm and left hand missing. Headless; hole bored in neck, traces of bitumen on break.
Current & Past Exhibitions:
Bibliography:
| | |
| --- | --- |
| [Book] Olbrantz, John, and Kawami, Trudy S. 2013. Breath of Heaven, Breath of Earth: Ancient Near Eastern Art from American Collections.. University of Washington Press. : Page/Fig./Plate: 131/29 | View Objects related to this reference |
You may also be interested in these objects:
---
Report problems and issues to digitalmedia@pennmuseum.org.