Necklace
This object is On Display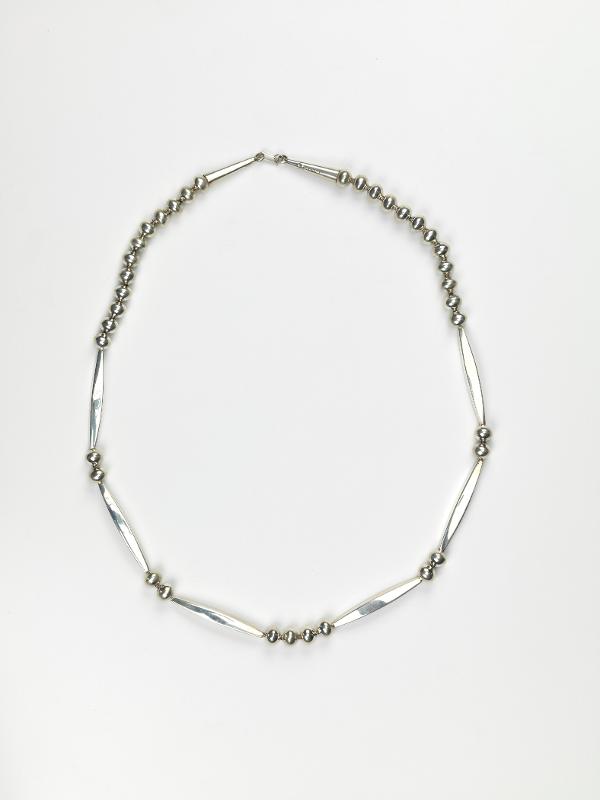 ---
---
Object Number:

2002-17-4

Current Location:
Native American Voices

Currently On Display

Culture:
Cochiti Pueblo
Tewa (Culture)
Provenience:
New Mexico
Cochiti Pueblo
Culture Area:
Southwest Culture Area
Maker:
Cippy Crazy Horse
Date Made:
2002
Early Date:
2002
Late Date:
2002
Section:
American
Materials:
Silver
Technique:
Engraved
Length:
77 cm
Width:
1 cm
Credit Line:
Museum Purchase, 2002
Description
Silver necklace composed of spherical, conical and tapered pieces and one latch. Engraved on both conical end pieces "Sterling."
Current & Past Exhibitions:
Bibliography:
| | |
| --- | --- |
| [Book] Preucel, Robert W., and Wierzbowski, William S., and Williams, Lucy F. 2005. Native American Voices on Identity, Art and Culture: Objects of Everlasting Esteem.. Philadelphia. University of Pennsylvania Museum of Archaeology and Anthropology. Actual Citation : Page/Fig./Plate: Pages 152-153/Plate 60 | View Objects related to this Actual Citation |
You may also be interested in these objects:
---
Report problems and issues to digitalmedia@pennmuseum.org.