Oracle Bone
This object is On Display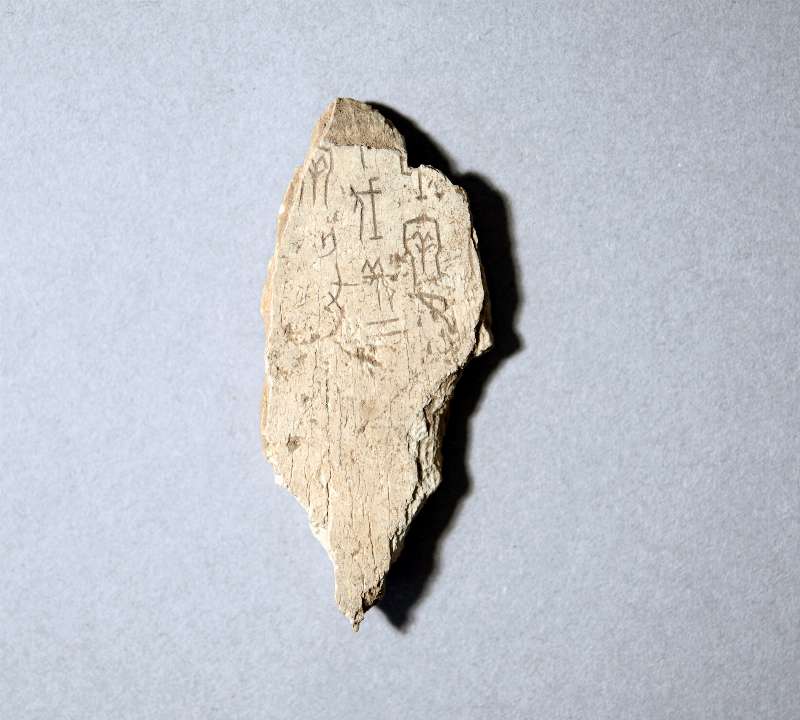 ---
---
Object Number:

55-34-7

Current Location:
Asia Galleries

Currently On Display

Culture:
Chinese
Provenience:
China
Henan
Anyang
Xiaotun
Period:
Shang Dynasty
Date Made:
Shang Dynasty
Early Date:
-1523
Late Date:
-1028
Section:
Asian
Materials:
Bone
Technique:
Inscribed
Inscription Language:
Chinese Language
Height:
5.5 cm
Width:
2.2 cm
Credit Line:
Exchange with Peabody Museum, Harvard, 1955
Other Number:
15-44-60 - Peabody Number
D836 - Other Number

Description
Fragment of bone with ancient Chinese characters inscribed on it. Said to be one of a collection of oracle bones obtained by Langdon Warner in 1913-14 at the village of Xiaotun at the site of Anyang. Shang Dynasty kings used oracle bones as a form of divination to seek supernatural guidance about important political, social, and personal issues. Usually created from cattle shoulder blades and the underside of turtle shells, the bones were smoothed and then heated until they cracked. By interpreting the cracks, royal diviners believed they were receiving insight that allowed them to answer questions about the future. In many cases, a record of the reading was written on the bones. These texts provide invaluable information about early Chinese religion, politics, and elite life.
Current & Past Exhibitions:
Bibliography:
You may also be interested in these objects:
---
Report problems and issues to digitalmedia@pennmuseum.org.