Hydria
This object is On Display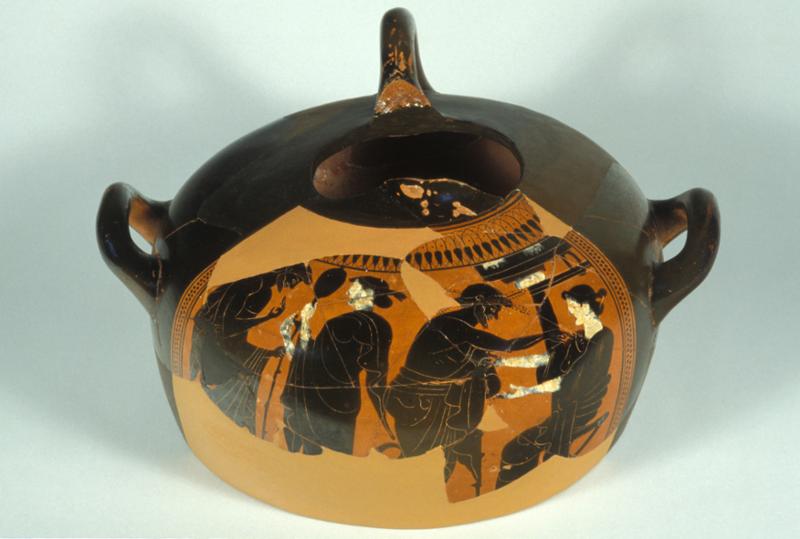 ---
---
Object Number:

MS694

Current Location:
Greece Gallery

Currently On Display

Culture:
Greek
Etruscan
Provenience:
Italy
Etruria
Vulci
Manufacture Location:
Attica
Locus:
Tomb 72
Date Made:
ca. 500 BCE
Early Date:
-550
Late Date:
-450
Section:
Mediterranean
Materials:
Ceramic
Technique:
Black Figure
Iconography:
Man
Woman
Folding Stool
Porch
Architecture
Mirror
Height:
21.5 cm
Outside Diameter:
30.5 cm
Credit Line:
Purchased from Francesco Mancinelli-Scotti, 1896
Other Number:
885 - Stevenson Etruscan Series Number

Description
Panel: to left, bearded man wearing cloak and holding knobbed stick confronting woman who holds a mirror. To right in front of a Doric Porch (?)a bearded man wearing a cloak reaches out and touches a woman seated on a folding stool on the shoulder. She extends both arms toward him. Preserved: much of the wall from about mid-point upward to base of the neck, including three handles.
Current & Past Exhibitions:
Bibliography:
You may also be interested in these objects:
---
Report problems and issues to digitalmedia@pennmuseum.org.