Statue
This object is On Display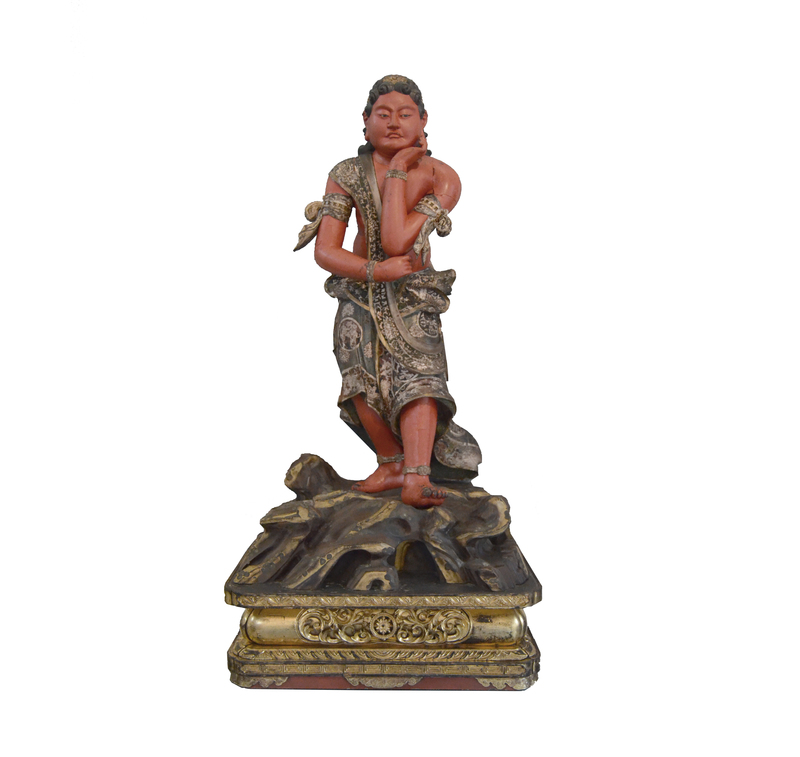 ---
---
Object Number:

29-96-306

Current Location:
Asia Galleries

Currently On Display

Culture:
Japanese
Buddhist
Provenience:
Japan
Koyasan Temple
Period:
Edo Period (uncertain)
Meiji Period (uncertain)
Date Made:
19th Century
Early Date:
1800
Late Date:
1899
Section:
Asian
Materials:
Wood
Gesso
Paint
Technique:
Painted
Iconography:
Seitaka
Inscription Language:
Japanese Language
Height:
6.1 cm
Width:
45.5 cm
Depth:
26 cm
Credit Line:
Bequest of Maxwell Sommerville, 1904
Description
Wooden Seitaka with gesso and polychrome. This red-skinned attendant of Fudo is frequently paired with Kongara. His name is derived from the Sanskit term 'cetaka', which means slave or servant. Both Seitaka and Kongara are believed capable of working miracles. The hand is positioned as if on a staff (now missing). There is a detachable stand at the feet.
Current & Past Exhibitions:
Bibliography:
| | |
| --- | --- |
| [Book] Sommerville, Maxwell. 1904. Monograph of the Buddhist Temple in the Free Museum of Science and Art, University of Pennsylvania.. Philadelphia. pg. 1-47 Actual Citation : Page/Fig./Plate: Pg. 11, 33 | View Objects related to this Actual Citation |
You may also be interested in these objects:
---
Report problems and issues to digitalmedia@pennmuseum.org.