Mortuary Figurine
This object is On Display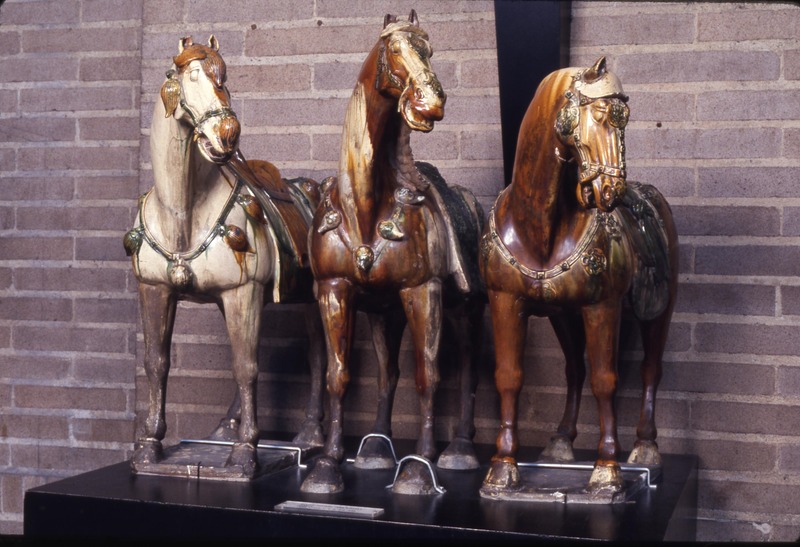 ---
---
Object Number:

C467

Current Location:
Asia Galleries

Currently On Display

Culture:
Chinese
Provenience:
China
Period:
Tang Dynasty
Date Made:
Tang Dynasty
Early Date:
618
Late Date:
906
Section:
Asian
Materials:
Clay
Glaze
Technique:
Three Color Glaze
Glazed
Fired
Iconography:
Horse
Credit Line:
Purchased from C. T. Loo, 1925
Description
Glazed pottery figure of a horse with a green saddle, an amber body, and a cream colored mane. Symbolizing status and power, this horse figurine would have been placed with other ceremonial and everyday objects in a tomb. In the Tang Dynasty, the saddled horse was more common than the ox cart which in earlier periods symbolized a means of transport to the afterlife. The tri-color glaze, known as sancai, was more expensive then plain terracotta. It should indicate that the horses were made for an aristocratic occupant. Often mass-produced using a piece-mold technique, horses were slightly altered through adjustments in the neck and legs. C461 through C468 is a set.
Current & Past Exhibitions:
Bibliography:
You may also be interested in these objects:
---
Report problems and issues to digitalmedia@pennmuseum.org.