Cylinder Seal
This object is On Display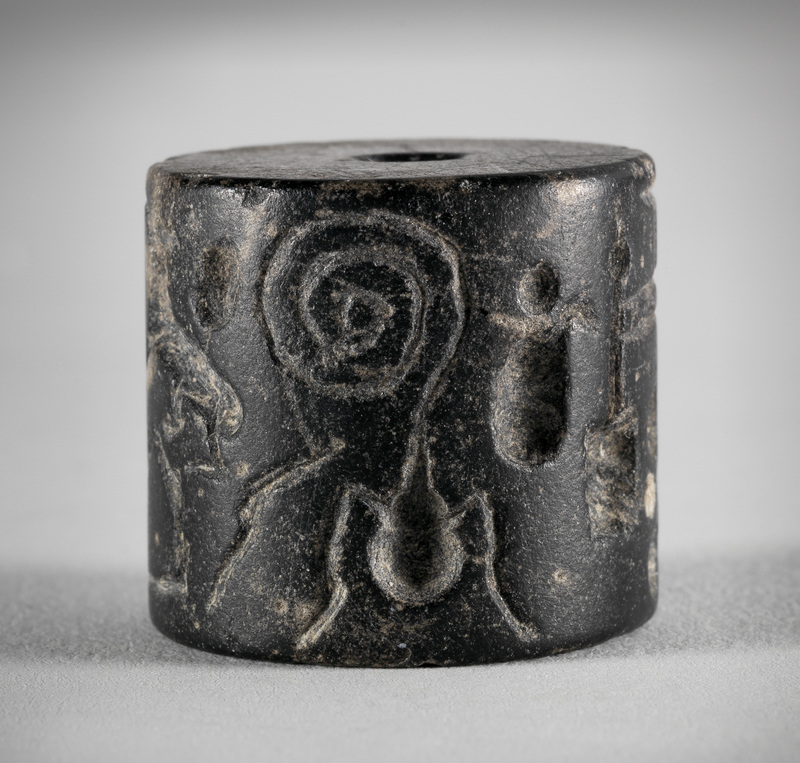 ---
---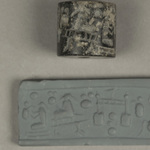 Object Number:

31-17-16

Current Location:
Middle East Galleries

Currently On Display

Provenience:
Iraq
Ur
Archaeology Area:
PFT D6-900
Locus:
PFT. D 6 - 900
Section:
Near Eastern
Materials:
Diorite
Iconography:
Seated Woman
Pot
Hut
Spider
Woman
Length:
2.4 cm
Width:
2.5 cm
Credit Line:
British Museum/University Museum Expedition to Ur, Iraq, 1931
Other Number:
U.14489 - Field No SF
UE X: 31 - Other Number
B19422 - Old Museum Number

Description
field number on object looks like U.14487 but the correct number is U.14489
CBS Register: Seal cylinder. diorite. oldest seal found in deep level. seated woman. pot, hut, spider, etc. worked with bore.
UE X: two women in profile are squatting, one on a high couch provided with bull's leg feet, the othe ron a low divan flat on the ground. The first holds in her extended hands a round jar with handles; the second a spool of wool. More jars and spools surround the solid loom (?) behind them. This is built of uprights and a cross-bar surmounted by a star (?). A spider spinning its spiral thread, a goat bounding over its pen, complete the symbolic picture. Dark steattite cylinder. This seal was found in a well-authenticated setting, along with a bowl of glazed frit turquoise blue and the steatite carving in the round of a wild boar of the Jamdat-Nasr period.
Current & Past Exhibitions:
Bibliography:
You may also be interested in these objects:
---
Report problems and issues to digitalmedia@pennmuseum.org.