Amulet

Beads
This object is On Display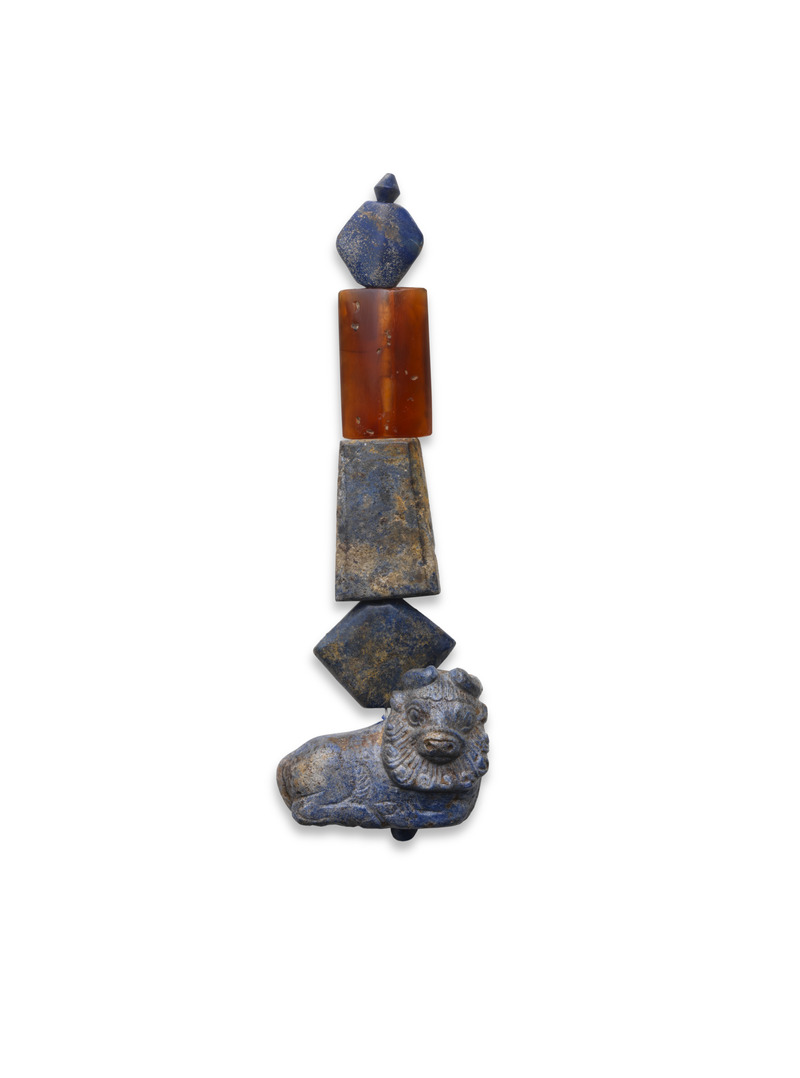 ---
---
Object Number:

B16726

Current Location:
Middle East Galleries

Currently On Display

Provenience:
Iraq
Ur
Archaeology Area:
PG 800
Period:
Early Dynastic III
Date Made:
2600-2450 BCE
Early Date:
-2600
Late Date:
-2450
Section:
Near Eastern
Materials:
Lapis Lazuli
Carnelian
Iconography:
Bull
Height:
2 cm
Length:
12.3 cm
Width:
4.2 cm
Credit Line:
British Museum/University Museum Expedition to Ur, Iraq, 1928
Other Number:
U.10985 - Field No SF

Description
CBS Register: VI Season. lapis bearded bull pendant. 3 large, 1 small lapis bead, and 1 large carnelian bead.
This string of two flat and two rhomboidal beads from which an amulet depends was found next to the queen's left shoulder. The amulet is in the form of a recumbent bearded bull sculpted in the round, with his head turned out from his body. His tail is tucked under his hind leg. Such amulets are shown on incised plaques from Mari and from Nippur suspended with cylinder seals from rings attached to cloak pins.
In addition to this bull amulet, three fish amulets of gold and lapis and an amulet of recumbent gazelles hung from three gold pins found against the queen's right upper arm. Three lapis lazuli cylinder seals were suspended from the pins as well. Next to the right shoulder was a reclining calf figure carved of lapis that was strung together with three large beads of lapis and agate.
Current & Past Exhibitions:
Bibliography:
You may also be interested in these objects:
---
Report problems and issues to digitalmedia@pennmuseum.org.