Scarab Ring
This object is On Display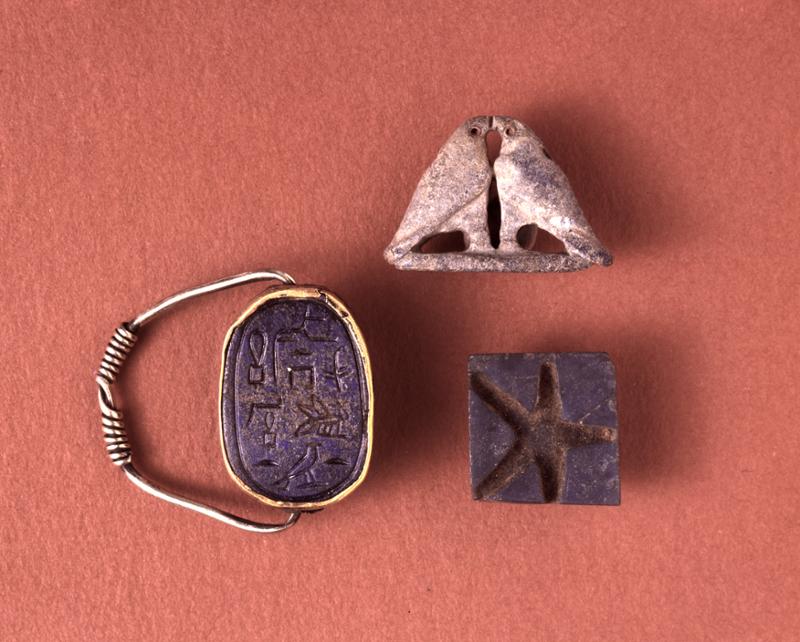 ---
---
Object Number:

E9192

Current Location:
Ancient Egypt: Discovery to Display

Currently On Display

Provenience:
Egypt
Abydos
Locus:
Tomb E 108
Period:
Middle Kingdom
Twelfth Dynasty
Date Made:
1938 - 1759 BCE
Early Date:
-1939
Late Date:
-1758
Section:
Egyptian
Materials:
Gold
Lapis
Inscription Language:
Hieroglyphic
Height:
3 cm
Width:
3 cm
Depth:
1 cm
Credit Line:
Distribution from the Egyptian Research Account, 1900
Other Number:
AES 1883 - Original Number

Description
Scarab seal ring with the lapis seal pierced longitudinally and mounted in a gold setting. A gold wire runs through the bezel to form the ring, and the ends of this wire are twisted around the shank.
Current & Past Exhibitions:
Bibliography:
You may also be interested in these objects:
---
Report problems and issues to digitalmedia@pennmuseum.org.