Temple Drum
This object is On Display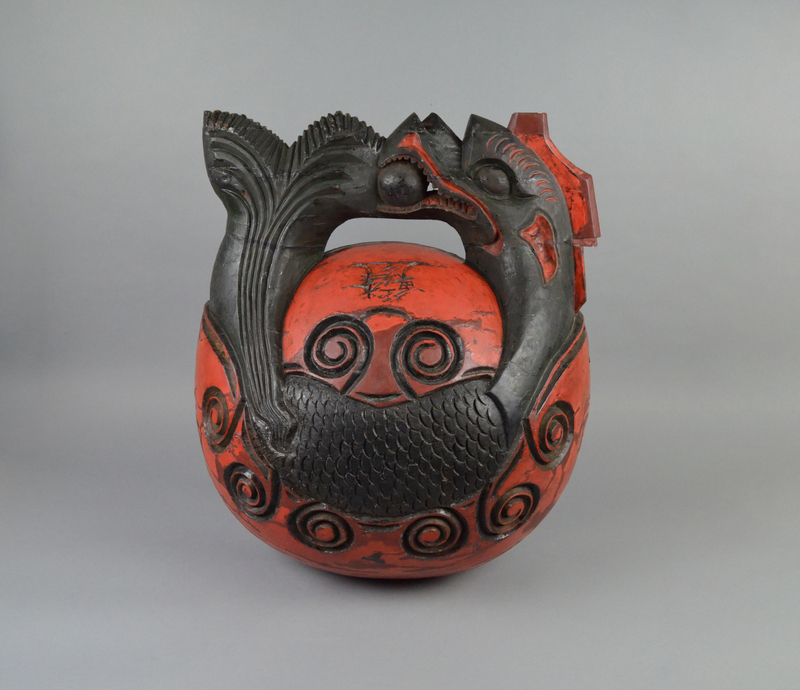 ---
---
Native Name
Mokugyo
木魚
Object Number:

A664A

Current Location:
Asia Galleries

Currently On Display

Culture:
Japanese
Provenience:
Japan
Date Made:
19th Century
Early Date:
1800
Late Date:
1899
Section:
Asian
Materials:
Wood
Lacquer
Paint
Technique:
Carved
Lacquered
Painted
Iconography:
Fish
Inscription Language:
Japanese Language
Credit Line:
Gift of Mrs. Sarah (William D.) Frishmuth, 1900
Other Number:
I-213 - Seder Number
LO-1901-1 - Found in Collection Number
85-28-2 - Found in Collection Number

Description
Mokugyo (木魚), wooden lacquered "fish" drum. The long hours of required meditation in Zen temples and monasteries were punctuated by chanting accompanied by striking the Mokugyo. The drum was placed on a large ornamental cushion, flat on one side. It was usualy paired with a large metal bell called a keisu (磬子). The inscription on this drum apears to be a stylized rendering of the characters for "wooden fish".
Current & Past Exhibitions:
Bibliography:
| | |
| --- | --- |
| [Catalogue] Possehl, Gregory L., and Ch'eng-mei, Chang, and Peters, Heather A., and Lyons, Elizabeth. 1985. Buddhism: History and Diversity of a Great Tradition.. Philadelphia. The University Museum. Actual Citation : Page/Fig./Plate: 30 | View Objects related to this Actual Citation |
You may also be interested in these objects:
---
Report problems and issues to digitalmedia@pennmuseum.org.