Mortuary Figurine
This object is On Display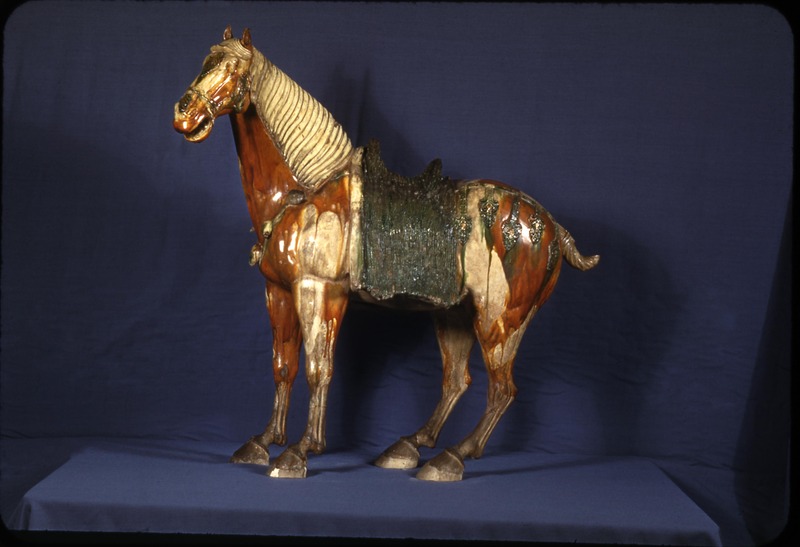 ---
---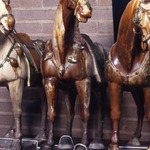 Object Number:

C409

Current Location:
Asia Galleries

Currently On Display

Culture:
Chinese
Provenience:
China
Period:
Tang Dynasty
Date Made:
Tang Dynasty
Early Date:
618
Late Date:
906
Section:
Asian
Materials:
Clay
Glaze
Technique:
Glazed
Fired
Iconography:
Horse
Credit Line:
Purchased from C. T. Loo, 1924
Description
Mortuary pottery horse, glazed. With green saddle. Symbolizing status and power, horse figurines would have been placed with other ceremonial and everyday objects in a tomb. In the Tang Dynasty, the saddled horse was more common than the ox cart which in earlier periods symbolized a means of transport to the afterlife.
The tri-color glaze, known as sancai, was more expensive then plain terra cotta. It should indicate that the horses were made for an aristocratic occupant. Often mass-produced using a piece-mold technique, horses were slightly altered through adjustments in the neck and legs.
Current & Past Exhibitions:
Bibliography:
You may also be interested in these objects:
---
Report problems and issues to digitalmedia@pennmuseum.org.