Plaque
This object is On Display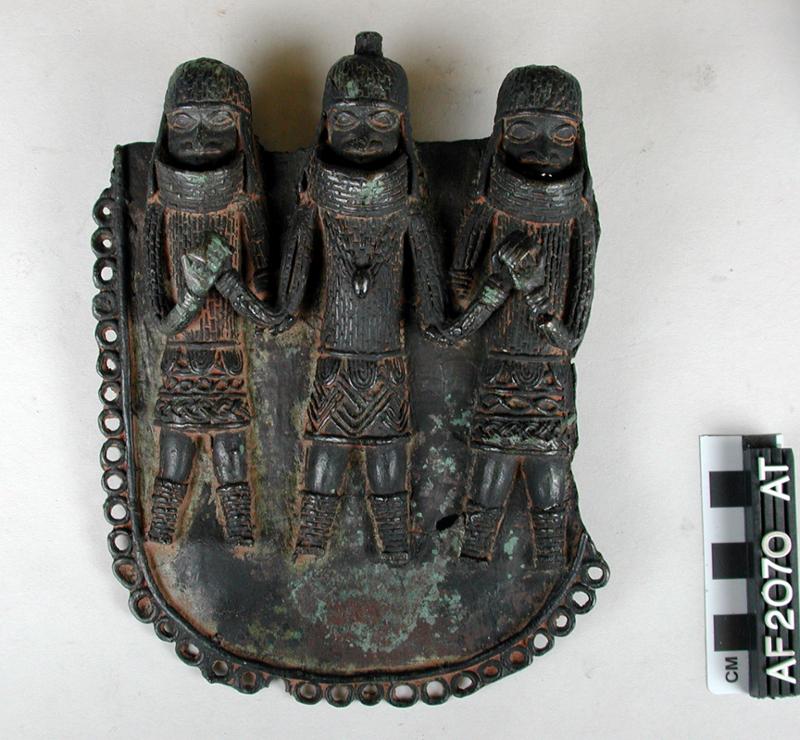 ---
---
Object Number:

AF2070

Current Location:
Africa Galleries

Currently On Display

Culture:
Edo (Africa)
Provenience:
Nigeria
Benin Kingdom
Date Made:
16th-17th century CE
Early Date:
1500
Late Date:
1699
Section:
African
Materials:
Copper Alloy
Brass
Technique:
Lost Wax Casting
Iconography:
Figures
Standing male figures
Height:
18 cm
Width:
13.7 cm
Credit Line:
Purchased from W. O. Oldman, 1912
Other Number:
27036 - Dealer's Number
432 - Other Number

Description
Triad waist pendant. Three figures wearing beaded hat, shirt, high collar necklace, and anklets, and wrapper. Arms of center figure are supported by the figures beside him. Center figure wearing necklace with oval bead pendant. Rim of plaque decorated with circles, damgaged on right side - decorated rim missing. An incised eben on back.
Current & Past Exhibitions:
Bibliography:
You may also be interested in these objects:
---
Report problems and issues to digitalmedia@pennmuseum.org.