MRS. E. A. OSBORNE, with the tireless zeal of the amateur, has gathered from the quaint mountain villages of Guatemala a collection of textiles representative of native art and industry, probably the most complete yet assembled. Although they number nearly four hundred pieces, coming from almost every Department of the Republic, yet certain localities are richly represented while others relinquished but a cloth or two, for the weavers' craft of the modern Mayas is still a household industry to be plied for personal needs.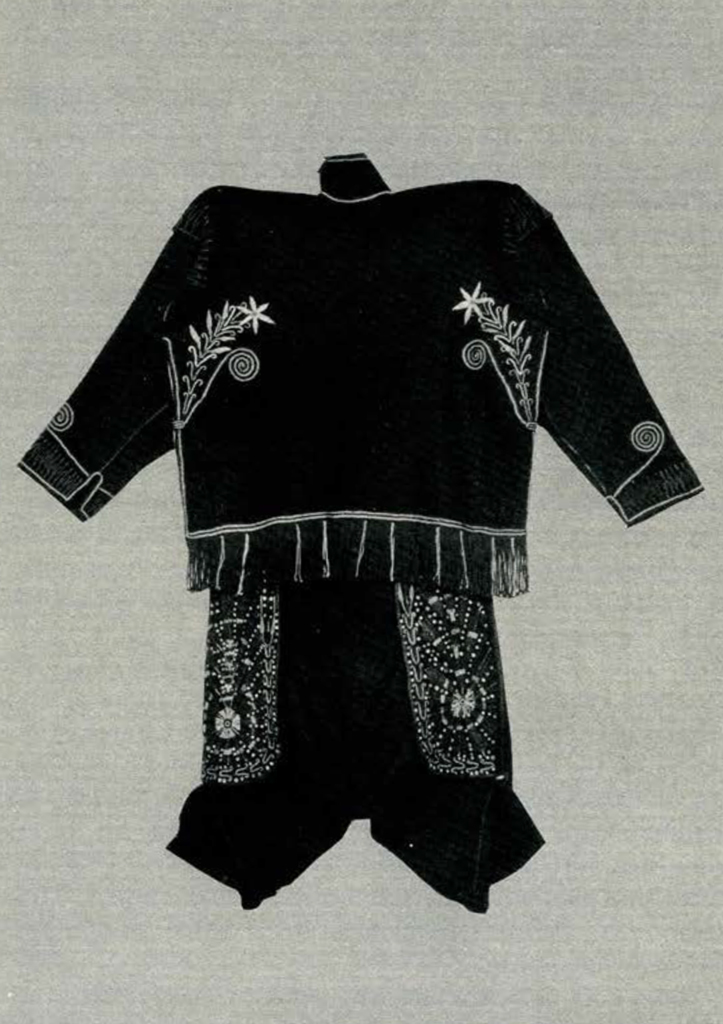 Each village, sometimes each barrio or suburb of a village, has its distinctive type of cloth, of design, and of color combination. To northern eyes, accustomed to more subdued tones under greyer skies, some of these garments may appear gaudy, for they flaunt the hues of tropic birds. Yet the gay huipil-a blouse made from two straight strips of cloth, doubled and sewed up at the sides, with openings left for neck and arms-is worn with a skirt of sober hue and pattern that harmonizes the whole. Thus offset, even deep reds, purples, magenta and cerise may appear in a huipil without clashing.
The rich, soft purples are the most highly prized of colors: behind the choice lies an historic background, since the source of this dye was anciently, and still is, the shell-fish of the Murex group living in Pacific waters. It is akin to the famous Tyrean purple. Other colors for wools and cottons were derived from native barks and roots; the silks, woven upon cotton warp, proclaim the aniline importation.
Native also is the use of a thistle for carding and the spinning of the thread with the hand-twirled spindle, even as the ancient Mayas must have prepared it for the loom. The loom is usually a simple affair, consisting of the two warp bars and a few shed-sticks or heddles, yet the fabric is of many varieties of weave, often intricate in technique.
As varied were the designs. The several Sacatepequez villages of the Department of Guatemala delighted to weave into a white ground serried ranks of small figures-ducks, chickens, turkeys, donkeys, monkeys and creatures unknown to earth or air. Other villages of the Department of Guatemala favored all-over designs in deep tones. Tontonicapán gloried in brilliant many-hued stripes. Chichicastenango appropriated the sun-disk and the double-headed sun-eagle among other designs [PlateX]. Sololá ran to red and white stripes. Alta Verapaz preferred heavily embroidered zig-zags and delicate gauze fabrics.
In this collection are gathered shirts, tunics and trousers, huipiles, skirts, sashes, belts, hats and hat-bands, hair ribbons and head-kerchiefs, blankets and rodilleras or kneeling pads, cloths to protect the back of the burden-bearer, others for carrying eggs, others still to cozy hot tortillas.
The finest belts, close woven, with designs of birds, quadrupeds and men, come from Totonicapan. There are amazing head bands, many yards in length, to be wound into crowns or turbans, according to the local fashion, their silk pompous caught at each side of the head the silver-linked tassel falling over long braids of hair. From Quetzaltenango there is a little lad's suit, cut in the style affected by an alcalde or by a member of a fraternity. Of black cloth, simply embroidered with red and gold rays, it was made to be worn at the festival of San Diego, December 12, called also Dia de Guadalupe.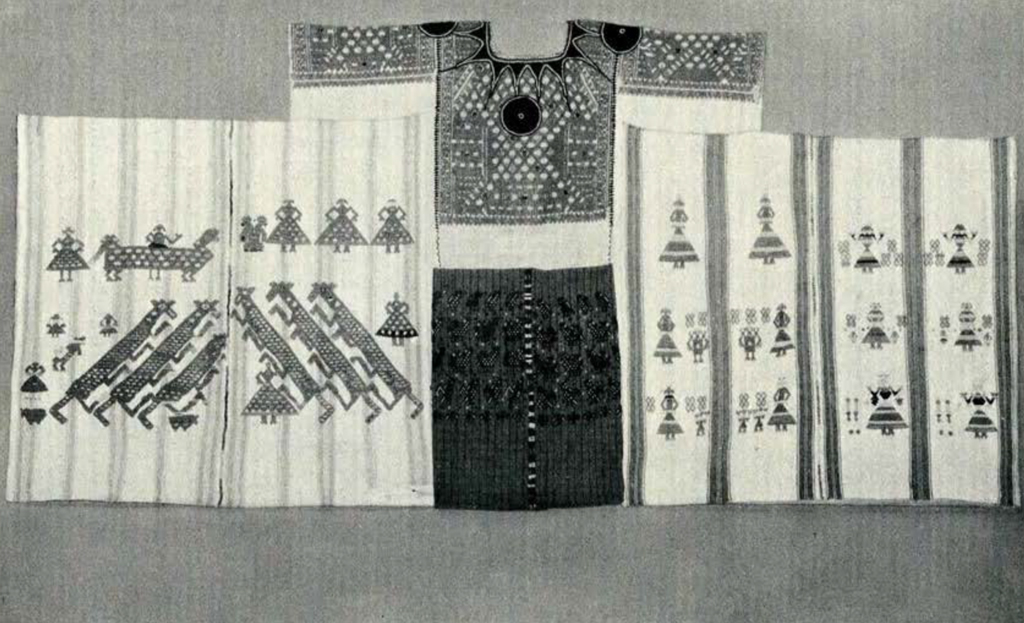 Men's costumes from San Lucas Tolimán and San Martin Sacatepequez, both shirts and shorts, are of red and white striped cotton dotted with small figures. Very different is the rare Maxeño suit worn by a descendant of the ancient rulers of Quiché. Of thick black cloth, coat and short trousers are embroidered in red, orange, green and blue. A wide red sash with embroidered ends, and a square head-kerchief with tasseled corners complete the costume [Plate IX].
Also from Santo Tomás Chichicastenango are the striking servilletas or cloths: one with great red beasts rampant above a little woman, and the other strewn with gay figures as quaint as antique paper dolls [Plate X].
Exquisitely dainty are the large huipiles from Quetzaltenango, of gauze fabric with inwoven pattern and heavy embroidery, lavender and gold, upon neck and shoulders. Worn only at weddings and other fiestas, they were both shawl and head covering, the face alone smiling out of the neck opening. In Rabinal of Baja Verapaz the ceremonial huipil, lovely in chevrons of blue, cerise and gold, on a rose ground, has no neck opening, only the hand holes at the ends of the broad over-garment which draped the wearer's head and back.
A surprising fact appears from the study of these Guatemalan costumes. Maya villagers, whom we are inclined to regard as 'Natives' equally far removed from our level, have nevertheless a pride of race and rank, counting their descent from chief or commoner, and patterning their garments according to their class.
Mrs. Osborne's collection has been graciously loaned to the University Museum and is now on exhibition.
H. N. W.