Statue
This object is On Display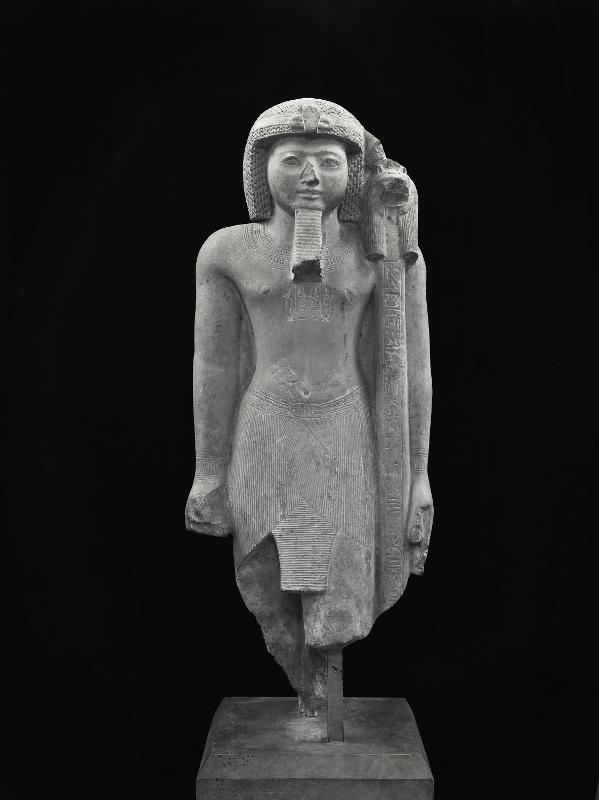 ---
---
Object Number:

E15727

Current Location:
Egypt (Mummies Gallery)

Currently On Display

Provenience:
Egypt
Period:
New Kingdom
Twentieth Dynasty
Date Made:
1187-1156 BCE
Early Date:
-1187
Late Date:
-1156
Section:
Egyptian
Materials:
Limestone
Technique:
Carved
Iconography:
Ramses III
Consort?
Wadjet
Nekhbet
Inscription Language:
Hieroglyphic
Height:
165.1 cm
Width:
45.72 cm
Depth:
45.72 cm
Credit Line:
Purchased from R. Haase, 1925
Description
The youthful king depicted in this statue is identified as Ramses III in several of the inscriptions that are carved on its surface. Ramses III was the last of a long line of powerful military pharaohs beginning with Tuthmosis III, who reigned earlier in the Eighteenth Dynasty. The figure has a false beard and wears a short wig that ends at his broad collar. His name appears mid-chest and the two protective deities, Wadjet and Nekhbet, flank the left and the right sides. His diadem is a simple band with a rearing cobra. A belt with a cartouche encircling his name is atop his short pleated kilt, and a dagger with a double-headed falcon with solar disk is tucked under it. His left hand and arm support a lioness-headed staff that he holds in place next to him. On the king's left side are the remains of the upper part of a figure wearing a tall crown, perhaps a consort, a prince, or a queen. The full titulary of Ramses III is carved on his staff. The back pillar of the statue originally had a similar inscription.
Current & Past Exhibitions:
Bibliography:
You may also be interested in these objects:
---
Report problems and issues to digitalmedia@pennmuseum.org.