Statue
This object is On Display
---
---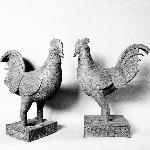 Object Number:

AF2065B

Current Location:
Africa Galleries

Currently On Display

Culture:
Edo (Africa)
Provenience:
Nigeria
Benin Kingdom
Date Made:
18th century CE
Early Date:
1700
Late Date:
1799
Section:
African
Materials:
Copper Alloy
Technique:
Lost Wax Casting
Iconography:
Cock
Height:
20 cm
Credit Line:
Purchased from W. O. Oldman, 1912
Other Number:
25869 - Dealer's Number

Description
Rooster with high tail feathers, incised feather designs throughtout body, thick legs, spur on one leg. Rooster standing on a square base decorated with elephant trunk ending in human hand clutching leaves motif and guilloche pattern.
Current & Past Exhibitions:
Bibliography:
You may also be interested in these objects:
---
Report problems and issues to digitalmedia@pennmuseum.org.