Stela
This object is On Display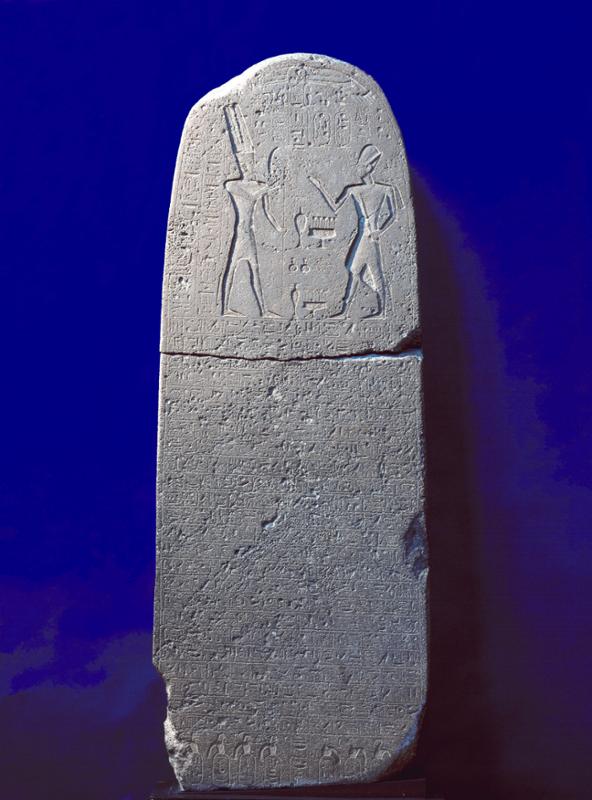 ---
---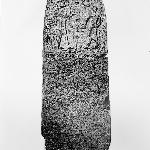 Object Number:

29-107-958

Current Location:
Eastern Mediterranean Gallery

Currently On Display

Provenience:
Israel
Beth Shean
Archaeology Area:
Summit, Room W. of court, large and brick building, W. end.; level V
Period:
Iron Age IB
Iron Age IIA
Date Made:
1150-925 BCE
Early Date:
-1150
Late Date:
-925
Section:
Near Eastern
Materials:
Basalt
Height:
265 cm
Width:
100 cm
Depth:
30.48 cm
Credit Line:
Expedition to Beth Shean (Beisan); Clarence Fisher, 1921-1928
Other Number:
3667 - Field No SF

Description
Vaulted, of Rameses II. In 2 fragments and badly chipped or worn along edges. Surface is badly pitted. Across the top are the solar disk, wings and uraei of Horus of Behudet. Underneath are two figures, that on the left representing the god Amun-Re who wears the crown with double plumes and holds a scimitar in his right hand and a was sceptre in his left hand. In front of him are three short vertical columns and in back of him are three long vertical columns of hieroglyphs. Facing the god (and on the right side of the stela) is a second figure representing Rameses II. He holds a bow in his left hand, his right hand being raised in adoration to the god. On his head is a battle helmet with uraeus and plume attached. On two cartouches above and in front of the king are given his throne name and personal name. Between the god and the king are various vessels which the king offers to Amen-Ra. Underneath are twenty four horizontal lines of hieroglyphs. Below this and at the bottom of the stela are 7 cartouche-like enclosures (1 broken off?) divided into 2 groups of three and four and separated in the middle by a short vertical line of hieroglyphs. Each of these enclosures contains one of the names of the chief foes of Rameses. And each enclosure shows the upper half of the figure of a manacled captive above it. Captives are chained to each other by the neck. The stela is in 2 fragments and badly chipped or worn along the edges. The surface is badly pitted.
Current & Past Exhibitions:
Bibliography:
You may also be interested in these objects:
---
Report problems and issues to digitalmedia@pennmuseum.org.