Statue
This object is On Display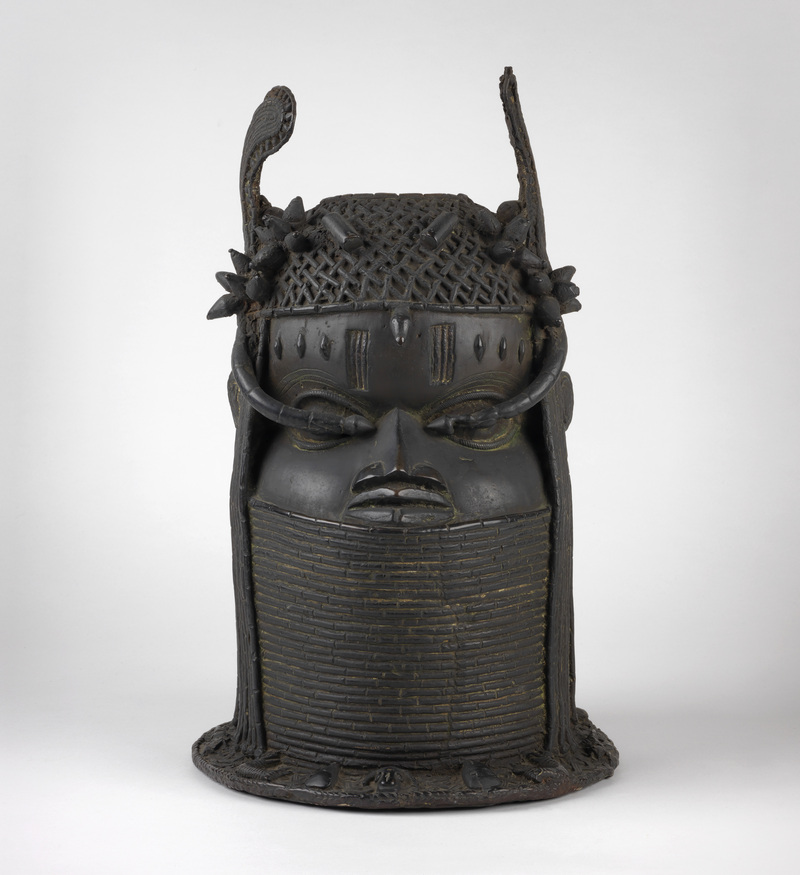 ---
---
Object Number:

AF2062

Current Location:
Africa Galleries

Currently On Display

Culture:
Edo (Africa)
Provenience:
Nigeria
Benin Kingdom
Date Made:
19th century
Early Date:
1800
Late Date:
1899
Section:
African
Materials:
Copper Alloy
Bronze
Technique:
Lost Wax Casting
Iconography:
Human Head
Height:
38 cm
Width:
25 cm
Depth:
25 cm
Credit Line:
Purchased from W. O. Oldman, 1912
Other Number:
29557 | 29559 - Dealer's Number

Description
Commemorative Head representation of the Ọba. Wearing a beaded crown with flower-shaped ornaments and two projections at the sides, beaed extension that cross over eyes, single large bead hangs from center lower rim of crown, braids decorated with beads hang from sides and back. Wearing an (odigba) stacked beaded collar from neck to lower lip . Flang at base has in flat relief an elephant trunk ending in human hand cluching leaves, rams head, and thunderbolt on guilloche pattern.
Current & Past Exhibitions:
Bibliography:
You may also be interested in these objects:
---
Report problems and issues to digitalmedia@pennmuseum.org.