At the Penn Museum, we are passionate about transforming understanding of the human experience. Home to over a million extraordinary artifacts and archaeological finds from Africa, Asia, the Americas, and the Mediterranean, the Penn Museum has been uncovering our shared humanity across continents and millennia since 1887. In bridging archaeology, the study of objects made by humans, with anthropology, the science of humanity, we chart a course for finding one's own place in the arc of human history.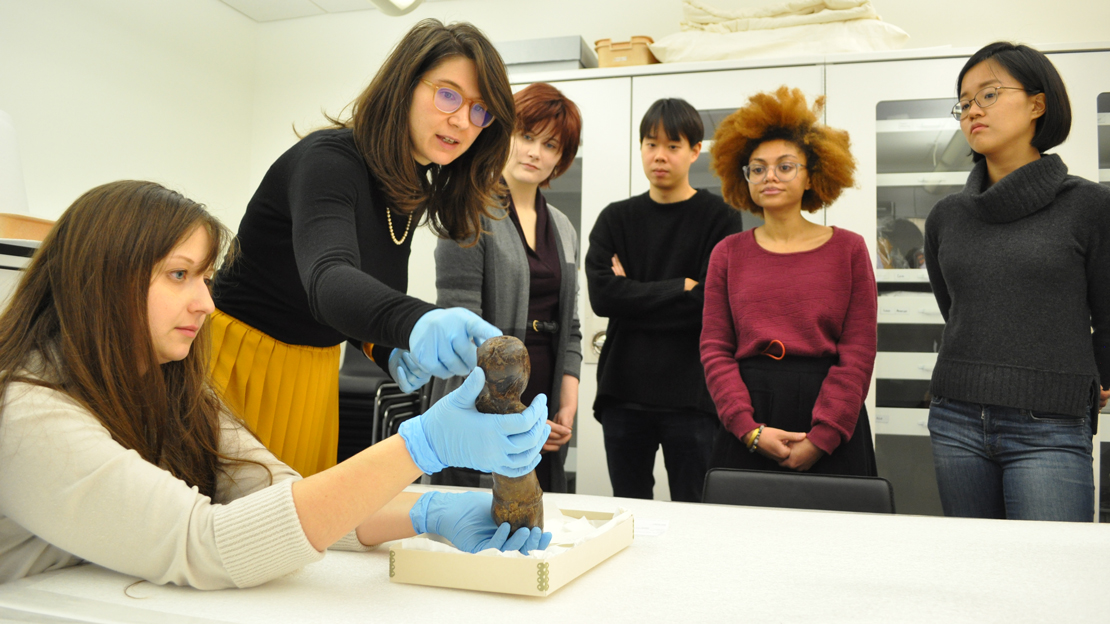 Find your place and future with us.
From groundbreaking discoveries to ongoing innovations in our galleries, classrooms, labs, and grounds—the Penn Museum is a world wonder! We are educators, curators, students, and conservators, as well as experts in fundraising, design, communications, business, IT, and hospitality working together to make the Museum accessible to all communities near and far. Find your place and future with us.
An innovative and inclusive workplace.
Working at the Penn Museum makes you a part of an unparalleled Penn community committed to a culture of inclusion, innovation, entrepreneurship, and interdisciplinary collaboration creating social impact. As the largest private employer in Philadelphia, Penn is an award-winning workplace striving to attract the world's best, offering competitive benefits, and cultivating core values grounded in Diversity, Equity, Inclusion, and Accessibility (DEIA). Learn more about our institutional policies, programs, and resources supporting DEIA.
In 2020, the Museum was the first center at Penn to both adopt the University's Diversity Hiring Initiative and include a member of the Penn Museum Diversity Committee (PMDC) in all searches. All position searches are by hiring committee of no less than three, including a member of the PMDC, to ensure fair and equal treatment. Committees select first round interviewees from applications which have been redacted by an HR officer to remove identifying information, dates of employment, degree type, graduation dates, and universities/colleges attended, in order to reduce the influence of implicit biases.
Open Positions
Web and Application Developer

Position Description

The Web and Application Developer is responsible for maintaining and enhancing the Museum's public website, intranet, and other digital resources. The position reports to the Manager of Digital Records, Archives, and Publications and supports internal operations as well as online platforms. This role is responsible for developing mission-critical, database-driven resources, websites and applications, and for auditing and analyzing systems performance, stability, backup processes, and security measures. Penn Museum strives to meet or exceed standards for digital accessibility, and the Web and Application Developer will advocate for best practices for both accessibility and user experience. This role works collaboratively with subject-matter experts and content creators across the Museum.

---

Exhibition Designer

Digital Media Assistant

Position Description

Reporting to the Manager of Digital Records, Archives, and Publications and with guidance from the Digital Media Developer, this role will contribute to both the existing and in-development Penn Museum websites in support of the reskin implementation project and ongoing web content needs. This position will involve website tasks such as image cropping and resizing for a new design standard and critical content updates to the live website. Other responsibilities include collaborating on adjusting content to fit new templates and ensuring adherence to style guidelines.

---

Exhibition Designer

Position Description

The Exhibition Designer leads design efforts to produce engaging exhibition environments and visitor experiences at the Penn Museum for diverse audiences. Reporting to the Director of Exhibitions, the position envisions, articulates, and advocates for creative design approaches for the overall environment for galleries, temporary exhibitions, and displays for the Museum.

---

Summer Camp Counselor

Position Description

The Summer Camp Counselor is responsible for leading and assisting small and large groups of campers in a variety of activities. The activities include gallery tours, art-making projects, games, scavenger hunts, and performances during the summer camp season. Counselors help to foster a fun and positive learning environment by facilitating friendships and teamwork among campers while acting as a mentor.

---

Ancient Egypt and Nubia Galleries Collections Assistant

Position Description

Under the supervision of the Special Project Manager, the Ancient Egypt and Nubia Galleries Collections Assistant will work closely with the Museum's Registrar's Office, Egyptian section, and other museum departments to facilitate collections-related coordination of the Museum's upcoming Ancient Egypt and Nubia Galleries project.

---

Ancient Egypt and Nubia Galleries Project Coordinator

Position Description

The Collections Coordinator position will be an integral part of the conservation and exhibition preparation team for the Ancient Egypt and Nubia galleries. This staff member is responsible for a wide range of duties that will support internal museum departments and external consultants, including Conservators, Keepers, Curators, designers, engineers, fabricators and project managers.

Under the supervision of the Special Project Manager, the Ancient Egypt and Nubia Galleries Project Coordinator will work closely with the Museum's conservation, Egyptian section, and exhibitions departments, as well as external designers and fabricators to support the Museum's upcoming Ancient Egypt and Nubia Galleries project. Duties include, but are not limited to, helping move the Museum's collections; capturing and manipulating 3D data related to the museum's collection; integrating 2D and 3D data with artifact reproduction approaches, under guidance of the curatorial department; serving as a liaison with vendors and non-collections museum departments (e.g. Digital Records, Archives, and Publications, Exhibition department, photographers, engineers, 3D scanning and milling companies, etc); and additional duties as related to the position.

---

Administrative Coordinator

Position Description

The Administrative Coordinator (AC) for the Penn Cultural Heritage Center (PennCHC) manages the PennCHC's day-to-day functions, including background research for field projects and initiatives, intern and volunteer management, financial budgeting, scheduling, and event planning and logistics. The AC has a background or relevant experience in cultural heritage preservation, cultural property, repatriation, and/or Indigenous rights.

---

Associate Registrar

Position Description

The Associate Registrar works under the supervision of the Senior Registrar within the Collections Division of the Penn Museum. The Associate Registrar oversees the coordination and processing of all outgoing and incoming loans, including exhibition loans, research loans, scientific testing loans, and loan renewals. Typical duties include liaising with borrowers and lenders, executing loan agreements, coordinating conservation and mount making, coordinating packing and shipping, making courier arrangements, condition reporting, and overseeing the financial aspects of loans. The Associate Registrar acts as a point-person for collections-related environmental and security matters and assists with the processing of new acquisitions. The Associate Registrar works regularly in the Museum's collections database, EMu, and provides general collections-related support as necessary to other Registrars and collections staff.

---

Collections Coordinator

Position Description

Responsible for assisting the museum's collections staff (archivists, conservators, keepers, and registrars) in providing support for curricular activities that make use of the museum's collections on display and in storage. Work with collections staff to transfer objects between storage and classroom spaces. Monitoring and supervising collections study and use during visits by students, faculty, and researchers. Reviewing, assessing, and proposing new policies and procedures to ensure that curricular needs are met. Coordinating with archive and conservation team members to provide training for object-intensive courses.

---
---