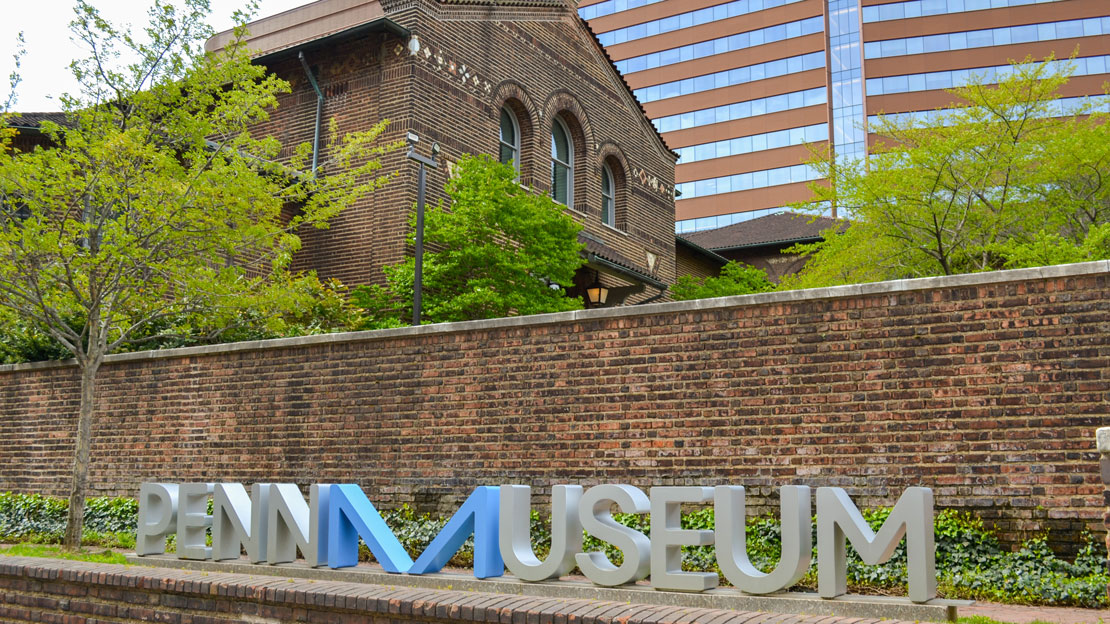 We care for over a million objects in the Museum's collection, each with its own unique story—and every story has meaning for people and cultures from around the world.
As we display collections and communicate their stories, we commit to de-centering Eurocentric views, dismantling systems that replicate colonialism and racism, and presenting the cultures and traditions of non-dominant groups as living, resilient, and powerful in their scope of influence—from ancient history through our lives today.
As we confront our institutional history tied to colonialist and racist narratives, we are continuously working to reconcile our past with restorative practices. The Museum is embarking on an institutional Strategic Visioning—a process in which diversity, equity, inclusion and accessibility (DEIA) principles will be central. On this page, we share our Museum's preliminary goals as we take action and explore new paths for repair, starting with the following fundamental areas:
As part of reconciling our history with ongoing restorative practices, we commit to embracing and applying DEIA in everything we do—a moral imperative in which we hold ourselves accountable as we serve our community partners, our staff, and the public at large.
We recognize that this is only the beginning, and a long, hard road lies ahead. But this challenge is also an opportunity. By addressing the Museum's past and working for a more inclusive future, we commit ourselves to a broader vision of our shared humanity.
As the work evolves and our goals expand with Strategic Visioning, we will be sharing progress updates and resources here. Your feedback is welcome and much appreciated. Help us become the Penn Museum you and communities near and far need. Share your feedback.
---
Cultivate an inclusive culture
It starts from within. Our workforce is the lifeblood of our Museum—who we are, what we believe, and what we do to cultivate an inclusive, equitable organizational culture.
Executive Team

It also starts at the top. In January 2021, we announced the appointment of our new Williams Director, Dr. Christopher Woods, who comes not only with deep museum leadership and scholarly expertise but also a strong commitment to equity, anti-racism, and inclusion. Showing demonstrated success in fostering an inclusive and diverse workplace built on equitable policies and procedures, he has a track record of including and engaging historically underserved and underrepresented communities, a crucial part of our mission.

In February 2022, we appointed the Museum's inaugural Chief Diversity Officer, Dr. Tia Jackson-Truitt. She is a national DEIA expert with more than 15 years of progressive DEIA leadership roles. Most recently, she served at the Georgia Institute of Technology in Atlanta, the largest and most diverse STEM institution in the country, where she implemented curriculum focused on diverse hiring and retention practices and created successful pipeline programs for future generations of diverse scholars. At the Penn Museum, Dr. Jackson-Truitt will deepen relationships with internal and external stakeholders, enhance new community partnerships, and continue cultivating an inclusive workplace culture at the Penn Museum.
Penn Museum Diversity Committee (PMDC)

In January 2020, the Penn Museum Diversity Committee (PMDC) was formed, with 10 staff members representing various departments across the Museum. Since then, PMDC has been instrumental in advocating for improvements to hiring practices, staff development, internships and other internal procedures across the institution. As an important part of the Diversity Hiring Initiative, PMDC representatives sit on the hiring committee for every open staff position. They also participate in other committees or discussions involving exhibition planning, gallery projects, communication needs, and sensitive topics related to the Museum's collections. PMDC co-chairs meet regularly with the Chief Diversity Officer who provides a weekly report to the Executive Leadership team.
Penn Museum Community Advisory Group

In the Fall of 2022, the new Penn Museum Community Advisory Group was convened to provide direct, ongoing feedback on every aspect of museum programming.

Comprised of faith leaders, community activists, artists, and representatives from cultural and government organizations across the City of Philadelphia, this group supports the Museum as we seek to strengthen and build community partnerships; guides efforts around repair; and provides input around internal and external initiatives (galleries, exhibitions, K-12 programs, community outreach, and staff training). 

Community Advisory Group members are key consultants to the Chief Diversity Officer and all members of the Executive Team to ensure that our DEIA goals and initiatives have input from their constituent groups and the appropriate resources to be successful. Members are invited to participate in all museum events and are given other opportunities to engage with and be recognized by the museum.
Hiring

There is much more to be done to ensure that our staff becomes more reflective of the city of Philadelphia's diverse population. The following initiatives and changes in our practices mark initial steps in this direction:

As the largest employer in Philadelphia, the entire Penn community is committed to a culture of inclusion, innovation, entrepreneurship, and interdisciplinary collaboration creating social impact. Learn more about Penn-wide institutional policies, programs, and resources that support DEIA.

In 2020, in partnership with Penn's HR division, the Museum made some key changes to further strengthen our inclusive hiring practices: we devote advertising and posting resources to create more diverse applicant pools; through blind hiring, we ensure equal opportunity for all candidates by removing applicant names and educational background from application materials; and, during the interview process, a member of our internal Penn Museum Diversity Committee (PMDC) is present to facilitate fair and equal treatment. In addition, each hiring committee member attends a mandatory annual Implicit Bias training hosted by Penn's central Human Resources (HR) office, as well as training provided by the Chief Diversity Officer.

We know that the employee engagement experience begins once a person is hired and before they even walk through the door. In the summer of 2022, we launched an improved onboarding program that includes a welcome orientation, training, and building tours. A collaboration between Penn's HR office and the Museum's Operations department and Chief Diversity Officer, this more streamlined process helps to ensure that every new hire feels welcomed and part of an inclusive community.
Staff training and professional development

At the start of 2021, staff completed four implicit bias training sessions led by Malik Muhammad and Erin Cross from Penn's Lesbian Gay Bisexual Transgender (LGBT) Center. In the summer of 2022, all department heads and unit managers attended a "50 Ways to Fight Bias" session hosted by our Chief Diversity Officer. Staff learned about common ways that bias is shown during the interview and hiring process, including tangible strategies for confronting bias and creating more inclusive teams.

As part of cultivating a growth mindset, the Museum reserves a professional development fund to subsidize the cost of conferences, workshops, and additional training requested by staff throughout the year.
Fully paid internships

Our college-level Summer Internship Program supports learning and development experiences in a professional museum environment for college students and recent graduates as they prepare for careers and/or graduate programs. Starting in 2018, we devoted resources to provide paid internships and travel stipends to three applicants. This helps reduce financial barriers to accessing this career-building opportunity for students who might not otherwise be able to participate.

But in order to begin addressing inequality in the museum field, we need to level the opportunity for all students, expanding future career options through an enriching internship instead of an unrelated summer job. We set to work seeking gifts and grants, making fully paid internships one of our top funding priorities

By December of 2020, the Penn Museum launched its newly expanded, fully paid internship program, wherein all interns are compensated for their labor, either internally by the Museum, Penn, their home institution, or external sources—as long as the funding qualifies as a living wage in the city of Philadelphia.
Accessibility

All exhibition spaces strive to exceed American with Disabilities (ADA) standards and apply principles of universal design. Our gallery environments are created for a diverse range of learning styles, ages and abilities.

Since 2012, we have offered "Insights into Ancient Egypt," a series of community informed "touch tours," allowing blind and visually impaired visitors to experience select ancient objects from its Egyptian collection.

In 2019, in an effort to remove transportation barriers for the visually impaired, portable replicas of ancient artifacts started travelling with Museum educators to schools and nonprofits serving people who are blind or have low vision. Non-visual elements, such as relevant oils like frankincense and myrrh, add to a multi-sensory experience.

In 2020, when the pandemic forced museums to close and pivot to virtual programming, "Discovering Ancient Egypt in Sound" was launched, allowing patrons with visual impairment to dial into an hour-long tour featuring audio descriptions that open up individual visualization.
---
Build Culturally Responsive Engagement with Diverse Audiences
How can we be better at engaging more diverse populations for whom cultural attractions may not be a regular part of life, or for whom costs or accessibility could be prohibitive? From institutional changes that make our Museum and its offerings more accessible, to immersive, multi-year partnerships with organizations that expand the scope of our mission, here are ongoing and upcoming initiatives that help the Museum bring archaeology and anthropology to life across diverse communities.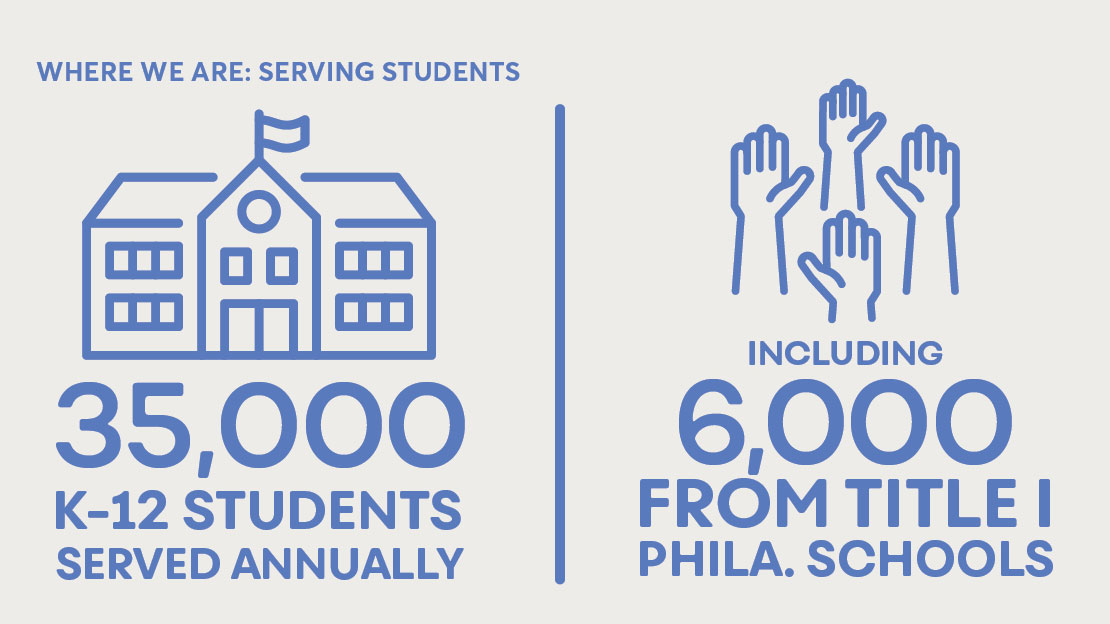 Removing barriers to engagement
Reduced admission

Our Museum offers a $2 admission rate for ACCESS/EBT/Art-Reach card holders, in order to be more accessible to groups who are economically disadvantaged or have disabilities.
Free access

Aside from removing all economic barriers for Penn students by offering free access to the Museum and its programs, a majority of our events—onsite and online—are offered at no cost or through pay-what-you-wish.
24/7 Digital Resources

From family and teacher programs to lecture playlists and gallery tours, the Museum has made endless learning and adventure free and accessible from anywhere around the world through live virtual events and student and family activities.
K-12 programs

Every year we welcome 35,000+ K-12 students, including 6,000+ Philadelphia Title I public school students, to explore and learn from our galleries onsite. We have also delivered 250 award-winning distance learning programs to classrooms worldwide, from Mexico to Australia. In fact, 15 countries from all over the globe are represented through our International Classroom speaker program. After the pandemic paused school field trips, we continue to serve students and teachers through various interactive virtual learning programs found here.
Scholarships

We provide many opportunities to learn and participate in programs through scholarships or grant-funded opportunities. A limited number of need-based full and partial scholarships are available through the Penn Museum's Anthropology Summer Camp. These scholarships cover 100% of the costs for applicants who live within the city of Philadelphia. An additional partial scholarship of $100 off of tuition is open to all applicants outside the city if they show financial need.
Unpacking the Past

Students and teachers in Title 1 schools, where students from socio-economically disadvantaged families make up at least 40 percent of enrollment, have multiple opportunities to participate in free or grant-funded programing. Middle school students from Philadelphia schools can participate in Unpacking the Past, a two-part program that includes a field trip with busing and an in-class lesson at the school. This program is an exceptional opportunity for students to learn about the ancient world and make history feel real, enhancing students' understanding by exploring what connects humans across time, place, and culture. Through hands-on experiential lessons, students learn to think critically and ask questions about the world. Unpacking the Past serves up to 6,000 students annually.
International Classrooms

Students in grades 3 through 12 can also participate in International Classroom presentations, in which educators from different regions around the world share their first-hand experiences with cultural traditions in in-person or online programs. International Classroom educators help to break down racial barriers and encourage intercultural understanding. Their presentations encourage questions and clarify misunderstandings students sometimes have about cultures other than their own. Over 1,000 students participate in these programs each year.
Teacher Resources

Teacher Talks and other professional development opportunities are also available for educators to learn more about Penn Museum. These onsite and virtual workshops are free of charge due to Unpacking the Past grant funding, and are open to all educators.
Institutional Partnerships
The Penn Museum is pleased to partner with the following organizations to provide meaningful learning opportunities: the School District of Philadelphia, Drexel University Autism Institute, Art-Reach, Greater Philadelphia Cultural Alliance, Middle East Center, South Asia Center, and Center of Interactive Learning and Collaborations (CILC).
Community Archaeology Project
Heritage West: The West Philadelphia Community Archaeology Project is a collaboration between community organizations like the People's Emergency Center CDC, the Black Bottom Tribe Association, University City Arts League, and Penn Anthropologists. Focused on the historic neighborhood known as the Black Bottom, this historical archaeology project seeks to uncover, unite, and preserve local community histories dating from the 19th century to the present. Through community conversations, the documentation of family stories and photos, and a local archaeological excavation, the Heritage West Project works with local community members to explore the vibrant histories of this important neighborhood.
Communications
Weaving DEIA principles into our communications means continuously refining our messaging and visual language to engage audiences of different social, economic, educational, and religious backgrounds. As we tell the stories of people and cultures across the globe, we commit to raising their impact and influence across human history, especially those of non-dominant groups, who are often underrepresented or erased from the narrative.
Our Museum's Voice Guidelines inform how we present ourselves in all communications—from exhibitions to publications, news to programs, research to social media. It includes examples for using language that is not only inclusive and reflective of diverse audiences, but also knowledge-seeking, rather than authoritative.
Our Editorial and Exhibition Style Guides work to prioritize non-Western perspectives by ensuring proper terminology: removing colonial references and prioritizing Indigenous names for objects, art, and artifacts. This is a work in progress informed by descendant communities, partners, and scholars.
Our Visual Identity Guideline considers the importance of images representative of diverse populations, web accessibility, and multilingual fonts.
Through an internal Brand and Voice Committee, these ever-evolving documents incorporate the expertise, perspectives, and continued contributions of various department roles throughout the Museum.
---
Strengthen our ethical collection and teaching practices
Our collections represent people and cultures from around the globe, both past and present; it is therefore crucial that the stories we tell expand our cultural conceptions and challenge what we think we know about our shared history. As our ongoing research recovers the voices of people who helped shape that history, it is critical to confront and learn from our own past.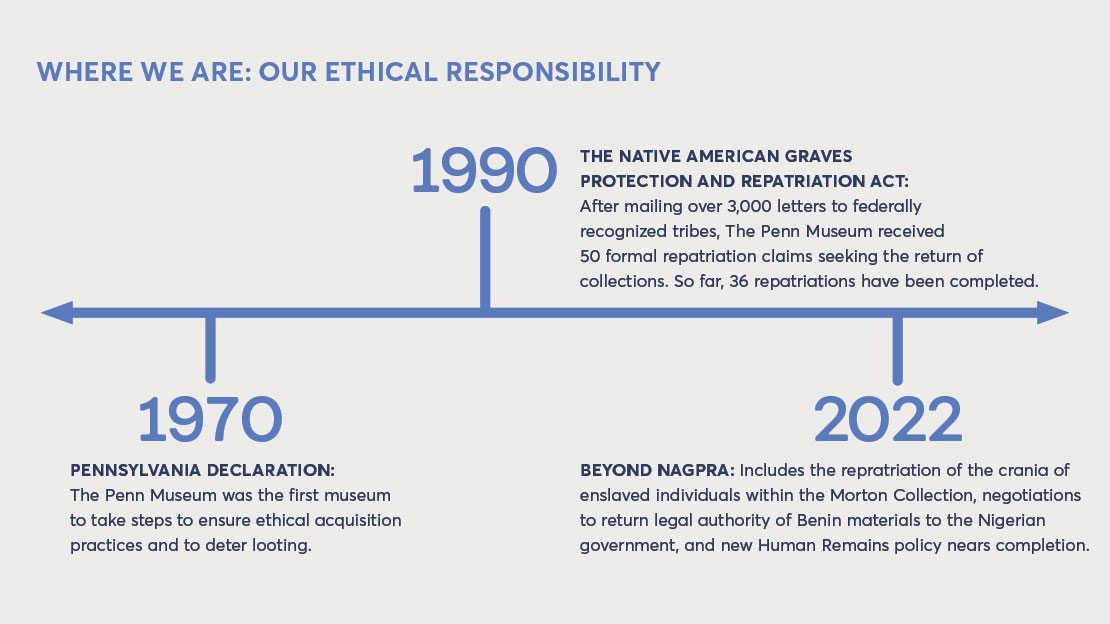 1970 Pennsylvania Declaration
In 1970, we became the first museum to take formal steps towards guaranteeing the ethical acquisition of materials and deterring looting and illicit antiquities trading. This statement of ethics was called the Pennsylvania Declaration, and was presented at the United Nations Educational, Scientific, and Cultural Organization (UNESCO).
1990 Native American Graves Protection and Repatriation Act
In 1990, we hired a full-time Native American Graves Protection and Repatriation Act (NAGPRA) Coordinator and formed a NAGPRA Committee to begin working with Native American and Native Hawaiian communities on the respectful return of human remains of their peoples.
Since then, the Penn Museum has mailed over 3,000 letters to federally recognized tribes informing them of our holdings and extending invitations to consult with us about our holdings. As of 2020, 49 formal repatriation claims seeking the return of collections have been received and 29 repatriations have been completed, resulting in the transfer of 266 sets of human remains, 750 funerary objects, 14 unassociated funerary objects, 23 objects of cultural patrimony, 24 sacred objects and 2 objects claimed as both cultural patrimony and sacred.
2019 Africa Galleries
In November 2019, we opened our new Africa Galleries, which traced objects' stories from their maker to the Museum, encouraging visitors to learn who made the objects, what they were used for, and how they came to be in the Museum's collection.
In planning each gallery or special exhibition project, we seek feedback, from communities and wherever possible from heritage groups. We frequently involve visitors, community members, students, and outside scholars in co-creating and vetting exhibition content in a variety of ways, including surveys and focus group discussions.
2020-2021 Strengthening Ethical Collection Practices, Protecting Cultural Heritage
Morton Collection

The Morton Collection consists of over 1,300 crania, which were collected by Samuel Morton and others during the mid-19th century. Morton's research was used to justify racism and white supremacist views. After his death in 1951, the Academy of Natural Sciences purchased and expanded the collection, which was transferred to the Penn Museum in 1966. The crania come from all parts of the world and range in date from ancient Egyptian times to the 19th century. As a result, the Morton Collection needs to be treated as multiple smaller groupings, not as a single unit.

In August 2020, the Morton Collection Committee was formed to discuss a NAGPRA-informed infrastructure and process that would inform the repatriation or reburial of the crania of enslaved individuals within this Collection.

In April 2021, the Morton Collection Committee publicly released its report with recommendations for repatriation and burial, including the formation of a Community Advisory Group consisting of Philadelphia spiritual and community leaders and city officials, together with representatives from the University of Pennsylvania.

In December 2021, the Morton Community Advisory Group's recommendations, which included burying the cranial remains of Philadelphians at Eden cemetery, a historic Black cemetery, were publicly released. This is the first step in what we expect will be an ongoing effort towards atonement and repair. If further research yields new information about the individuals in the collection, we remain committed to taking appropriate steps towards repatriation or burial.

See the full updates here.
Cultural Heritage

In August 2020, the U.S. Department of State entered into a partnership with the Penn Cultural Heritage Center (PennCHC) to protect and preserve international cultural property at risk from political instability, armed conflict, or natural or other disasters. PennCHC draws upon the expertise of the curators and researchers of the Penn Museum to develop long-term programs for the preservation and promotion of community-based cultural heritage. This includes studying the threats to cultural heritage from the looting and plundering of archaeological and historical sites, the illicit antiquities trade, and commercial development.
Reuniting human remains from 1985 MOVE tragedy with the Africa family

In 2021, reuniting the human remains from the 1985 MOVE tragedy with the Africa Family was a priority, upon learning they were at the Penn Museum. After consultation with Consuewella, Janine, Janet, and Sue Africa, any known MOVE remains were placed in the care of a West Philadelphia funeral home in April 2021, and were received by the Africa Family on July 2, 2021. As we uphold the ethical stewardship of human remains and prioritize human dignity, our ongoing work towards a respectful resolution includes following through on recommendations by the Tucker Law Group's independent investigative report, which was publicly released on August 25, 2021.
Decolonizing Museums

In October 2021, the School of Arts and Sciences in partnership with the Penn Museum hosted Settler Colonialism, Slavery, and the Problem of Decolonizing Museums. This free international conference examined how museums can reevaluate their practices of collecting, exhibiting, and repatriating, given their ongoing histories of native dispossession, anti-Black violence, and white supremacy.
2022 Beyond NAGPRA
Morton Collection

In 2022, we petitioned Philadelphia Orphans' Court to seek approval to respectfully bury and commemorate the Black Philadelphians whose cranial remains are part of the Morton Collection. Public notices in local newspapers were also published in June and July 2022.

See the full updates here.
Benin artifacts

In the summer of 2022, the Museum publicly shared that it has been working with Nigerian officials around the repatriation of Benin artifacts in our Africa Galleries. This resumes a process initiated in 2019 to develop partnerships and agreements with museums in Africa to negotiate the return of certain objects, including the bronzes from Benin.
Human Remains Policy

In 2023, we plan to publicly release an updated institutional Human Remains policy after an ongoing comprehensive reassessment of displaying, researching and teaching with human remains in our collection. We take very seriously the wide legal, ethical, and cross-cultural expectations and considerations that accompany their care and stewardship. Some examples of how we are giving careful thought around the reasons and circumstances of these displays that prioritize human dignity over privileging scientific access include:

Warning visitors in advance if a gallery, exhibition, tour or program, includes the display of human remains. This is communicated through wall signage, text panels, or directly on the casework
Accompanying displays of human remains with explanatory and contextual information and with any information we have about the person(s) displayed.
Considering a process for evaluating the need for displaying human remains based on educational context over sensationalized impact.
---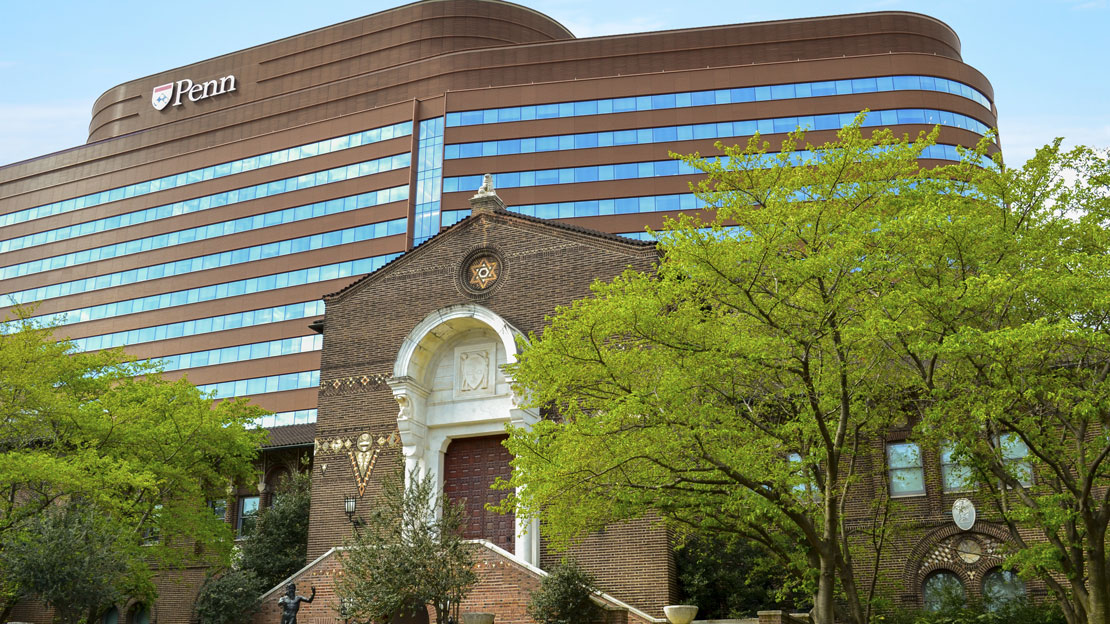 Summary
Our intention with this Social Responsibility page is to identify our areas of growth, while also highlighting our efforts to correct past mistakes. Like many Western institutions housing collections from around the world, the Penn Museum was founded on Eurocentric and colonial narratives. As stewards of the collection, it is our collective responsibility to reckon with the past, challenge processes and practices that marginalize others, and develop an action plan for the future.
It is our Social Responsibility to be a museum that acknowledges the contributions of the past, including the scholarly contributions of our curators and conservators, the advocacy of our PMDC, the responsiveness of our Executive Team to their recommendations, and the daily contributions of all museum staff who create a welcoming, world class experience on a daily basis.
We also acknowledge the many Indigenous cultures whose artifacts we highlight within our walls.
We must also reexamine our culture, values and goals, to ensure we are responsive to the evolving needs of our diverse audiences. We strive to provide transparency and optimism and will keep this page updated with our actions and policies.
As the work evolves and our goals expand with Strategic Visioning, we will be sharing progress updates and resources here. Your feedback is welcome and much appreciated. Help us become the Penn Museum you and communities near and far need. Share your feedback.