Garden to Studio: Private Tours + Ceramic Workshop
In partnership with Grounds For Sculpture
Penn Museum & Grounds for Sculpture
Saturdays, Sep. 23 - Oct. 7, 10:00 am - 1:00 pm ET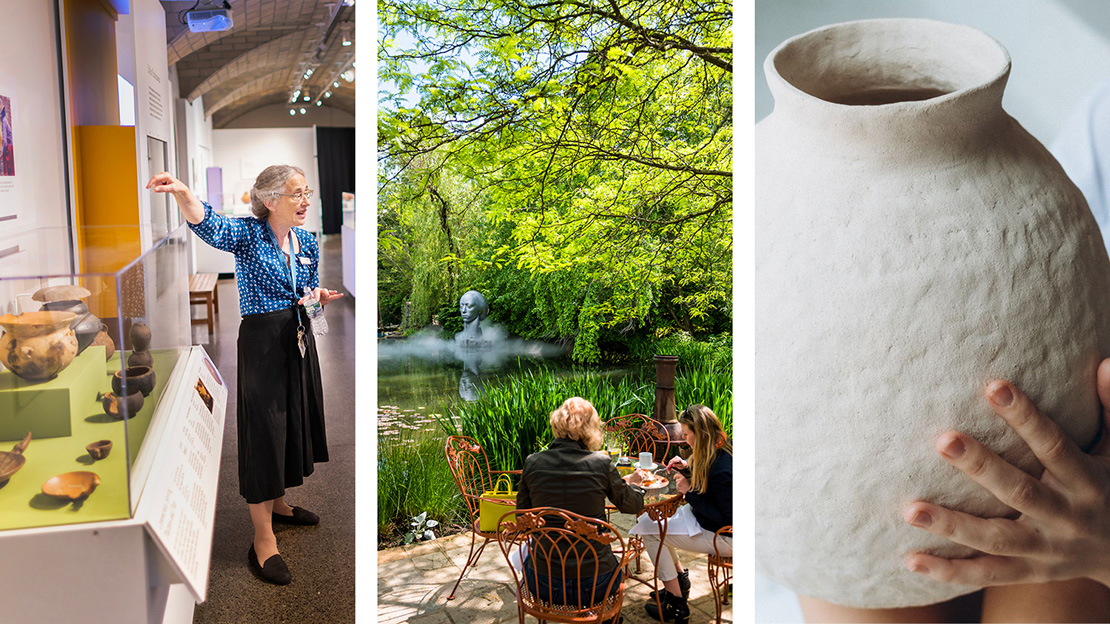 Explore art, archaeology, and nature in this multi-day experience inspired by the Penn Museum's new exhibition Ancient Food & Flavor. Created in partnership with Grounds For Sculpture.
At Penn Museum, Philadelphia

September 23: Curator Katherine Moore, Ph.D., takes you on a private exhibition tour of Ancient Food & Flavor. Step back into the past through ancient food and plant remains—tiny treasure troves of data revealing diets and traditions of communities who lived thousands of years ago.

At Grounds For Sculpture, New Jersey

September 30: Meet us at the captivating Grounds for Sculpture to explore the beautiful intersection of horticulture and art. Director of Horticulture Janis Napoli will lead a guided garden tour where we will discuss the cultivation of ancient grains such as lentils, poppy, and maize. Learn about the historical significance of these crops and their role in shaping cultures of the past. We'll head to the Ceramics Studio at Grounds for Sculpture where you'll create your own ceramic vessel. Whether it's a planter for your favorite plant or a food storage container inspired by ancient designs, you'll use hand-building techniques to create a unique piece of art. Your creations will be fired and ready for you to pick up at a later date, a tangible reminder of the creativity and ingenuity of ancient civilizations.

October 7: We will continue to work on your ceramic vessel.
Don't miss this extraordinary opportunity to immerse yourself in the worlds of food, history, horticulture, and art. Join us for a one-of-a-kind experience that will leave you with a deeper appreciation for the richness of human history and creativity.
Transportation not included. Space is limited.
About Grounds For Sculpture

Grounds For Sculpture (GFS) is a 42-acre not-for-profit sculpture park, arboretum, and museum, founded by the late Seward Johnson. Featuring over 300 contemporary sculptures by renowned and emerging artists in a beckoning, ever-changing landscape, Grounds For Sculpture combines art and nature to surprise, inspire, and engage visitors from all backgrounds in the artist's act of invention. In addition to its permanent collection, Grounds For Sculpture offers exhibitions in six indoor galleries, alongside experiential art, horticulture, and wellness programs for all ages. Located in Hamilton, New Jersey, Grounds For Sculpture is easily accessible from the New York City and Philadelphia metropolitan areas by public transit and is open year-round. For more information, visit groundsforsculpture.org.
23-09-23