World Wonders guests also enjoy the Museum's discounted summer admission donation of $10 for adults, seniors, and children. Museum admission is free for active U.S. Military and their families Memorial Day through Labor Day; children 5 and younger, Penn Museum Members, and PennCard holders. Discounts are available for groups of 10 or more (summer camp groups and homeschool groups welcome; pre-registration required); for information call 215.746.6774 or email This email address is being protected from spambots. You need JavaScript enabled to view it..
Families can attend the entire World Wonders series this summer for free when they become Household members of the Penn Museum. Also good for grandparents and grandchildren, a Household membership includes free, unlimited general admission for two adults and all children under 18 years in the family throughout the year. For pricing information and additional benefits of the Household membership package, call 215.898.5093 or visit www.penn.museum/membership.
The 2015 World Wonders lineup: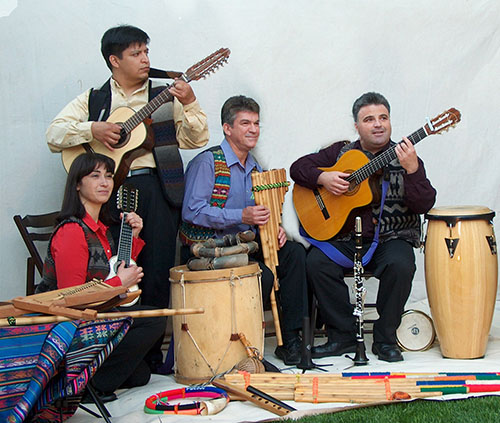 July 1
Journey to the Americas
Participants enjoy Andean and Latin American traditional and folk music with the Eco Del Sur ensemble. Children can learn the origin of numerous wind, percussion, and string instruments, as well as the cultures, geography, and regalia of Latin America. The interactive program includes an invitation for young guests to come on stage and try their hand at playing the instruments.
July 8
Journey to Ancient Egypt
Storyteller Michele Belluomini weaves a special "Creatures Featured" series of ancient Egyptian short stories for little listeners. Families can cheer as the falcon god Horus battles the evil Seth; imagine a legendary gigantic snake covered in golden scales who lives on an enchanted island, and tremble as Sekhmet/Hathor, a goddess of Upper Egypt, terrifies the people with her destructive power.
July 15
An All-Around-the-World Journey
Internationally acclaimed musician and recording artist Daria entertains guests with melodies from around the globe. Playing authentic instruments such as guiros, buffalo drums, caiones, sekeres, and singing bowls, Daria engages children with this interactive world music session.
July 22
Journey to the Caribbean
A steel band and Calypso musician, native Trinidadian Jeffery Moolchan performs a medley of Caribbean music. Guests have fun dreaming of aqua seas and white sand beaches amid the rhythms of live steel pan music.
July 29
Journey to the Middle East
Middle Eastern percussionist Joe Tayoun guides families on a musical journey to Egypt, Turkey, Armenia, and Israel by showcasing the drumming traditions of these cultures. Guests listen and clap along to the beat.
August 5
Journey to Africa
Troupe Da-Da African Dance and Drum Ensemble performs a variety of West African and Afro-Cuban dances. Dressed in colorful, authentic regalia and singing in traditional African languages, the dancers of Troupe Da-Da move gracefully to the powerful rhythms and percussions of the djembe, dundun, conga and bata drums, the sekere, and more. The ensemble seeks to expand the cultural awareness of African contributions to the arts through educational programs and performances.
August 12
Journey to Ancient Greece
Seth Reichgott's one-man-show, Chariot of the Sun, brings to life the heroes, gods, and monsters of Greek mythology. Seth uses poetry, masks, and mime in a dynamic presentation that offers fun and simple introductions to the stories of ancient Greece.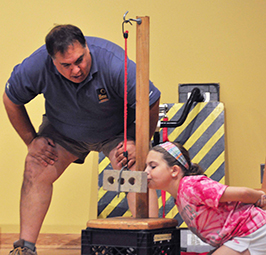 August 19
A Journey of Ancient Technology
The Franklin Institute visits with an interactive science show about the basic physics of motion. With rubber balls, bricks, and wooden blocks, young adventurers can learn about Newton's Laws of Motion as it applies to ancient architectural technology. Then, children have an opportunity to witness these laws in action in a lever, pulley, and student-driven hover car.
Following each World Wonders presentation, children and their chaperones or families may explore the Penn Museum's three floors of galleries featuring artifacts from Egypt, Asia, the Mediterranean, the Near East, North and Central America, and Africa. Children 4 to 6 and their older siblings and friends can participate in themed storybook readings within the galleries beginning at 1:00 pm. Guests are invited to stay and experience In the Artifact Lab: Conserving Egyptian Mummies, a part exhibition, part working laboratory that brings visitors right into a conservator's world. The conservators open their lab window to answer visitors' questions on Wednesday afternoons from 2:00 to 2:30 pm.
The Museum Shop is open from 10:00 am to 5:00 pm (until 8:00 pm on Wednesdays when the Museum is open for evening programs) for World Wonders participants to browse games, toys, books, crafts, and jewelry geared to diverse interests and ages.
Families attending World Wonders can recharge in the Pepper Mill Café with its child-friendly lunch options. Children 12 and younger also receive a free souvenir activity book and pack of crayons with any Café purchase. The activity book's coloring pages highlight museum objects, and the puzzles and brainteasers help young guests further interpret their day in the galleries.
About the Penn Museum
The Penn Museum (the University of Pennsylvania Museum of Archaeology and Anthropology) is dedicated to the study and understanding of human history and diversity. Founded in 1887, the Museum has sent more than 300 archaeological and anthropological expeditions to all the inhabited continents of the world. With an active exhibition schedule and educational programming for children and adults, the Museum offers the public an opportunity to share in the ongoing discovery of humankind's collective heritage.
The Penn Museum is located at 3260 South Street, Philadelphia, PA 19104 (on Penn's campus, across from Franklin Field). Public transportation to the Museum is available via SEPTA's Regional Rail Line at University City Station; the Market-Frankford Subway Line at 34th Street Station; trolley routes 11, 13, 34, and 36; and bus routes 21, 30, 40, and 42. Museum hours are Tuesday through Sunday, 10:00 am to 5:00 pm, and first Wednesdays of each month until 8:00 pm. Open select holiday Mondays. During July and August, museum admission donation is just $10 for adults, seniors, and children; free for active U.S. Military and their families Memorial Day through Labor Day; children 5 and younger, Penn Museum Members, and PennCard holders.
Hot and cold meals and light refreshments can be purchased with or without Museum admission in The Pepper Mill Café; the Museum Shop offers a wide selection of gifts, books, games, clothing and jewelry. The Penn Museum can be found on the web at www.penn.museum. For general information call 215.898.4000. For group tour information call 215.746.8183
Photos, top to bottom: Andean and Latin American folk music ensemble Eco Del Sur (Photo courtesy of the artists). World music performer Daria (Photo courtesy of the artist). An interactive show about Newton's Laws of Motion led by Franklin Institute staff (Photo: Franklin Institute).