The Penn Museum Graduate Advisory Council (GAC) is a representative council that facilitates student involvement with the Penn Museum and collaboration with other interested graduate students. Any Penn graduate student interested in opportunities at the Museum is welcome to join GAC.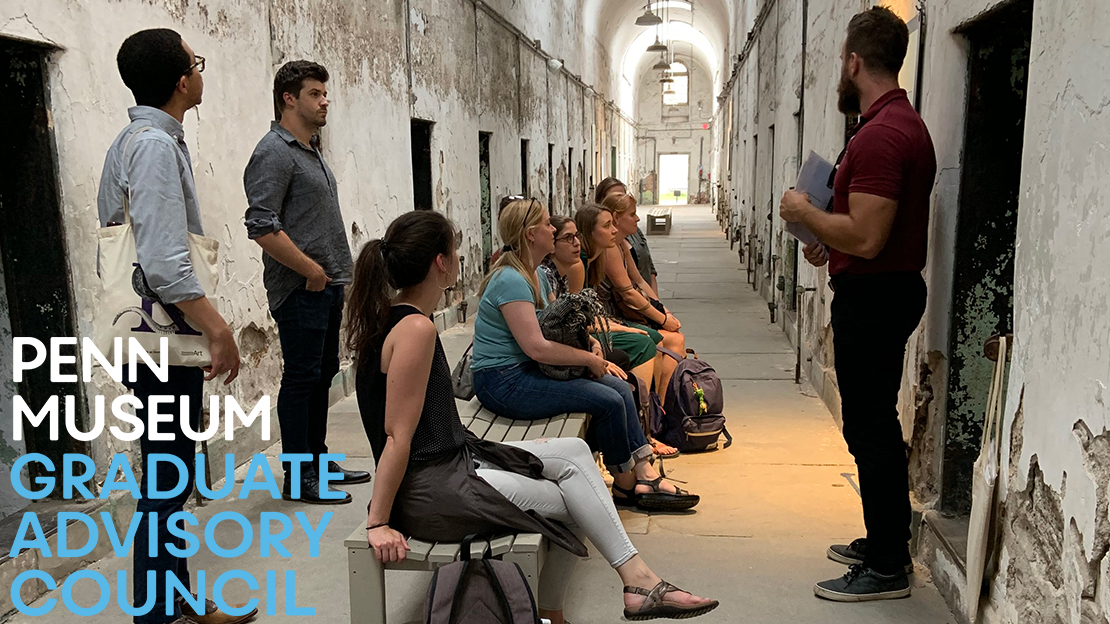 GAC Mission
The Penn Museum Graduate Advisory Council (GAC) is a representative council dedicated to facilitating lateral engagement among graduate students and promoting their involvement both as collaborative stakeholders within and as advisers to the Penn Museum.
GAC Objectives
To develop and maintain inclusive representation of graduate students from the various disciplines and departments that engage with the Penn Museum
To facilitate academic, professional, and social opportunities for graduate students within the Penn Museum
To build a collaborative relationship with the Penn Museum
To provide graduate students with a means to advise the Penn Museum on issues of interest to graduate students
To build interdisciplinary relationships among graduate students through the Penn Museum
Membership and Meetings
GAC meets once a month. GAC also organizes a weekly writing group, professional and academic development workshops, and social events, including trips to other Philadelphia institutions. Any interested graduate student enrolled at the University of Pennsylvania may become a member of the Penn Museum Graduate Advisory Council.
Fall 2022 Monthly Meetings
October 5, 11am - 12 pm, Penn Museum Classroom L2
Museum Tour with TBD
November 9, 11am -12 pm
Eastern Mediterranean Gallery Tour with Eric Hubbard (consulting curator)
December 7, 11am -12 pm, Penn Museum Classroom L2
Socializing with Staff with TBD
Interested in attending PMGAC virtual events? Please join our listserv below.
Meet the Board
GAC is made up of the General Council and an annually elected Board. Meet the 2022–2023 GAC Board below!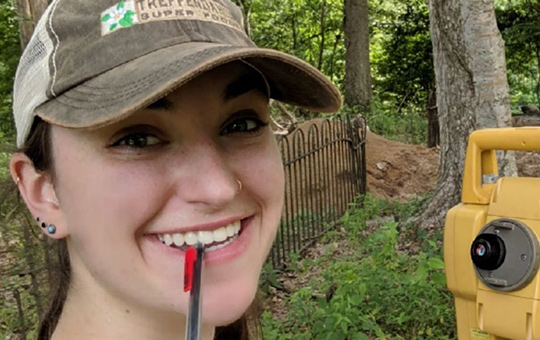 Autumn Melby
President
Autumn is a Ph.D. student in the Department of Anthropology, focusing her research on the Precontact archaeology of the American Southeast. Her dissertation project examines how households within the southern periphery of influence of the Cahokia site in Illinois responded to the presumed 'collapse' of the center during the 13th century CE, engaging with notions of resilience, identity, and the archaeology of everyday life. Her other research interests include ceramic technology, paleoethnobotany, indigenous archaeology, and public and museum archaeology. She continues to contribute to the Penn Museum's Graduate Guides and Daily Dig programs, often highlighting objects and stories found in the Native American Voices exhibition, and was a Graduate Assistant in Spring 2020.
Contact at This email address is being protected from spambots. You need JavaScript enabled to view it..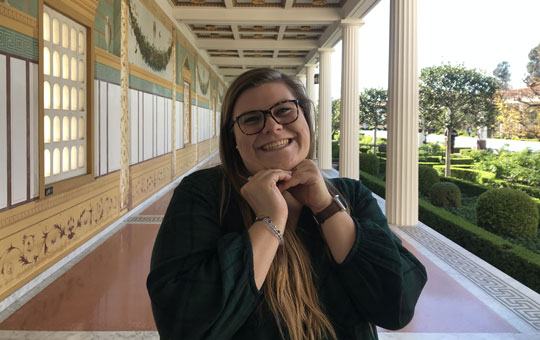 Brigitte Keslinke
Vice President
Brigitte is a fourth year Ph.D. student in the Art and Archaeology of the Mediterranean World program. Her research focuses on the intersections of food, identity, and cultural exchange, particularly in the cult of the Cybele/Magna Mater, and she has worked at sites in central Turkey and on Cyprus. At the Penn Museum, she enjoys engaging with the public through the Graduate Guides and Daily Dig programs, and most recently, she worked on the curatorial team for the temporary exhibition "The Stories We Wear." When not in class or the museum, you can find her exploring the city, taking walks in the Woodlands, sharing meals with friends, or napping (usually with her most adorable cat Clio).
Contact at This email address is being protected from spambots. You need JavaScript enabled to view it..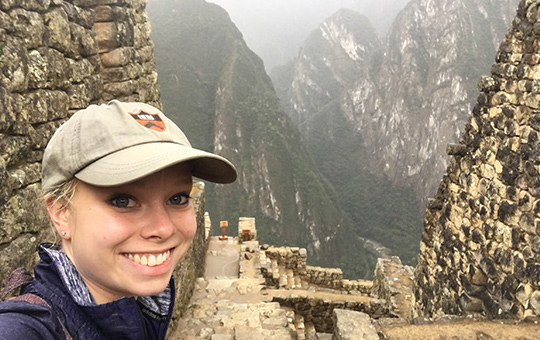 Charlotte Williams
Chair of Programming
Charlotte is a graduate PhD candidate in the department of Anthropology, with a focus on cultural heritage and the history of archaeology. Her dissertation research investigates how American imperial projects ranging from the United Fruit Company to the Panama Canal used archaeology as a way to control Central American territory in the early 20th century, and seeks to show how both harvests and heritage were extracted using the same labor and infrastructural systems. In addition to PMGAC she also helps to run the Museum Teaching and Learning Certificate Program, and enjoys giving tours as a Grad Guide!
Contact at This email address is being protected from spambots. You need JavaScript enabled to view it..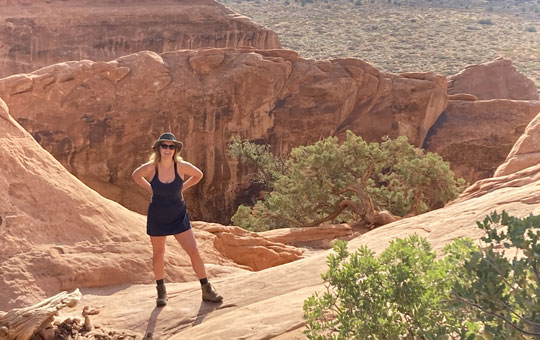 Arielle Hardy
Chair of Social Programming
Arielle is a Ph.D. student in Penn's Art and Archaeology of the Mediterranean World interdisciplinary graduate group (AAMW). Her academic research focuses on the Hellenistic intersections of sacred space, ritual practice, and mythology, and she has participated in archaeological projects based in Teos, Turkey; Pollena Trocchia and Roccarainola, Italy; and in Gluhite Kamani, Bulgaria. Arielle also has a professional background in museums, having previously been involved with the Getty Museum in Los Angeles and to the Manetti Shrem Museum of UC Davis. She is passionate about facilitating connections with the past through access to material objects, and is excited to be part of the Penn Museum community! Outside academic life, Arielle loves finding fresh air—whether that be on a long hike, in the crisp air conditioning of an art museum, or on a roof deck having dinner with friends.
Contact at This email address is being protected from spambots. You need JavaScript enabled to view it..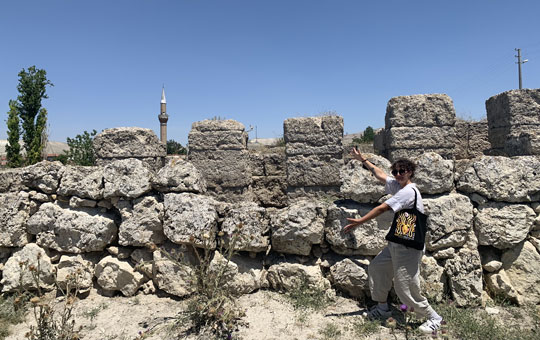 Janessa Reeves
Communications Chair
Janessa is a second year Masters student in the Art and Archaeology of the Mediterranean World program. Her interests have many trajectories, some of which are the Roman Eastern Mediterranean, cross-cultural exchange, ancient glassmaking, and museum education. She has done fieldwork in Romania and in central Turkey, where she served as the Gordion Project's site registrar this past summer. Janessa loves being involved at the Penn Museum: as a Grad Guide, a research assistant for the Historical Greenhouse Artifacts Project, and a regular installation in the museum cafe.
Contact at This email address is being protected from spambots. You need JavaScript enabled to view it..
Resources
How to Get Involved at the Penn Museum
Besides joining PMGAC, a few ways for graduate students to get involved at the Museum are the MTL Certificate, the Grad Guides program, Penn Museum Graduate Assistantships, and the Creating Academic Museum Professionals summer camp.
For more information, contact GAC President Autumn Melby at This email address is being protected from spambots. You need JavaScript enabled to view it. and Penn Museum Research Liaison Sarah Linn at This email address is being protected from spambots. You need JavaScript enabled to view it..
Want to learn more about GAC initiatives and meetings?
Sign up to receive emails!