Application Deadline Has Passed
The Penn Museum offers 150-300 hour, nine-week paid summer internship opportunities for undergraduates, recent graduates, and graduate students from any college or university. Internships include two parts: a project-based placement in a Museum department and the Museum Practice Program, which includes orientation, weekly lectures, collections tours, and a field trip to a local museum. The internship concludes with final presentations shared by the interns.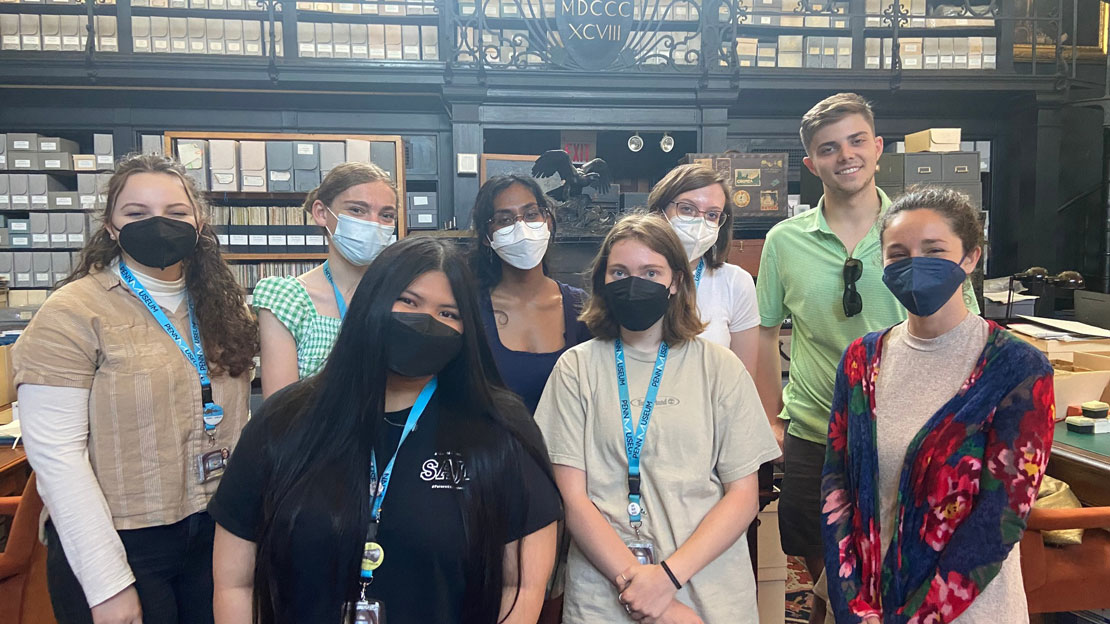 About the Program
Internship Dates: June 6 - August 5, 2022
Weekly practice program: Wednesdays 3:30 pm - 5:00 pm
We are currently planning for an in-person summer. Remote work may be possible for some projects.
All Penn staff including remote interns are required to be vaccinated.
We strongly encourage applications from students who are members of groups underrepresented in careers related to museums. We particularly encourage applicants from African American, Latinx, Native American, and other underrepresented minorities for positions in collections, conservation, registration, and curation.
How to Apply
Prior to completing the online application form, you should prepare the following
A 500-word maximum essay describing how your skills, interests, and experiences relate to the department (or departments) to which you are applying
A cover letter*
A resume or curriculum vitae*
Transcripts (unofficial are preferred)*
2 letters of recommendation from a current or former college professor, academic advisor, or employer who can speak to your qualifications for this internship. The letter must be emailed by your recommenders to

This email address is being protected from spambots. You need JavaScript enabled to view it.

with the applicant's full name in the subject line. Letters can be addressed to the "Intern Hiring Committee."
* Please follow these file naming conventions: Last name, First name_document type. Example: "Doe, John_cover letter.pdf"
Finalists will be contacted for interviews. Offers will be made between mid-March and early April 2022.
---
Funding
All Penn Museum summer interns are paid. If you are selected for an internship, you will receive a Penn Museum Intern Stipend or must show that you have received a comparable allocation from an external funder (see below).
Penn Museum Intern Stipend
Interns are paid $15 per hour (up to $4,500 for 300 hours) to cover the costs of living expenses. Interns receiving this stipend will become employees of the University of Pennsylvania and will need to complete an onboarding process before receiving their first paycheck.
Penn Summer Humanities Internship Program (SHIP) Stipend
Penn students in the College of Arts and Sciences may be eligible for funding through the Summer Humanities Internship Program, offered by the Center for Undergraduate Research & Fellowships. Eligible Penn students should complete both the Penn Museum internship application and the SHIP application. Please check the SHIP website for more details. If you are eligible, please select the "I am SHIP eligible" box when filling out your Penn Museum internship application.
Work-Study
Penn and non-Penn students may be eligible for summer work-study through their home institutions. If you have applied for a summer work-study allocation, please select the "I am work-study eligible" box when filling out the Summer Internship Program application.
*Please note that summer work-study is separate from work-study funding received throughout the academic year. You will be asked to provide an award letter from your home institution by May 1.
Arts Intern Program & Stipend
Applicants with demonstrated financial need who live or go to school in Philadelphia may be eligible for funding through the Arts Intern Program. The Arts Intern Program runs separate from and starts later than the Penn Museum Summer Internship Program and requires attendance at a weekly program organized by Arts Intern. Arts Interns are not required to attend the Museum Practice Program organized by the Penn Museum but are encouraged to do so if their schedule permits. Please check the Arts Intern website for eligibility and application information; these positions will not be listed on the Penn Museum Summer Internship Program application.
Other Funding Opportunities
Applicants are encouraged to explore external funding through their home institutions, professional organizations, and other sources. In particular, there are a number of awards that provide opportunities to students from backgrounds underrepresented in anthropology, archaeology, and museum studies. Combining one of these awards with your Penn Museum internship is a great way to strengthen your resume.
Check with the career services or undergraduate research office at your home institution for funding opportunities. For example, Native American, Alaska Native, and Native Hawaiian women, including gender non-conforming individuals, who are undergraduate or graduate students in the fields of archaeology and museum studies may be eligible for the SAA's Bertha Parker Cody Award for Native American Women. Graduate student members of the AIA in the field of archaeology may be eligible for funding through the Elizabeth Bartman Museum Internship scholarship.
Any external funding for your internship must be equal to or greater than $15 per hour. If selected for an internship, you must provide an award letter confirming the amount of your award by May 1 or your stipend will be provided by the Penn Museum.
Travel Assistance
Travel assistance is available for interns who are not local to Philadelphia. Please select the "Requesting Travel Funding" box on your application if you would like to be considered for funding towards the costs of travel to and from Philadelphia at the start and end of your internship.
Academic Credit
The Penn Museum welcomes the opportunity to work cooperatively with schools awarding academic credit for internships. Applicants are encouraged to initiate arrangements for credit with their colleges or universities. The Penn Museum does not grant academic credit.
Eligibility
COVID-19 vaccination is a requirement for all positions at the University of Pennsylvania. New hires are expected to be fully vaccinated before beginning work at the University. For more information about Penn's vaccine requirements and the use of Penn Open Pass, visit the Penn COVID-19 Response website for the latest information.
Current undergraduate and graduate students as well as recent graduates from any college or university are eligible to apply.
Must be either be a U.S. citizen or international student with Visa authorization to work for off campus employment (if a non-Penn student).
Must be available on Wednesday afternoons to attend the weekly Museum Practice Program.
High school students are not eligible and instead should apply to the Teen Summer Internship program.
International students are eligible to apply. We accept applications from international students enrolled in degree-granting programs. Non-Penn international students will need CPT or OPT authorization in order to be paid by the University of Pennsylvania.
---
Academic Engagement
The Academic Engagement department supports Penn faculty and student engagement with the galleries and collections. Internships in this department include working directly with collections, research and writing on the Museum's own projects and programs, and marketing and event planning for the Penn student audience. Projects vary based on intern skills and interests, from collections work (object handling, photography, and collections database use) to archival research and writing about Museum expeditions and research projects, or even class and event planning for upcoming exhibitions.
---
Archives
At the Penn Museum Archives, we collect the stories behind the artifacts. The archives include records of the Museum's archaeological expeditions to every inhabited continent, the history of the Penn Museum, and the history of the fields of archaeology and anthropology. In addition to field notes and correspondence, we hold three-quarters of a million images and nearly 1000 reels of motion picture film. Interns assist with the archival care and management of documents (including letters, diaries, field notes, and plans and drawings) and photographs (prints, lantern slides, and glass and film negatives) from the Museum's historic anthropological and archaeological investigations around the world.
Interns work closely with the institution's archivist on all aspects of archival processing, arrangement, and description, including preparation of finding aids. Interns will also gain experience in basic preservation skills, cataloging, digitization, and assisting with archival reference requests. A successful applicant has good organizational skills and attention to detail, basic research skills, and the ability to work independently. This is an excellent opportunity to learn and refine skills related to primary source research, synthesis, writing, and editing.
---
Collections
The Penn Museum collections span 11 curatorial sections representing a vast array of material culture from around the world. The Museum's varied collections are in active service to the University of Pennsylvania community and researchers from all over the world. Internship projects vary, but in general, interns working with the curatorial sections learn basic collections management skills such as object handling, cataloguing, photography, rehousing, and using the collections database to support exhibitions, academic engagement, repatriation research, loans, and work related to Museum policies and assessments. This type of work supports the care and stewardship of the collections, which is at the core of our mission. Projects can be developed based on the interests and skills of the applicant, such as language proficiency, area studies, material studies, and photography. These projects are well suited for interns with a high attention to detail, strong organizational skills, and the ability to work alone or in a pair.
---
Conservation
The Penn Museum's Conservation Department is tasked with the long-term preservation and conservation of the Museum's object collections. The Department's regular duties include review, treatment, and setting exhibition parameters and travel requirements for all objects going on exhibition or out on loan; working with Collections staff to provide the best possible environment for the long-term preservation of collections in storage; and providing conservation consultation for Museum staff, researchers, students, and the general public. The Department is currently reviewing, documenting, and treating objects for several upcoming exhibitions and the Ancient Egypt and Nubia Galleries.
A summer internship in the Conservation Department will include opportunities to work on projects and tasks typically offered to conservation pre-program interns, as a chance to learn more about the education and training that is required to become a professional conservator. Projects may include assisting with gallery maintenance, re-housing artifacts for storage, examining and documenting artifacts in the collection, and other assignments. Knowledge of the conservation field, experience working in museum collections, and/or coursework in fine arts, archaeology, anthropology, chemistry, and other sciences is a plus but not required. This internship is well-suited for applicants with high attention to detail, excellent organizational skills, and the ability to work independently.
---
Cultural Heritage Center
The Penn Cultural Heritage Center is seeking interns to work on oral history transcription and bibliographic and archival research related to community-based cultural heritage initiatives in Afghanistan, Georgia, Syria, and the United States. As an intern, you will be transcribing interviews conducted with key figures in the preservation of cultural heritage around the world, collecting bibliographic material, and analyzing archival documents related to research with Indigenous groups and at-risk heritage sites.
---
Development
Development interns will assist with prospect research in support of the Museum's major gift efforts while also gaining some experience in the areas of membership, special events, prospect management, and more. The position will include specialist software training, as well as opportunities to assist in the development of new donor programs and funding sources. In addition to learning the daily operations of a development office, the summer intern has the potential to make major contributions to a number of special projects. Possible special projects include identification, screening, and research of potential donors for the Penn Museum's community engagement, research, teaching, and collections stewardship programs; assistance for summer programming and events; database maintenance and clean up; and Membership research and reporting. The summer intern should be an enthusiastic learner but does not need experience in archaeology or anthropology. A successful candidate will possess strong research and writing skills; experience with, or interest in learning about, databases and data analysis; and the availability to work some evenings and weekends as needed.
---
Exhibitions
The Exhibitions department is divided into three sections: interpretive planning, exhibition design, and exhibition preparation. An interpretive planning intern will assist in researching and organizing upcoming exhibitions; carry out visitor surveys; produce exhibition text panels and labels; and closely collaborate with curators, scholars, researchers, designers, and preparators as exhibition ideas become realized. Interns in exhibition design will be exposed to and assist with the design of 2D and 3D exhibition elements, including case design, display, and fabrication. Exhibition preparation interns aid in the planning and fabrication of exhibition architectural elements and multimedia.
All interns may be involved with gallery maintenance, exhibition installation and de-installation, and aspects of the fabrication process. Applicants should be ready to think creatively and be prepared for a hands-on experience. The internship offers the opportunity to become involved with the day-to-day running of the exhibition department and to gain a practical working knowledge of creating exhibitions within an internationally renowned museum. Duties vary per internship, needs of the department at that time, and projects. A successful candidate will have excellent written and verbal communication skills, administrative and organizational abilities, and solid computer skills with Microsoft Word, Excel, and Google Docs. Design program (Photoshop, Illustrator or InDesign) experience is desirable.
---
Learning Programs
The Office of Learning Programs interns assist with school offerings, which include tours, workshops, and hands-on activities. Interns will assist in general department upkeep, supply inventory, classroom preparation for programs, organization and maintenance of teaching materials, and general hands-on and organizational support to the department. They may also assist with Homeschool Days, Teacher Professional Developments, and other specialty programs. Ideal candidates would have familiarity in education in formal or informal settings, and interest in object-based learning and museum studies. They should also have excellent organizational and communication skills and the ability to work independently as well as in team settings.
---
Marketing & Communications
The Marketing and Communications Department builds overall brand awareness while supporting visitation and audience engagement across exhibitions, Learning and Public Engagement programs, research, scholarship, and many other exciting initiatives at the Penn Museum. The department intern will assist in the execution and logistical operations of various communications media and marketing campaigns to support growing and diversifying audiences for the institution.
Ideal candidates will have excellent communication and project management skills and experience or familiarity with marketing, social media, and public relations. Proficiency with Mircosoft Office and social media platforms preferred, and familiarity with Adobe Creative Suite and content scheduling tools a plus. This role is an excellent fit for someone who wants to gain experience strategically balancing mission and business-based goals for a nonprofit organization while strengthening inclusive and accessible communications.
Primary duties include
Supporting strategic promotions to expand awareness, grow Museum visitation, and Public Program registration.
Content contribution and scheduling across the Museum's social media channels (Facebook, Twitter, Instagram, LinkedIn). Creative brainstorming and copywriting for social media campaigns, updating the social media editorial calendar, and engaging social followers.
Assisting with media and community outreach.
Asset coordination for Marketing and Communications monthly Analytics dashboard.
Asset management of Museum photography, including editing and organization of images, focusing on special events, galleries, visitors, and special projects as needed.
Research and outreach related to potential cross-promotional partnerships and other research projects and duties as assigned.
Contribute to identifying ways to streamline and organize department operations and project management systems.
---
NAGPRA (Repatriation Office)
The intern will work closely with the NAGPRA Coordinator and assist with the implementation of the Native American Graves Protection and Repatriation Act (NAGPRA) through guided work and research experiences. NAGPRA, which passed into federal law in 1990, mandates a process for the return of human remains, sacred objects, and objects of cultural patrimony to Native Americans. Projects may include working with archaeological, ethnographic, and physical collections, assisting with consultation meetings, assisting with the repatriation of Native American human remains and cultural items, or administrative tasks. In addition, the intern will be introduced to the broader issues related to the fields of museums and anthropology, museum collections management, and artifact conservation. This project is well suited for students with interest in the fields of Federal Indian Law, Anthropology, Native American Studies, and Historic Preservation.
---
Office of Community Engagement
The Office of Community Engagement develops a wide range of programs for all audiences throughout the year. The intern will assist with the planning and implementation of these programs. Interns will be supervised by Associate Director of Community Engagement Tena Thomason. Interns will assist with PM Summer Nights, which are held every Wednesday from 5 to 8 pm. A successful applicant will have customer service skills and be willing to work with visitors of all ages. Internship hours are flexible but must include Wednesday evenings from 4 to 8 pm.
---
Pennsylvania Sumerian Dictionary
The Babylonian Section of Penn Museum is home to the electronic Pennsylvania Sumerian Dictionary (ePSD)—a project dedicated to creating a complete dictionary of the Sumerian language, which was used in ancient Iraq from roughly 3000 to 100 BCE. The current online version of the dictionary is available here as part of Oracc, the Open Richly Annotated Cuneiform Corpus. Oracc forms an umbrella for a number of different online projects dedicated to the cuneiform world. The intern will contribute to the natural language processing of the corpus of cuneiform texts. A successful candidate will have some experience of linguistics (at least an introductory linguistics class; an interest in semantics preferable) and be well organized, highly motivated, and comfortable working with computers. While some knowledge of Sumerian or Akkadian would be useful, it is neither expected nor necessary.
---
Registrar's Office
The Registrar's Office is the central hub for coordinating the Museum's collections-related activities across the 11 curatorial sections. An intern in the Registrar's Office will learn about, and participate in, cross-sectional collections activities, as well as overarching institutional goals related to strategic planning, policy research, and reaccreditation. Cross-sectional collections activities include standard collections management skills such as database entry and research. If remote, additional in-person skills will be shared remotely, such as object handling, photography, condition reporting, and processing collections. The goal of this internship includes gaining familiarity and practical experience with Penn Museum Registration practices, such as acquisitions, loans, collections liaising for exhibitions, records management, integrated pest management, inventorying, and emergency preparedness.
---
Summer Camp
Penn Museum Anthropology Camp is a summer day camp designed for children ages 6-13 and has been in operation for over 20 years. Through the scope of Penn Museum's international collections, campers delight in topics such as mythology, dance, music, art, and customs from both long ago civilizations and modern cultures. Through gallery tours, art activities, games, and special guest performances campers learn about the diversity of humankind from the past and to the present. The Summer Camp Intern fosters a fun and positive learning environment by facilitating friendships and teamwork among campers. Reporting to the Summer Camp Director, the Summer Camp Intern assists with summer camp activities, including outdoor recreation time and weekly workshops. The Intern will research and lead art-making activities and act as a mentor to camp participants. They will communicate with parents and enforce camper pickup protocol at the camp's sign-out station.
An ideal candidate has enthusiasm and experience working with children, preferably in an educational setting; excellent communication, leadership, and teamwork skills; competence in teaching and administrative work; patience, creativity, initiative, and flexibility is a must. Interns must complete a three-point background check in order to participate: PA Criminal Record Check, PA Child Abuse Clearance, and FBI Clearance. Interns will be reimbursed for these clearances. Preferred availability: June 20-August 19, 8 am-4 pm. Note: this internship does not fully coincide with the Intro to Museum Practice program.
---
Visitor Services
The Penn Museum's Visitor Services Department constantly strives to create a welcoming atmosphere and an enjoyable experience to all visitors coming to the Museum. The Department works to provide our guests with the information, resources and services necessary for them to gain the most from their time in the building. Visitor Services supervises the welcome desk operations, Museum admissions, Museum parking, and continuously seeks new and inventive ways to provide the best visitor experience possible.
Interns in Visitor Services will gain a thorough knowledge of what it takes to provide an outstanding guest experience. In addition to working directly with the Museum's guests, interns will assist with the collection, processing, and analysis of visitor data and create drafts of Museum gardens self-guided brochures. Interns whose first language is not English may also assist with the creation of a foreign language Museum map. Ideal candidates will be comfortable engaging and working with a wide variety of people. Successful interns will have excellent organizational and communication skills and the ability to work independently as well as in team settings. Applicants must be available to work weekend days during the internship.