What better way to learn about the culture of another place than to speak to someone who grew up there? Through the Global Guides Program, the Museum offers gallery tours led by Philadelphians who grew up in countries around the world. In addition to sharing historical information about the artifacts on display, the guides combine personal experiences and stories to interpret objects from their countries of origin.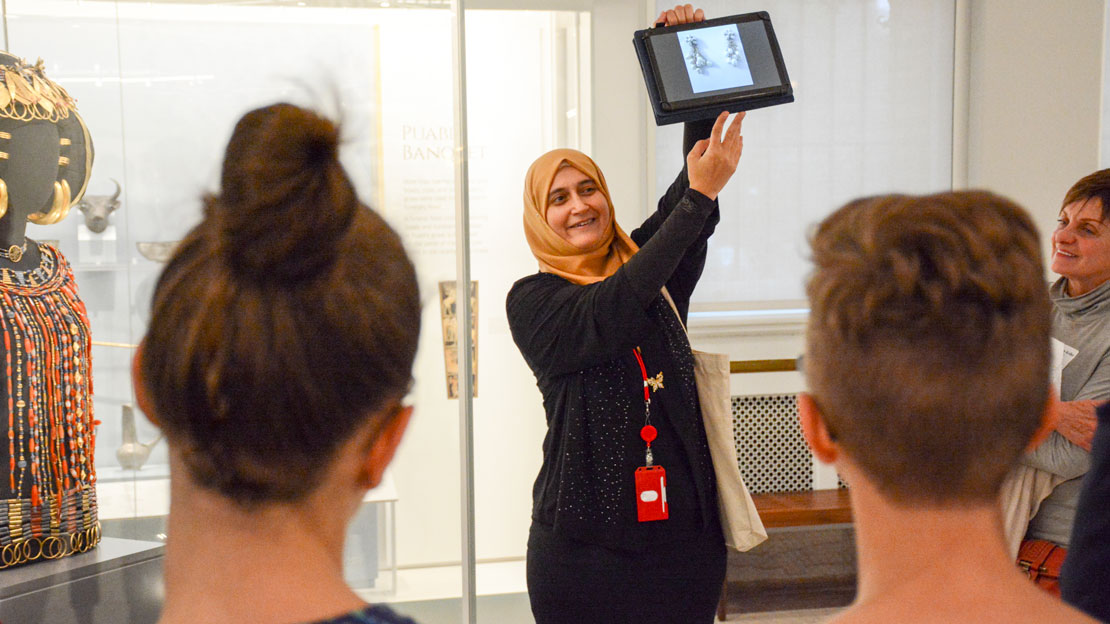 Global Guides will present tours and enrichment programs for the following galleries
Middle East Galleries

Africa Galleries

Mexico and Central America Gallery
Public Global Guide Tours

All are welcome to join these tours for free, Fridays - Sundays at 2:30pm. Check the upcoming tours on our Events Calendar.

Private Group Tours

For groups of 10 or more looking for an exclusive experience, discounted rates are available. Tours are led in English, but also available in the Global Guides' native languages: Middle East Galleries tours in Arabic, Africa Galleries tours in French, Lingala, or Swahili, and Mexico & Central America Gallery tours in Spanish. To schedule an in-persontour (allow at least two weeks advance notice), contact Amanda Grady, Associate Director of Groups Sales, at 215.746.8183 or

This email address is being protected from spambots. You need JavaScript enabled to view it.

.
Want a sneak peek of our Global Guide tours? In these short Digital Daily Dig videos, a Guide shares the history and significance of one artifact at the Museum.
---
The Global Guides Program has been internationally recognized through presentations at numerous museum conferences, including the American Alliance of Museums, the Mid-Atlantic Association of Museums, and the American Association of State and Local History. Additionally, articles about this program have been features in Museum magazine, Hyperallergic, and by the Associated Press in dozens of publications around the world.
---
Funding Recognition
The Global Guides: Immigrant Stories Tour Program was made possible by the generosity of the Barra Foundation.

---